What is NISHTHA 3.0 for NIPUN Bharat ?
NISHTHA 3.0 under NIPUN Bharat is a platform that provides training to teachers on how to make education more enjoyable for a practical understanding. Around 25 lakh teachers will be benefitted and trained through NISHTHA 3.0
Courses for NISHTHA 3.0 FLN Nipun Bharat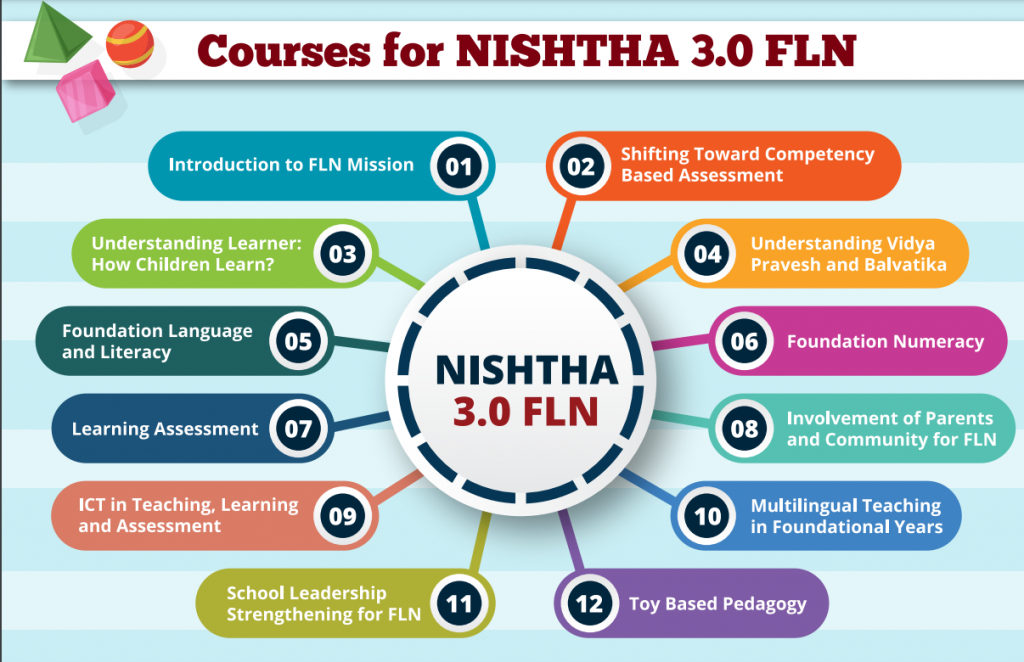 Objectives of the Course – NISHTHA 3.0 FLN Nipun Bharat
NISHTHA (FLN) aims at achieving the major objectives of FLN based on the recommendations of NEP 2020 as follow
To ensure an inclusive classroom environment by incorporating play, discovery, and activity-based pedagogies, linking it to the daily life situations of the children and formal inclusion of children's home languages.
2. To enable children to become motivated, independent and engaged readers and writers with comprehension possessing sustainable reading and writing skills.
3. To make children understand the reasoning in the domains of number, measurement and shapes; and enable them to become independent in problem solving by way of numeracy and spatial understanding skills.
4. To ensure availability and effective usage of high-quality and culturally responsive teaching learning material in children's familiar/home/mother language(s).
5. To focus on continuous capacity building of teachers, head teachers, academic resource persons and education administrators.
6. To actively engage with all stakeholders i.e., Teachers, Parents, Students and Community, policy makers for building a strong foundation of lifelong learning.
7. To ensure assessment 'as, of and for' learning through portfolios, group and collaborative work, project work, quizzes, role plays, games, oral presentations, short tests, etc.
8. To ensure tracking of learning levels of all students.
How Nishtha 3.0 FLN Couse Works
Features of Online Courses