National War Memorial: Performance by School Band Group
CBSE schools having School Bands are invited to volunteer for playing the Band at NWM. Theme and Tunes of the Band can be decided in coordination with the Directorate of NWM & M/HQ IDS keeping in view the sanctity of the National War Memorial.
School Band Application Terms & Conditions
The band performance by school children will be theme based with emphasis on patriotism and nation building.
School will have to register themselves with proposed dates for the performance. The final date and timing will be confirmed by National War Memorial.
The band performance will be of 30-45 min duration. It will be tentatively scheduled at 17:15 hrs in the evening.
All necessary coordination and support will be provided by Date of National War Memorial for smooth conduct of the event. One rep from the Date will be nominated for liaisoning with the schools.
Setting of band equipment's will be the sole responsibility of the school. Necessary support will be provided by the Date of National War Memorial. The alma mater to do necessary coordination with Date of National War Memorial.
Site recce is to be done by the conducting school so as to ensure seamless performance by the school band.
On successful completion of the band performance, certificate of participation and a memento will be awarded to the school by Date of NWM.
School has to reach at least one hour prior to the event on the said date and time.
On completion of band performance, NWM will facilitate a guided tour to the students followed by witnessing the Next-of-Kin ceremony and Retreat ceremony.
No advertising agency will be allowed with the band team. School's own media cell will be allowed to cover the event.
Display of banners inside the premises of NWM is strictly prohibited. However, band team can display their school banner at Public Plaza (venue for band performance).
Uniform dress code is to be strictly adhered to. The participants will be the representatives of their alma mater.
How to Register for National War Memorial: Performance by School Band Group
For scheduling the performance of the Band,
School Registration in National War Memorial
schools can register through the link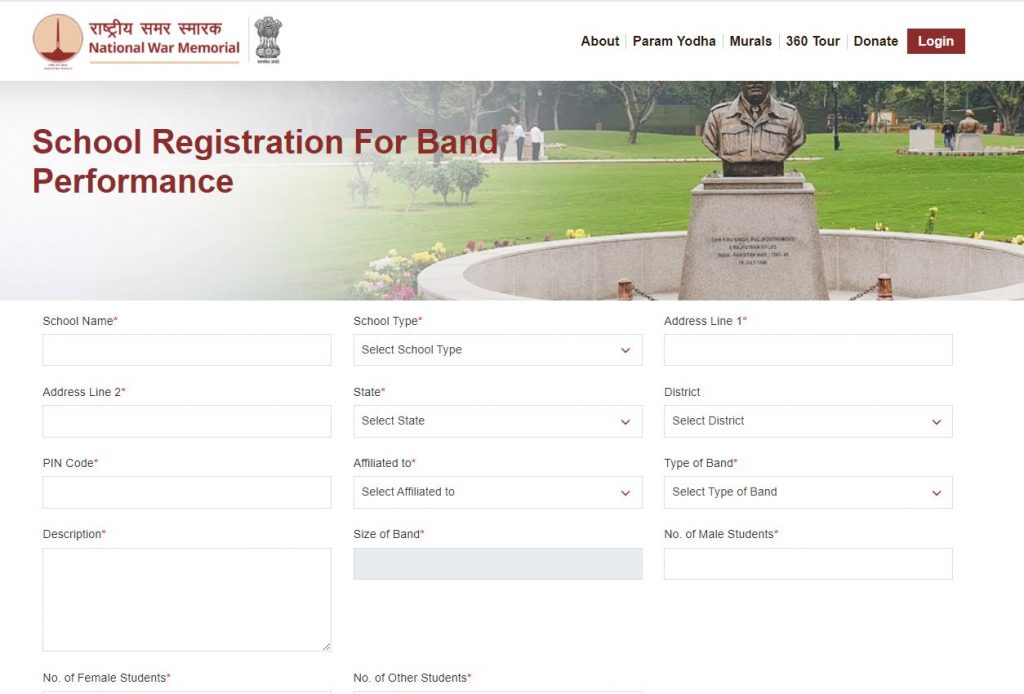 The link is now open and live.