Petroleum Conservation Research Association (PCRA), under the aegis of Ministry of Petroleum & Natural Gas, Govt. of India, is committed to oil conservation & energy conservation a National Movement.
PCRA targets to promote Green & Clean Energy and conservation of fuel with online quiz conducted by MyGov.in. The theme of the quiz is "Green & Clean Energy / हरितऔरस्वच्छऊर्जा"
Before attempting the quiz participants are advised to go through PCRA's videos on our YouTube channel PCRA India.
https://www.youtube.com/channel/UCoIDNNBln61_L7GnbtfR9xg
This is a timed quiz with 10 questions to be answered in 120 seconds. (Every Day)
These questions will be randomly picked from the question bank.
Winners will be adjudged on the basis of maximum number of correct answers by MyGov
You can skip a tough question and come back to it later.
The quiz will start as soon as you click the Start Quiz

Download Certificate of Saksham Quiz 2022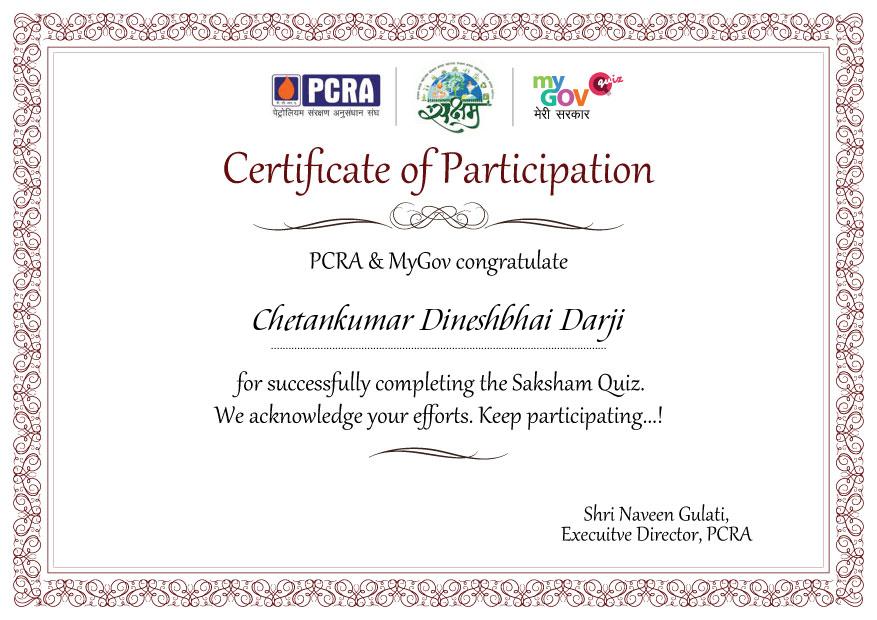 Official Website
https://quiz.mygov.in/quiz/saksham-quiz/
I hope you like the Article of the How to Participate / Register in Saksham Government Quiz 2022. If you like then share to others.
Happy Reading. Stay Connected.