What is Pradhan Mantri Awas Yojana 2022 ?
Presenting, the Second Quiz in the Sabka Vikas Mahaquiz Series with theme of Pradhan Mantri Awas Yojana (PMAY)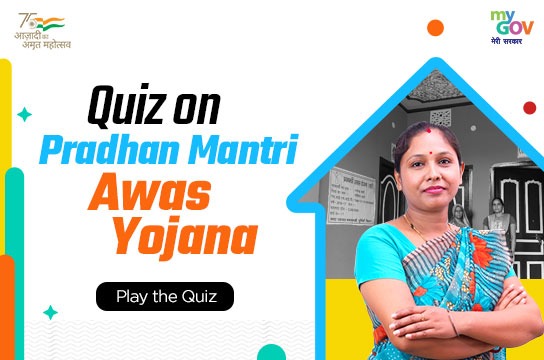 MyGov India has launched the Sabka Vikas Mahaquiz series as part of an outreach effort to build awareness in citizens. The quiz aims to inform the participants about various schemes and initiatives of Government of India, and how to avail their benefits.
In this context, MyGov invites all of you to participate and test your knowledge of New India. The second quiz of this series is now on the Pradhan Mantri Awas Yojana (PMAY).
About Pradhan Mantri Awas Yojana (PMAY)

Hon'ble Prime Minister Shri Narendra Modi has given a clarion call of ensuring every Indian has a pucca roof over their head under New India. Accordingly, the Pradhan Mantri Awas Yojana was launched with the aim of providing pucca houses to the poor and marginalised people of the country. The mission is being run through two different schemes – Pradhan Mantri Awas Yojana Urban (PMAY-U) for urban areas and Pradhan Mantri Awas Yojana Gramin (PMAY-G) for rural areas.
Pradhan Mantri Awas Yojana – Gramin
This aims to provide a pucca house with basic amenities to 2.95 crore rural houseless households living in kutcha and dilapidated houses in rural areas,l by 2024. Under the Scheme, cash assistance is provided to people to build their houses.
Rs 1.2 lakh is given in the plains areas; and Rs 1.3 lakh is given in hilly states, difficult areas and IAP districts (Integrated Action Plan for Select Tribal and Backward Districts). In addition, Rs 12,000 is also given for building toilets through the Swachh Bharat Mission – Gramin.
As of 28 April 2022, 2.34 crore houses have been sanctioned, and 1.79 crore houses have been completed, thus transforming crores of lives and ensuring social, economic and mental security to them.
How to avail PMAY-G?
The universe of eligible beneficiaries under PMAY-G includes all those who are houseless, and those households living in zero, one or two room with kutcha wall and kutcha roof (kutcha houses) as per SECC data and Awas+ survey subject to certain conditions. They have been identified through a list prepared with the help of surveys on National, State and Gram Panchayat Level such as Socio-Economic & Caste Census (SECC 2011). This list identifies the true beneficiaries that are houseless, and the beneficiaries that are left out from this list can also reach out to local offices for redressal.
Once the list is final, a sanction order is issued in the name of the beneficiary. The issue of sanction in favour of the beneficiary shall also be communicated through SMS to the beneficiary. The beneficiary can either collect the sanction order from the Block Office or download it from the PMAY-G website using his PMAY-G ID. The first installment shall be released to the beneficiary electronically to the registered bank account of the beneficiary within a week (7 working days) from the date of issue of sanction order.
For any grievances, ​Ministry and State contact persons can be contacted and their details are available on website https://pmayg.nic.in/netiay/contact.aspx. A mobile app is available on Google play store – Awaas app. A portal has also been prepared for more details www.pmayg.nic.in
Pradhan Mantri Awas Yojana – Urban
Pradhan Mantri Awas Yojana – Urban was launched in June 2015 for fulfilling the vision of 'Housing for All' by providing 'Pucca House' to eligible beneficiary families in urban areas. Under the mission, Central Assistance to States/UTs has been provided for addressing the housing requirement of the slum dwellers and other citizens belonging to Economically Weaker Sections (EWS), Lower Income Group (LIG) and Middle-Income Group (MIG) categories.
Those beneficiaries who have a land patta are given financial assistance, and those who do not own land may be eligible for constructed houses. The schemes have multiple benefits such as financial assistance for building or acquiring own pucca house, provision of basic services like toilets, kitchen, water and power supply and ownership in favour of female members or in joint name to empower women.
About 1.2 crore houses have been sanctioned, and 58 lakhs have already been completed by March 2022.
How to avail PMAY-U?
Beneficiaries desirous to avail benefits, are required to approach Urban Local Body in their respective area. For benefits under Credit Linked Subsidy Scheme (CLSS), beneficiaries are required apply directly to Bank/Housing finance company for claiming interest subsidy on housing loan.
Helpline numbers have been set up 011-23063285 and 011-23060484. Mobile apps that are of use are BHUVAN App, Bharat HFA App, GHTC India App and PMAY (Urban) App. Two portals have also been set up – https://pmay-urban.gov.in and https://pmaymis.gov.in
Unique features of the Mahaquiz
MyGov Saathis/Users can play the version of any State of their choice. The quiz questions will now pertain to the scheme and that particular State. The quiz will be available in multiple languages including English, Hindi and regional languages.

Terms and Conditions of Pradhan Mantri Awas Yojana Quiz 2022
1. This quiz is a part of the Sabka Vikas MahaQuiz Series in which different quizzes on various themes will be launched
2. This quiz will be launched on 13th May 2022 and will be live till 29th May 2022, 11:30 pm (IST)
3. Entry to the Quiz is open to all Indian citizens
4. This is a timed quiz with 5 questions to be answered in 100 seconds.This is a State specific quiz available in multiple languages. One person can participate in multiple quizzes.
5. The quiz will be available in 12 languages – English, Hindi, Assamese, Bengali, Gujarati, Kannada, Malayalam, Marathi, Odia, Punjabi, Tamil, and Telugu
6. A maximum of 1,000 top scoring participants will be selected as winners per Quiz. Rs. 2,000/- will be given to each of the selected winners
7. Winners will be selected on the basis of the highest number of correct answers given. In case, the number of participants scoring highest marks exceed 1,000 then the remaining winners will be selected on the basis of time taken to complete the quiz
To illustrate, if the quiz results are as follow –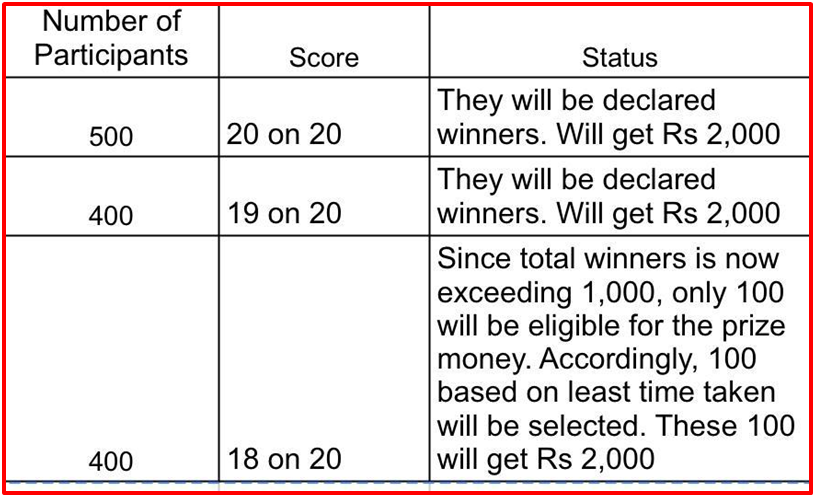 8. One participant will be eligible to win only once in a particular quiz. Multiple entries from the same entrant will not qualify them for multiple wins during the same quiz. However, the participant is eligible to win in a different quiz of the MahaVikas Quiz series
9. You will be required to provide your name, email address, telephone number and postal address. By submitting your contact details, you will give consent to these details being used for the purpose of the Quiz and also for receiving promotional content.
10. The announced winners will be required to share their bank details for the disbursement of the prize money. The username should match with the name on the bank account for prize money disbursement.
11. The questions will be randomly picked from the question bank through an automated process
12. You can skip a tough question and come back to it later
13. There will be no negative marking
14. The quiz will start as soon as the participant clicks the Start Quiz button
15. Once submitted an entry cannot be withdrawn
16. In case it's detected that the participant has used unfair means to complete the quiz in unduly reasonable time, the entry may get rejected
17. Organizers will not accept any responsibility for entries that are lost, are late or incomplete or have not been transmitted due to computer error or any other error beyond the organizer's reasonable control. Please note proof of submission of the entry is not proof of receipt of the same
18. In the event of unforeseen circumstances, organizers reserve the right to amend or withdraw the Quiz at any time. For the avoidance of doubt this includes the right to amend these terms and conditions
19. The Participant shall abide by all the rules and regulations of participating in the Quiz from time to time
20. Organizers reserve all rights to disqualify or refuse participation to any participant if they deem participation or association of any participant which is detrimental to the Quiz or the Organizers or partners of the Quiz. The registrations shall be void if the information received by the Organizers is illegible, incomplete, damaged, false or erroneous
21. MyGov employees and their relatives are debarred from participating in this quiz
22. Organizer's decision on the Quiz shall be final and binding and no correspondence will be entered into regarding the same
23. By entering the Quiz, the Participant accepts and agrees to be bound by these Terms and Conditions, mentioned above
24. These Terms and Conditions shall be governed by the laws of the Indian Judiciary
25. In case there is any clarifications needed for the translated content, the same may be informed to [email protected] and the Hindi/English content should be referred to.
I Hope you like the article of the How to Participate / Register in Quiz on Pradhan Mantri Awas Yojana 2022. If you like then share to your friends.
Happy Reading Stay Connected