National ICT Awards 2021-22

In order to motivate teachers to use ICT in school education in a big way, the National ICT awards are given away every year. A selection process is followed for short-listing and recommendation of the required number of awardees to the Ministry of Education (MoE), GoI. In all 36 ICT awards are instituted by Govt. of India for the teachers of different States/UTs and autonomous bodies/organizations under MoE. The award proposes to felicitate those teachers and teacher educators who have enhanced student learning by effectively and innovatively integrating technology supported learning into the school curriculum and subject teaching, and thereby promoted enquiry-based cooperative-collaborative learning using ICT amongst students. Teachers of primary, upper primary, secondary, higher secondary schools and Teacher Educators from the following organizations are eligible to be nominated under the scheme:
 1)  Schools run by the State Govt./UTs Administration, schools run by local bodies, private schools affiliated to state boards, aided by State Govt. and UT Administration.
  2)  Central Govt. Schools i.e. Jawahar Navodaya Vidyalayas (JNVs), Sainik Schools and Schools run by Ministry of Defence (MoD), Schools run by Atomic Energy Education Society (AEES).
  3)  Schools affiliated to Council for Indian Schools Certificate Examination (CISCE) (Other than those at (1), (2) above).
  4)  Schools affiliated to the Central Board of Secondary Education (CBSE) (Other than those at (1), (2) above).
  5)  Teacher Educators of BIETs, DIETs, CTEs, IASEs, SIEMAT, SCERT, SIEs, SIETs and Colleges, Universities run by Centre / State Govt / UT administration and Private Universities ( from 2021 onwards).
  6)  SPDs / Education Secretaries of States / UTs for best practices by respective State / UT( from 2021 onwards).
How to Apply Online for National ICT Awards
As eligible teacher educators, you can register yourselves on the portal https://ictaward.ncert.gov.in by providing your mobile number or email id and choosing a password. After registration, you can login and apply online by answering different questions on the portal. The portal has the option to upload your work to a pdf file or video also.
National ICT Awards Information in Hindi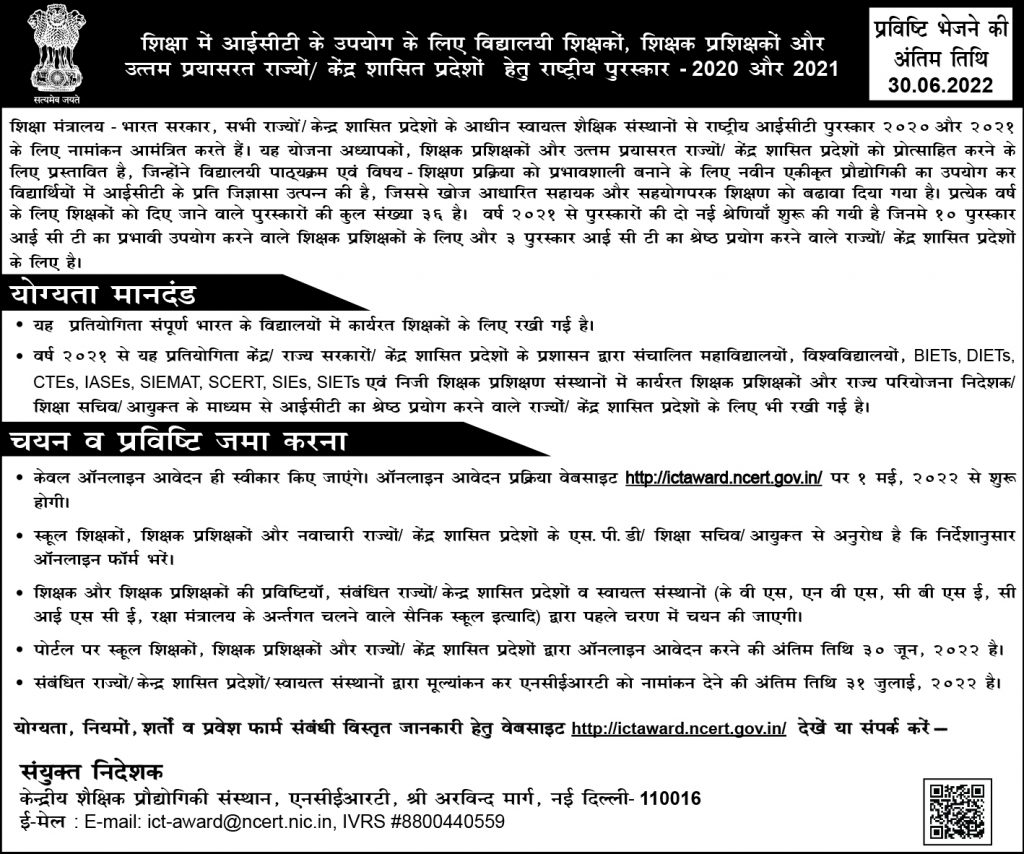 National ICT Awards Information in English
Eligibility Criteria
Selection and Submission of entry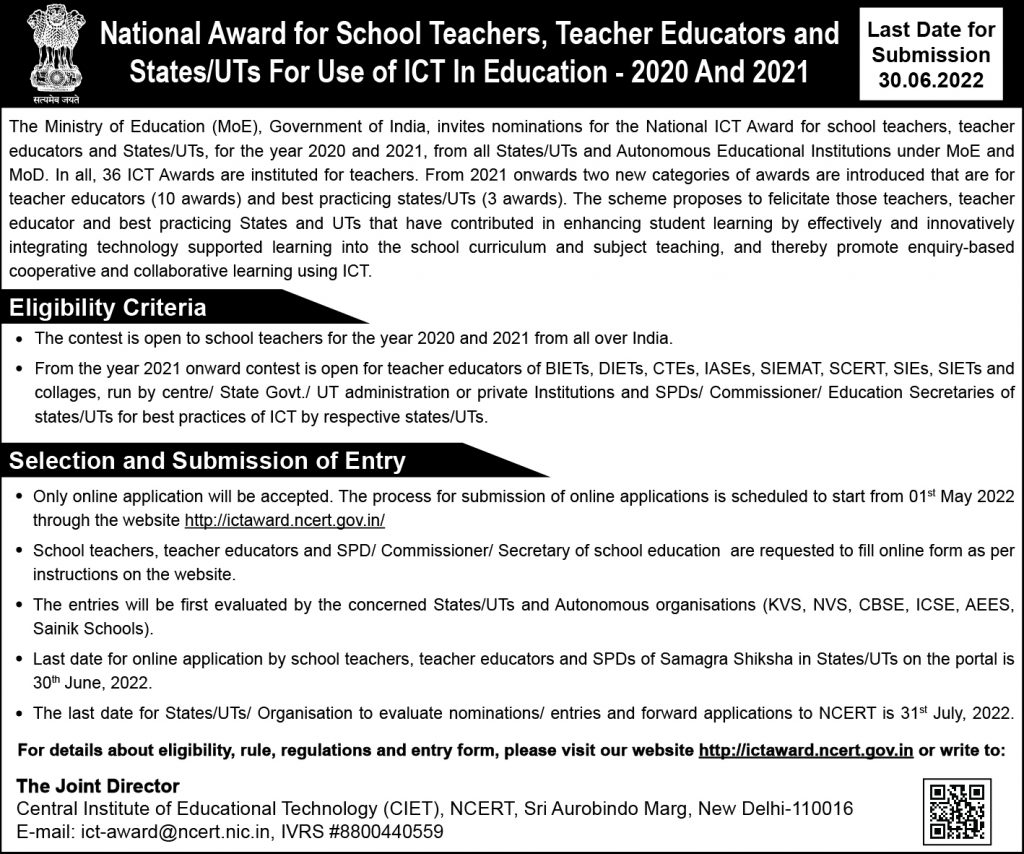 I Hope you like the Article of the How to Participate / Register in National ICT Awards 2021-22. If you like then share to others .
Happy Reading stay Connected.