What is Innovation in Public Administration
The Government of India launched Mission Karmayogi on September 2nd, 2020. Also known as the National Program for Civil Services Capacity Building, it is a civil services reform initiative that aims to improve capacity building efforts across the Government. Under this, the Capacity Building Commission (CBC) will be publishing an Annual Health of Civil Services Report (AHCSR) in 2022 that will aim to take a deeper look at the health and performance of the Indian civil service.
Under its 1st edition, the report would have the outline of the structures and functions of a well-functioning and effective civil service, and measurement of the performance of various departments using this framework. It would also provide a platform to highlight innovations in public human resource management through contributions from experts and civil servants, and put forth the vision for how Mission Karmayogi will impact capacity building in the civil service.
MyGov and CBC invites civil servants who have undertaken work of this nature to apply for the chance to contribute examples to this section.
Scope of Innovations
Selected innovators will have the opportunity to showcase their leadership, creativity, and initiative to enhance bureaucratic functioning and public service delivery. This will include:
The chance to be published in the AHCSR and receive recognition from a wide audience consisting of the political executive, other policymakers, civil society organizations, researchers and academics and citizens across the country. For this, selected innovators will be provided with writing and editorial support from the CBC.
A place on the Capacity Building Commission's list of model innovations that will be disseminated to ministries within the civil service, as well as a feature in the Commission's case-study bank for capacity building of civil servants in CTIs, ATIs and STIs.
Support and automatic consideration to create a TEDx talk about the work undertaken.
Objectives for highlighting stories of successful innovations in the AHCSR:
Informing citizens, civil society and other policymakers about the scope and importance of civil service management in implementing effective and impactful policies.
Providing learning resources for innovations and ideas to enable other civil servants to undertake similar initiatives.
Creating a platform that provides recognition to pioneering leaders at the frontiers of public policy and service delivery experimentation.
Building a repository of case studies of innovations on the ground, through successive iterations.
Eligibility Criteria
Applications to contribute to the Annual Health of Civil Services Report are invited from any currently serving civil servant. This includes:
All persons employed in the civil services of the Central, State or local government.
Civil servants at any level (Group A, B, or C).
To be considered for inclusion in the report, innovations must fulfil the following criteria:
Initiatives that have been undertaken in the last 5 years.
Initiatives that have not been recognized by any National or State awards more than 2 years ago.
This is in order to provide a platform for recent worthy initiatives that might otherwise pass below the radar.
Desired Criteria
Applications that fulfil the following criteria are encouraged:
Work that goes beyond the bounds of existing managerial systems, in terms of its scope and methods.
Projects that have measurable impact in terms of quantifiable outcomes (e.g., number of officers enrolled in training programs, citizen welfare-related outcomes – number of grievances addressed, infrastructural improvements etc.)
Impact that can be corroborated by other civil servants (seniors or colleagues), or third-party organizations (press, NGOs etc.)
Scalability and sustainability – the work is demonstrated to be relevant for other places and can be continued beyond the scope of the original initiative. It can be owned and applied beyond the people it was piloted with, or absorbed by other administrative bodies so that its impact continues.
Timelines
| | |
| --- | --- |
| Start Date | 4th February 2022 |
| End Date: | 5th March 2022 |
Participation Guidelines
The participant shall consider the following guidelines while applying for the activity:
The innovation shall be in relation to any intervention or improvement in the delivery of public service that positively impacts citizens or stakeholders.
It could also serve to improve organizational functioning and performance by applying new ideas, methods or technologies to enhance management practices within the civil services.
Changes brought via Government-mandates would not be counted.
Description of the situation before the initiative was implemented.
The process by which needs were assessed and the innovation strategy was designed.
The impact of the project in measurable outcomes.
The scalability of the solution and whether it has been adopted beyond the original recipients.
The sustainability of the solution – can/does it function despite institutional or leadership changes?
Any significant hurdles faced during planning and implementation and how they were overcome.
Citations of corroborators who can verify the work and its impact.
Other multimedia submission (optional): Applicants are encouraged to submit a 3-5 minute video graphic overview of their initiatives. This should cover one or both of two main points: a demonstration of the innovation and the process of deployment, and the impact of the initiative on beneficiaries. 
Evaluation Criteria of the Competition
| Parameter | Criteria |
| --- | --- |
| Innovation | Innovations draw on new ideas, methods or technologies to generate change that improves the lives of citizens. |
| Transparency | Innovations are implemented in a way that is comprehensible for stakeholders and information about the project is easily accessible. |
| Inclusiveness | The impacts of the innovations target vulnerable groups. |
| Exceptional achievement and outcome | Innovations have a significant impact on their intended recipients and the change in quantifiable outcomes is large. |
| Sustainability and scalability | Projects can be expanded to reach a greater number of recipients, and can continue on with new leadership and scope. |

You have to Fill this information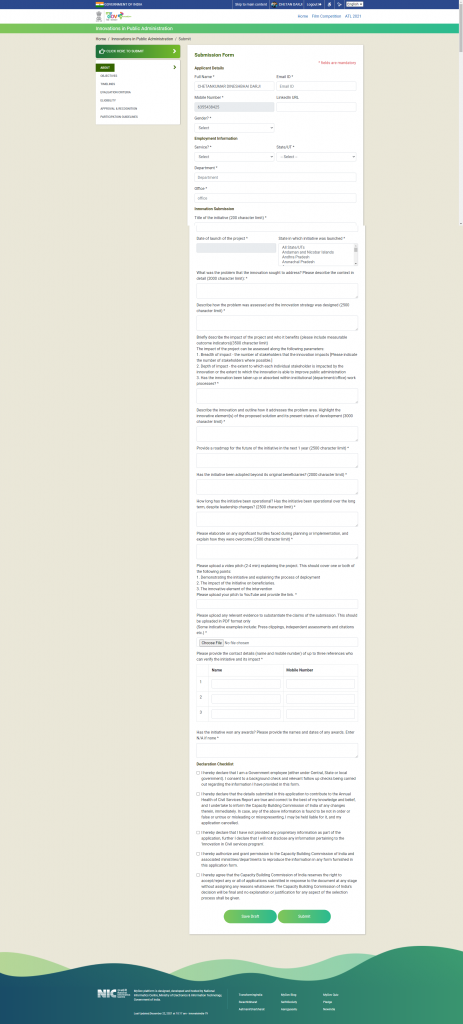 Download in Photo Full : – Click Here
Evaluation process
We will follow a 2-stage evaluation process:
Round 1: Screening of Online Applications
Online applications will be screened using a well-defined evaluation rubric. Applications will be scored according to metrics that measure the impact and relevance of the project. Those with the highest scores will make it to the shortlist (20-30 applicants).
Round 2: Presentation/ Interview with the CBC
Shortlisted candidates will be asked to make a brief presentation about their work to the CBC. Based on the content of their presentations, the CBC will select the most innovative, impactful, and inclusive projects as awardees.

Presentations are required to be accompanied by a pitch deck in PPT/PPTX/PDF format only. The pitch deck should be in line with the following criteria:

Applicant introduction (1 slide)
Introduction to problem (1-2 slides)
Explanation of innovation, including strategy and implementation process, as well as any challenges encountered (2-3 slides)
Demonstration of impact (2 slides)

Presentations must be no longer than 10 minutes long.
A total of 10 innovations will be selected for inclusion in the AHCSR. The selected innovations will be distributed across services and geographies.
For any queries, please reach out to [email protected]
Applications received on email will not be considered.
Applications will be received only on: innovateindia.mygov.in/cbc-inviting-innovations/