Are you searching for – CBSE Circular – How to Participate in Youth Ideathon, Objectives, Eligibility 2023
Then you are at Right Place.
The Complete and Official Information of CBSE Circular – How to Participate in Youth Ideathon, Objectives, Eligibility 2023
CBSE Circular – How to Participate in Youth Ideathon, Objectives, Eligibility 2023
Management Entrepreneurship Professional Skills Council (MEPSC) under Ministry of Skill Development and Entrepreneurship (MSDE), Govt. of India and ThinkStartup are organizing YOUTH IDEATHON 2023, India's Largest K-12 School Level Ideas Festival to harness innovation and entrepreneurship potential on young minds of India.
YOUTH IDEATHON 2023 is a 5-stage competition that shall be launched on 6th October 2023 and the finals shall be held on 18th Nov 2023. The theme of this event is "iStartup a Good Thing for India". This is an online event. For fair representation of schools and students from each region, this year YOUTH IDEATHON shall have regional rounds. School students can submit their innovation ideas on the website www.YouthIdeathon.in
YOUTH IDEATHON 2023 intends to provide following benefits
Build innovation and entrepreneurial mindset in our school students.
Encourage school students to research about ground level problems and find creative solutions to those problems.
Channelize youth energy in solving nation's problems.
There will be free online HIGMID workshops for students by entrepreneurs –
How I Got My Idea (HIGMID) (details on website).
Faculty Workshops (details on website).
National Level, State Level and Theme Award winner students shall be provided. incubation and mentoring support through various incubators.
The session for faculty and student on the topic "How to get Good Ideas" will be conducted by the organizers on 11th October, 2023 & 18th October, 2023. Faculty / Students can register for this workshop on the website (www.YouthIdeathon.in)
Who Can Participate – Eligibility Criteria
YI23 is OPEN for registration for following categories:
a. All Bona-fide School Students from any school board – Central, State or International.
b. Teachers and Mentors of School Students
c. Schools
STUDENTS: YI23 is OPEN for all K12 School Students. However, students have to participate in teams of 3 to 5 members. Each member must be a bonafide school student. YI22 shall reward best teams.
TEACHERS / MENTORS: YI23 is also open to all school teachers / mentors. However, a teacher must have a student team who she is mentoring. YI23 shall special rewards for Teachers of Innovation and Entrepreneurship.
SCHOOLS: YI23 is also open to all Schools from any Board – Central / State / International. There are special rewards for Schools of Innovation and Entrepreneurship, on the basis of student and teacher participation.
EVENT SCHEDULE of YOUTH IDEATHON 2023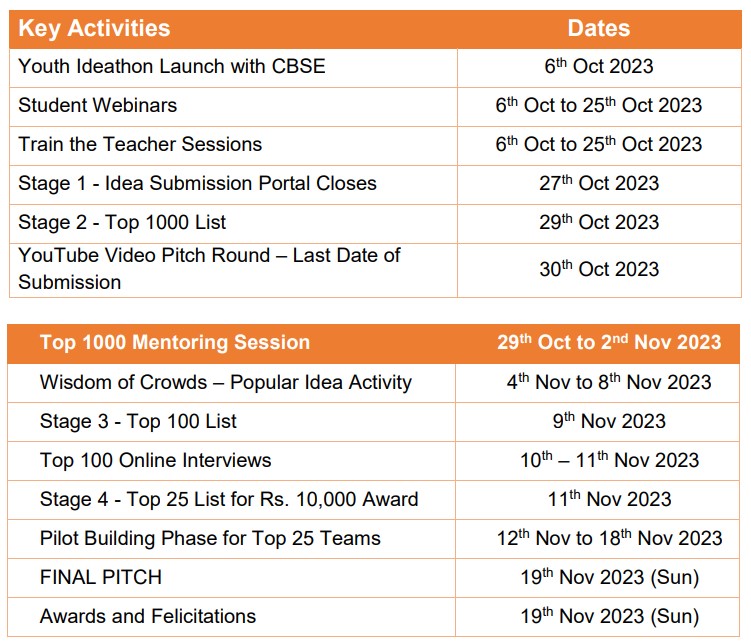 How to Partipate in Youth Ideathon – Registration Link 2023
We give Direct Link to Participate Below Links :
Prize / Rewards of Youth Ideathon 2023
This YOUTH IDEATHON has substantially higher number of awards and prizes. These are designed to incentivize students as they achieve higher level of complexity. Further, there are awards for Teachers, Mentors and Schools who are engaged in the furtherance of cause of innovation and entrepreneurship
Thanks to All Beloved Readers.