Are you searching for – How to Participate in Central Awareness Week Quiz (31st October to 05 November) 2023
Then you are at Right Place.
The Complete and Official Information of How to Participate in Central Awareness Week Quiz (31st October to 05 November) 2023
How to Participate in Central Awareness Week Quiz (31st October to 05 November) 2023
The Central Vigilance Commission was established by the Government of India on 11th February 1964, following the recommendations of the Committee on Prevention of Corruption, also known as the Santhanam Committee. The Central Vigilance Commission Act of 2003 (No. 45 of 2003) came into effect on 11th September 2003. To raise awareness and involve the public in planning effective vigilance strategies, the Commission has observed Vigilance Awareness Week (VAW) every year since 2000, coinciding with the birth anniversary of Sardar Vallabhbhai Patel, India's first Home Minister. This year's VAW theme is "Say no to corruption; commit to the Nation." The Commission plans to conduct a quiz program to promote awareness against corruption and combat it among the citizens of India.
Welcome to the Central Vigilance Commission's Vigilance Awareness Week 2023 Quiz! The quiz brings 2 Sets of 20 questions for you. Please take a moment to enter this quiz. Once you're ready for an engaging and informative experience, we'll proceed with the quiz.
​Terms & Conditions:
The quiz questions are designed to assess the participants' general knowledge about anticorruption framework in India.
All Indian citizens are eligible to participate.
This is a timed quiz. Participants will be required to answer 20 questions within 20 Minutes (1200 seconds). It is in multiple choice format and has only one correct answer. Each question carries one mark. No negative marking will be done.
Only one option will be accepted for a question. However, you may revise your answer before final submission. The quiz will start as soon as the participant clicks on the 'Start Quiz'.
Entries once submitted cannot be withdrawn. Participants will be required to provide their name, email address and age group.
No responsibility lies with the organization for entries, that are lost, late, incomplete or have not been transmitted due to computer error or any other error beyond control.
The participants shall abide by all the terms and conditions of the quiz competition, including any amendments or further updates from the organization.
Organizers' decision on the Quiz shall be final and binding and no correspondence will be entered into regarding the same.
Participants can view their total score and correct answers upon final submission of the quiz.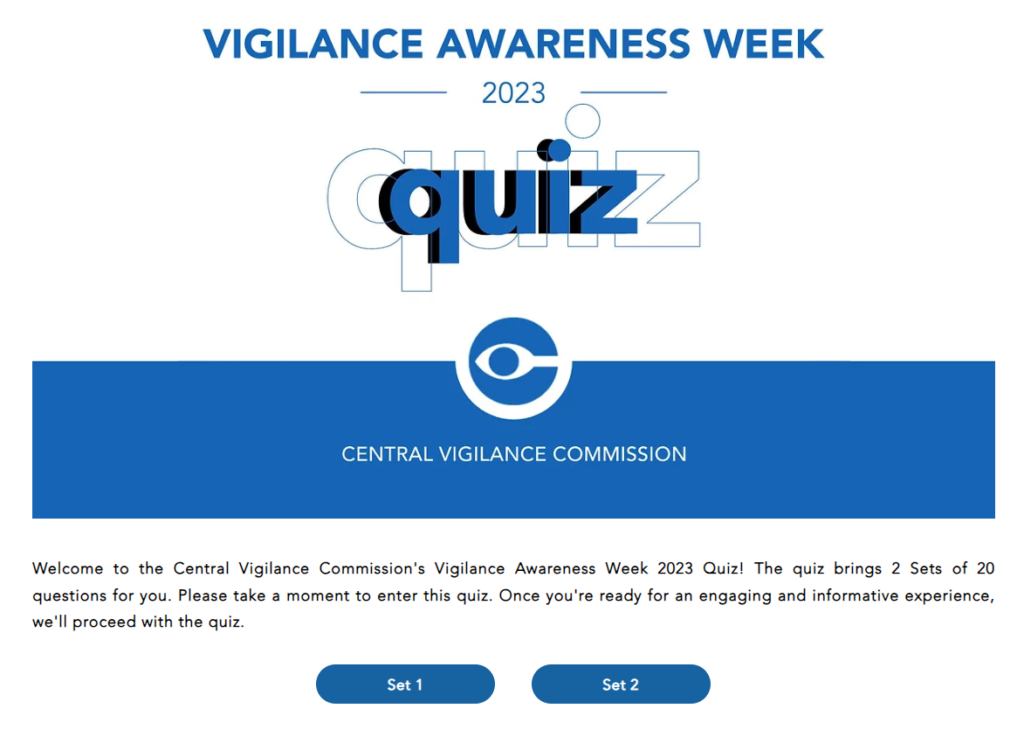 Official Website of CVC Quiz and Pledge