Swachh Vidyalaya Puraskar (SVP) 2021 -2022
The Swachh Vidyalaya Puraskar has been instituted by the Ministry of Education, Government of India to recognize, inspire and celebrate excellence in sanitation and hygiene practice in schools. The purpose of the SVP is to honor schools that have undertaken significant steps towards fulfilling the mandate of the Swachh Vidyalaya Campaign. SVP is based on IT enabled assessment of WASH infrastructure, hygienic practices and COVID-19 appropriate behavior.
Criteria For Evolution Swachh Vidyalaya Puraskar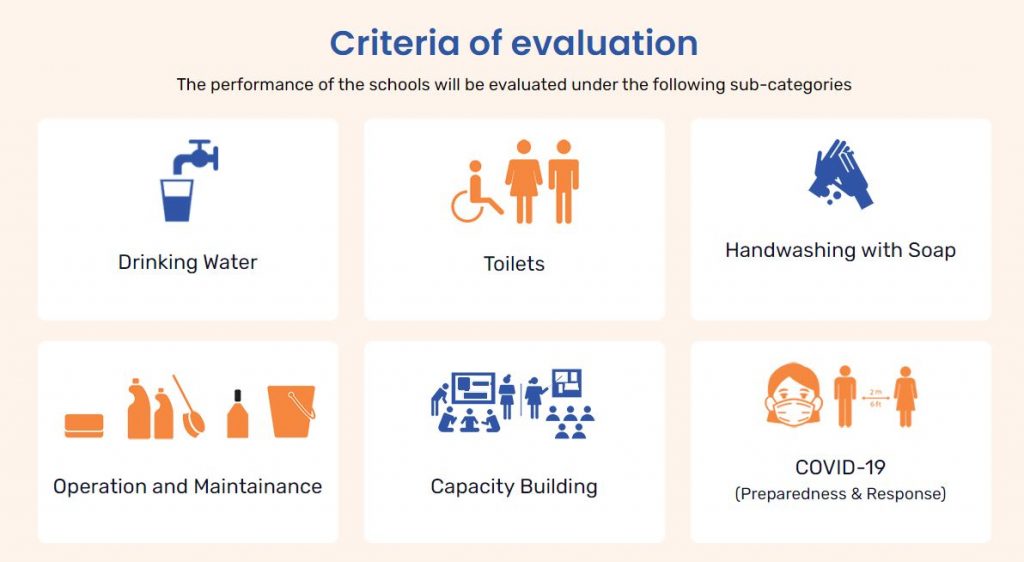 Key preventive measures against "COVID-19″

Categories of awards
The awards are categorized at the District level, State and National level
Eligibility Criteria for SVP 2021

How to apply for SVP 2022
All Government, Government aided and private schools from both rural and urban areas are invited to apply for the Swachh Vidyalaya Puraskar
The registration of schools would be done with the UDISE+ code of the school *
Schools will first complete the primary information section in the prescribed format and submit.
Steps to apply :
Step 1: Click Here to Sign Up & Click Here to Login
Step 2: Fill Online Survey
* If you do not have a UDISE+ code , download the Data Capture Format (DCF) and submit at Block / District / State level office to generate the UDISE+ code .
Steps for Swachh Vidyalaya Puraskar (SVP) 2021 -2022 in Gujarati
સ્વચ્છ વિદ્યાલય પુરસ્કાર – 2021-22
Step – 1
આપની શાળામાં કોઈ એક જાણકાર શિક્ષકને/મુખ્ય શિક્ષકને આ કાર્ય શોપો
Step – 2
મોબાઈલમાં નીચે મુજબ ફોટોઝ તૈયાર રાખવા(૧) શાળાનો ફ્રન્ટ ફોટોઝ(૨) હેન્ડ વોશ ફોટોઝ(૩) શાળા કેમ્પસ ફોટોઝ(૪) cwsn ટોયલેટ ફોટોઝ(૫) પાણી ગુણવત્તા પરીક્ષણ અહેવાલ(૬) શિક્ષક તાલીમ પ્રમાણપત્ર(૭) શાળા બાગ ( જો હોય તો)(૮) ઇનસિલેટર દહન પ્રણાલી ( જો હોય તો)
Step – 3
મોબાઇલ મા નીચે મુજબ એપ download કરો https://play.google.com/store/apps/details?id=com.glt.svp2122
Step – 4
એપ open કરી પ્રથમવાર સાઈન અપ કરો…જેમાં ડાયસ કોડ નાખી પાસવર્ડ ક્રીએટ થશે તે નોંધી રાખશો.
Step – 5
એપ ફરી ઓપન કરી આપના આઇડી અને પાસવર્ડ દ્વારા લોગીન કરો.
Step – 6
સામાન્ય માહિતી ભરો
Step – 7
SERVEY વિભાગમાં કુલ 06 પેટા વિભાગ ના કુલ 68 પ્રશ્નાવલી ભરો
Step – 8
ફોટોઝ અપલોડ કરો
Step – 9
તમામ કાર્ય પૂર્ણ થતાં ફાઇનલ સબમિટ આપશો
અને એક સક્સેસફુલ રજિસ્ટ્રેશનનો સ્ક્રીનશોટ મોકલી આપશો
Official Website
https://swachhvidyalayapuraskar.com/
THANKS ALL AND BEST OF LUCK ALL