Are you searching for – How to Apply Online in Dakshana Scholarship Test 2024-25
Then you are at Right Place.
The Complete and Official Information of How to Apply Online in Dakshana Scholarship Test 2024-25
Dakshana Scholarship Test 2024-25
Dakshana Scholarship Test 2024-25
Dakshana focuses on poverty alleviation through education. Dakshana alleviates poverty by identifying brilliant but impoverished teenagers and providing intensive coaching for 1-2 years for the IIT and medical entrance exams.
Eligibility
Must meet all the 3 criteria to apply for the scholarship.
School :

Currently studying in Class 12 Science at a Govt/Aided school (Academic Year 2023-24). Students should have appeared in their class XII board exam by May 2024.

Merit :

Aggregate marks of Mathematics & Science in Class 10 should be above the cut-off: GEN/EWS/OBC: 85%, SC: 70%, ST: 60%, PD: No cut-off

Income :

Annual Family Income to be less than 2 lakhs
There is no income criteria for Physically Disabled (PD) candidate
How to Register / Participate in Dakshana Scholarship Test 2024-25
Dakshana Scholarship Test 2024-25 – Steps for the Applying in the Application Form 2024-25
Steps are given Below
Step 1:
Check the eligibility* at apply.scholarship.dakshana.org and fill out the application form.
Step 2:
Shortlisting will be done (Tentatively in the month of October) based on the cut-off mentioned in the application form
Step 3:
After 1st round of shortlisting, Fill out the Dakshana Scholar Application (DSA)
Step 4:
Invited students after filling out the Application form can appear for mock Tests. Mock tests will familiarize students with the interface
Step 5:
Invited students with Admit Card to appear for JDST 2024 (online at test centres) with Mobile
Step 6:
After the 2nd round of shortlisting (based on JDST 2024), Appear for the Interview & Document Verification
Step 7:
Students selected in the interview will be offered Dakshana One-year Scholarship
Mock Test & JDST 2023 Format:
The duration of each of the tests will be 3-hrs. The test will consist of 25 single-option correct type questions each in Logical Reasoning, Maths/Biology, Physics, and Chemistry. Each right answer is awarded 3 marks and 1 mark is deducted for every wrong answer.
Mock Test & JDST 2024 will be conducted through the Dakshana Scholarship Test Android Mobile App. Download the app from the google play store.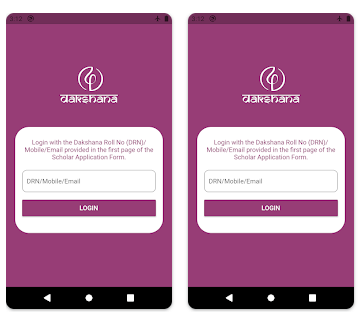 Link to download: https://tinyurl.com/dakshanascholarshiptest Watch YouTube Videos to know how to install the app and appear for the mock test: https://youtu.be/Bkvy6e12064
Flow Chart for Dakshana One-Year Scholarship Process – Dakshana Foundation Scholarship 2023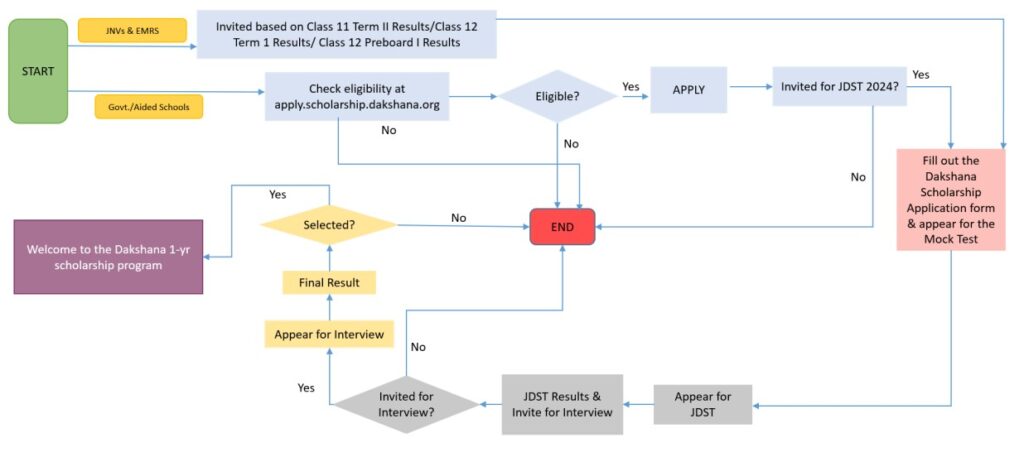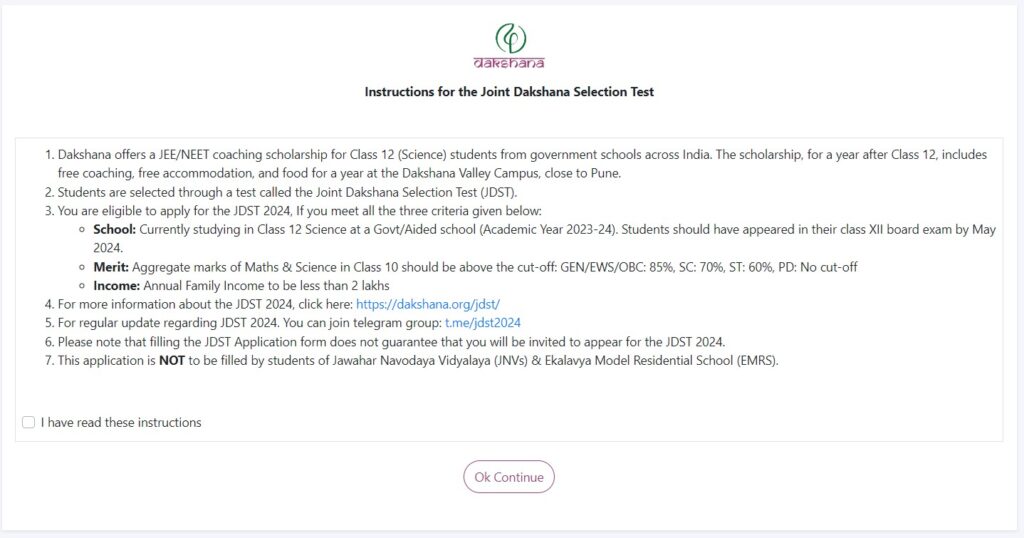 Mock Test & JDST 2024 Syllabus:
Aspirants can watch video lectures, on the below topics, on the Dakshana YouTube Channel. Click on the name of the topic for each subject given below, to watch the video lectures. Questions will be based on the below lectures.

Thanks to Beloved Readers.