Are you searching for – Jal Jeevan Mission Mahaquiz 2022
Then you are at Right Place.
The Complete and Official Information of How Register / Participate in Jal Jeevan Mission Mahaquiz 2022.
Fourth Quiz in the Sabka Vikas Mahaquiz Series with theme of Jal Jeevan Mission

As India celebrates 75 years of its Independence, Azadi ka Amrit Mahotsav, MyGov is introducing the fourth quiz in the Sabka Vikas Mahaquiz Series, which is part of an outreach effort to build awareness in citizens. The quiz aims to sensitize the participants about the various schemes and initiatives and how to avail the benefits. In this context, MyGov invites all of you to participate and test your knowledge of New India.
Introduction
The Government under the leadership of Hon'ble Prime Minister Shri Narendra Modi is committed to the ideals of "Sabka Saath, Sabka Vikas, Sabka Vishwas, Sabka Prayaas" to build an Aatmanirbhar Bharat. The Government has been working to ensure necessities for all citizens of the country through various programmes and schemes for the holistic welfare of the poor and marginalized sections of society. These are aimed at serving the last person at the bottom of the pyramid. In the last eight years, there has been an exponential leap in ensuring last-mile delivery to the poorest sections of society. Whether it be in the unprecedented number of houses built (PM Awas Yojana), water connections given (Jal Jeevan Mission), bank accounts (Jan Dhan), direct benefit transfer to farmers (PM KISAN) or free gas connections (Ujjwala), there has been a perceptible improvement in the livelihoods of the poor.
Jal Jeevan Mission is the theme of the fourth quiz in the series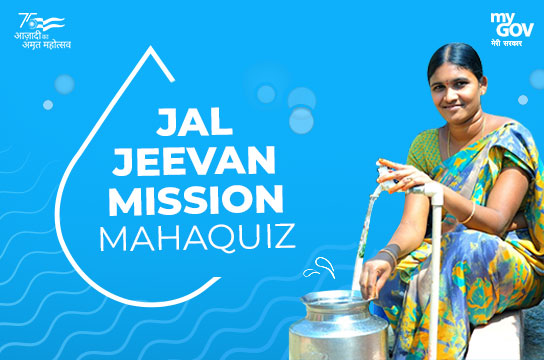 The fourth quiz will be on the Jal Jeevan Mission (JJM). Announced on 15 August 2019, Jal Jeevan Mission (JJM) is being implemented in partnership with States to make provision of tap water supply in adequate quantity of prescribed quality with adequate pressure on a regular and long-term basis to every rural home by 2024.
At the time of the announcement of Jal Jeevan Mission, out of a total of 18.93 Crore rural households, only 3.23 Crore (17%) households reported having tap water connections. Thus, the remaining 15.70 Crore families were fetching water from a drinking water source outside their homes which made the lives of these families deprived of a basic necessity.
In under 2 and a half years since the launch of JJM, 6.4 crore new connections have been provided under JJM taking the overall coverage of potable tap water supply to cover over 50% of the total rural households in the country.
How can a beneficiary avail this scheme?
All rural households are automatically covered under the programme. JJM follows a 'bottom-up' approach and is being implemented as a decentralized, demand-driven, community-managed water supply system.
Gram panchayats and/or its sub-committees can manage, operate and maintain water supply to every household in villages. The committee has a minimum of 50% women members and suitable representations to weaker sections of society.
How can I (non-beneficiary) help a beneficiary avail the scheme?  
A non-beneficiary can help a beneficiary be making them aware about the programme and motivating them to participate in the programme, as it's a "people programme'
How can one gain more information for this scheme?
Mobile App (Android Only)
https://play.google.com/store/apps/details?id=com.dhwaniris.jjm
Website
https://jaljeevanmission.gov.in/
JJM dashboard
https://ejalshakti.gov.in/jjmreport/JJMIndia.aspx
Prize & Rewards
Terms & Condition of Jal Jeevan Mission Quiz 2022
This quiz is a part of the Sabka Vikas Mahaquiz Series in which different quizzes on various themes will be launched
2. This quiz will be launched on 1st July 2022 and will be live till 20th July 2022, 11:30 pm (IST)
3. Entry to the Quiz is open to all Indian citizens
4. This is a timed quiz with 10 questions to be answered in 200 seconds. This is a State specific quiz available in multiple languages. One person can participate in multiple quizzes.
5. The quiz will be available in 12 languages – English, Hindi, Assamese, Bengali, Gujarati, Kannada, Malayalam, Marathi, Odia, Punjabi, Tamil, and Telugu
6. A maximum of 1,000 top scoring participants will be selected as winners per Quiz. Rs. 2,000/- will be given to each of the selected winners
7. Winners will be selected on the basis of the highest number of correct answers given. In case, the number of participants scoring highest marks exceed 1,000 then the remaining winners will be selected on the basis of time taken to complete the quiz