Are you searching for – Daily School Assembly Today News Headlines for 31 July 2023
Then you are at Right Place.
The Complete and Official Information of Daily School Assembly Today News Headlines for 31 July 2023
Daily School Assembly Today News for 31 July 2023
To inform all pupils of what will be happening in the Nation and the world today, the top headlines of the day are read during the school assembly after the call to prayer. Now let's read the most recent news of the day. Read the most recent news from India and outside while keeping up with Indian political movements.
We are giving information News of National News, International News, Educational News, Sports News, Business News and science & Technology News.
Today's Important Day on 31 July 2023
World Ranger Day – 31 July 2023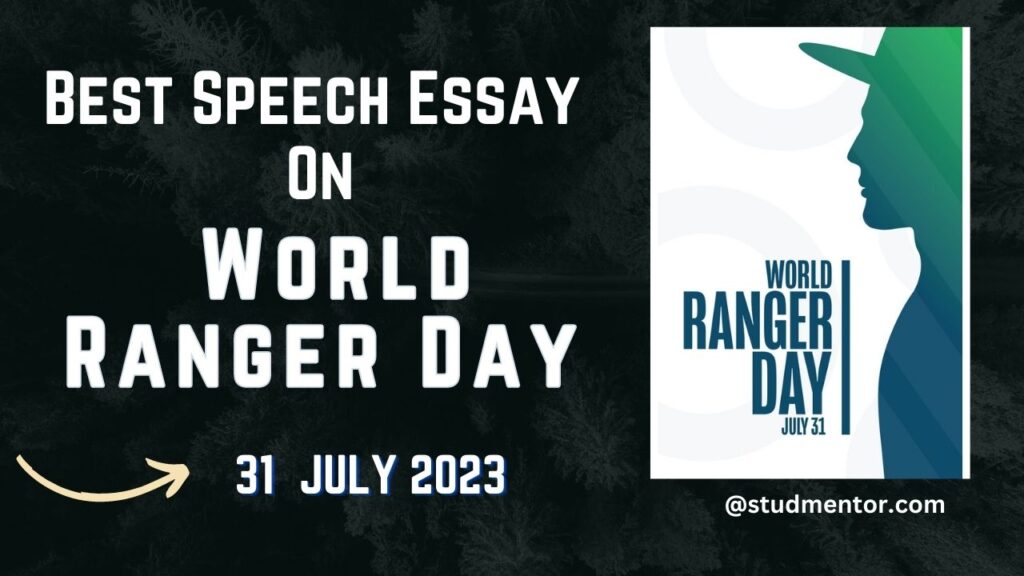 National News Headlines in English – 31 July 2023 (Monday)
Manipur: '500 people in one hall, no bathroom,' INDIA MPs questions need for relief camps if 'situation is peaceful'
Delhi's dengue cases reach 5-year high in July: Govt issues advisory.
Opposition MPs' Manipur visit Live Updates: 'Guv advised all-party delegation should visit Manipur, speak to community leaders,' says Adhir Ranjan Chowdhury
Isro's PSLV rocket carrying 7 Singaporean satellites lifts off from Sriharikota
After MHA push, Mizoram prepares to collect biometrics of 'illegal migrants' from Myanmar
Rain damage: Central team to visit Telangana
Mann Ki Baat: PM Modi announces 'Meri Mati Mera Desh' campaign to honour martyrs
Kashmir Soldier Back Home On Leave Goes Missing, Massive Search On
World Day Against Trafficking in Persons 2023: UP, Bihar, AP among top states in child trafficking; Delhi records a rise
Former Aligarh Muslim University VC Tariq Mansoor appointed BJP vice president
Rahul Gandhi sheds tears, but apples being thrown in river in Shimla
Protest against Manipur incident turns violent in Maharashtra's Nashik district
Udupi Case Shows How Modi Haters Are Ready To Ditch Women Victims For Narrative Management
Fire breaks out at Ahmedabad hospital in Gujarat; 125 patients evacuated
Mumbai rains: IMD predicts drop in rainfall intensity
Violent clashes during Muharram processions in Delhi's Nangloi, 10 cops injured
Himachal: Hotel association announces 50 per cent discount, minister says state safe to travel
Gangster Atiq Ahmed's Lawyer Arrested In Witness Murder Case
'Vegetarians only': IIT Bombay students complain of food discrimination at hostel canteen
'Discipline is hallmark of Armed Forces': SC refuses relief to Army man who overstayed leave
International World News Headlines in English – 31 July 2023
Five people, all in their 20s, shot outside supremarket in Seattle
Wagner troops inch closer to Polish border: Poland PM fears 'hybrid attack'
South Africa's Opposition Calls For Boycotting BRICS Summit To Back Putin
Northern China faces Doksuri floods as south mops up from storm
Saudi Arabia to host Ukrainian peace talks in August; India, Britain, US among top invitees
Israelis protest after government pushes through key reform
Muslims observe Muharram with 'tazia' processions, special prayers
Ukraine's Gigantic 8000 Kg Missile, That Once Even Shot Down An Israeli F-16, Strikes Russia
Joining China's Belt and Road was an 'atrocious' decision: Italy minister
Dog throws tantrum after human switches off computer
UK Doctor Claiming To Be Trained In 'Indian Massage' Jailed For Sex Assault
Brotherhood, unity on display as mourners take out procession in Srinagar
"Certain Attitude Towards…": Putin Defends Arrest Of Critics During War
Argentina's Crypto millionaire Fernando Algaba received threats before being found dismembered in suitcase: Report
Starlink has become the 'blood' of Ukraine's communication infrastructure, but officials are reportedly growing concerned about relying on Elon Musk's tech
Russia Says Thwarts Overnight Ukraine Attack On Crimea With 25 Drones
Another Indian-American launches US Presidential bid: Who is Hirsh Vardhan Singh
EU cut off financial support; West Africa leaders to meet over Niger coup, junta warns against intervention.
Cash-strapped Pak approves projects worth billions of dollars to Gulf countries for investment purpose
Amid Ukrainian drone attack in Moscow, Putin claims Russia is not against peace talks
Singapore Executes Woman for the First Time in About Two Decades
Subscribe Our YouTube Channel For Education Updates – 31 July 2023 Daily School Assembly News
Sports News Headlines – 31 July 2023
Terence Crawford stops Errol Spence Jr. to win undisputed welterweight crown
ICC inspects venues at Bengaluru, Chennai, Thiruvananthapuram ahead of 2023 World Cup
'My life changed after those five sixes': Rinku Singh credits India selection for Asian Games to special IPL 2023 knock
"I Wish That…": Stuart Broad's Ultimate Confession On Yuvraj Singh's 6 Sixes Episode
'These cricketers think they know everything': Kapil Dev's bombastic response to Gavaskar's 'ego' dig at India batters
Ravi Shastri Said "Hardik Pandya's Body Can't Cope With Tests". Kapil Dev Counters
India vs West Indies: Rahul Dravid explains the 'bigger picture' after India's defeat in 2nd ODI
Red-faced AIFF says senior players' inclusion rests on their availability
IND vs PAK reschedule to start chain reaction of changes in other World Cup 2023 fixtures
Korea Republic Women vs Morocco Women Prediction and Betting Tips | July 30th 2023
ICC World Cup 2023 online tickets sales likely to begin by August 10: Reports
Manchester United Agree Deal To Sign Rasmus Hojlund
Sanju Samson 'Reluctant Wicket-keeper': Ex-BCCI Selector's "Not Too Harsh" Dig
Ishan Kishan Breaks Sachin Tendulkar's 29-year-old Record During 2nd IND-WI ODI
Ajinkya Rahane Take U-Turn On County Stint, Decides To Take Break From Cricket
'Lionel Messi is not going to go on loan to FC Barcelona': Inter Miami co-owner makes massive transfer claim
Shubman Gill Breaks Babar Azam's World Record During 2nd ODI Against West Indies
Business News Headlines – 31 July 2023
Govt to get significant stake in HPCL post preference issue five years after company exit
Auto sales, Q1 results, PMI data & more: Check key triggers for stock markets this week
TCS introduces organisational rejig under new CEO K Krithivasan
Raamdeo Agrawal on GenNext & art of delegation, doubling net worth in 5 years
2 Creta-Rivaling SUVs Launching Soon – From Honda & Citroen
New Mahindra pickup truck concept teased: Global debut next month
Elon Musk shares video of 'X' logo atop Twitter's HQ in San Francisco.
FPIs' buying spree continues; invest Rs 45,365 cr in equities in July
NTPC To Hive-Off Coal Mining Business In Separate Unit, NTPC Mining
Delta Passenger Downs 11 Drinks, Sexually Assaults Woman And Her Daughter On Flight: Report
New Kia Seltos' Most Value for Money Variants Under Rs 16 Lakh: An Expert Guide
Multibagger penny stock under Rs 30: This PSU bank reports an impressive 173 per cent surge in operating profit!
Global chip design leader Synopsys to set up its centre in Bhubaneswar
Realty booming but prefer to play it through building materials & home financiers: Pawan Parakh
Customers be asked to refund rebate on electric 2-wheeler purchases amid subsidy cancellation, says EV makers body
AIGF appeals to FinMin against repeated taxation in online skill gaming
Science Technology News Headlines – 31 July 2023
NASA's spacecraft Voyager 2 'unable to receive commands or transmit data back to Earth'
Scientists Revive 46,000-Year-Old Worm That Was Frozen In Siberian Permafrost
NASA's Hubble Telescope Witnesses Mind-Boggling 'Hiccups' in Evaporating Planet's Atmosphere
ESA is developing technologies to keep underwear of astronauts clean in future Moon missions
SpaceX Falcon Heavy Rocket Deploys Massive Satellite
Emirati astronaut Sultan AlNeyadi describes a typical day on board the International Space Station
Artificially Grown 'Mini-Brains' Without Animal Components Bring Opportunities for Neuroscience
Wollongong professor Justin Yerbury dies from motor neurone disease
Time-Traveling pathogens found in melting permafrost
Euclid dark matter telescope arrives at its destination orbit
"Starry Pillar Of Creation": NASA Shares Iconic Image Of Eagle Nebula
Astronomers Observe Supermassive Black Hole Pointing Jet Towards Earth
ChatGPT to Bard, 'Unlimited' ways to override AI chatbots safety measures exposed
WhatsApp Introduces Real-Time Video Messages with End-to-End Encryption
NASA launches streaming service NASA+, app update coming soon
Scientists Invented an Entirely New Process For Refrigerating Things
Weather News Headlines – 31 July 2023
Weather Update: IMD Predicts Heavy Rainfall In Karnataka, Telangana; Godavari Crosses Danger Mark
Weather update: IMD issues orange alert for 14 states including UP, Assam, Bihar amid heavy rainfall
IMD Weather Update: Rainfall Activity To Increase Over Northwest India Between August 2 And 3
Weather update for last two days of fifth Ashes Test: Rain forecast for England v Australia at Kia Oval | Ashes 2023
Ashes 2023, 5th Test: The Oval London Weather Today Ahead of Day 4
Thought of the Day – 31 July 2023
"Education is a once in a lifetime opportunity to open children's hearts and minds to the unbelievable wonder of the universe." Sir Anthony Seldon.
General Knowledge Quiz Questions for Daily School Assembly News Headlines – 31 July 2023
General Knowledge Quiz Questions for Daily School Assembly News Headlines 2023
General Knowledge Quiz Questions Answers Class Wise – 2023