Are you searching for – Daily School Assembly Today News Headlines for 30 April 2023
Then you are at Right Place.
The Complete and Official Information of Daily School Assembly Today News Headlines for 30 April 2023
Daily School Assembly Today News Headlines for 30 April 2023
To inform all pupils of what will be happening in the Nation and the world today, the top headlines of the day are read during the school assembly after the call to prayer. Now let's read the most recent news of the day. Read the most recent news from India and outside while keeping up with Indian political movements.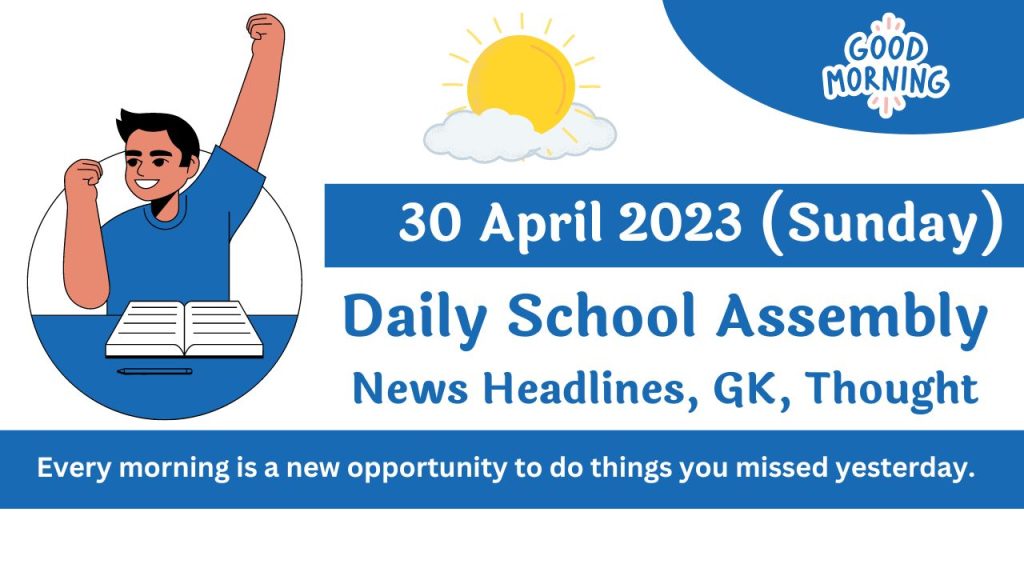 We are giving information News of National News, International News, Educational News, Sports News, Business News and science & Technology News.
Today's Important Day on 30 April 2023
Only Sunday- 30 April 2023
National News Headlines – 30 April 2023 (Sunday)
First Time On Camera: How PM Modi records his monthly radio show 'Mann Ki Baat' 
IAF's Dramatic Aerial Rescue of 121 Indians From Wadi Sayyidna in Sudan Has Been Long in the Making
Priyanka Gandhi, Arvind Kejriwal meet protesting wrestlers at Jantar Mantar, slam Centre for 'protecting' WFI chief
Jailed ganglord Mukhtar Ansari gets 10-year jail for BJP MLA's murder
Karnataka polls: PM Modi takes out mega roadshow in Bengaluru
Union Minister Faces Police Case Over "Ravan" Jibe Against Ashok Gehot
Murdered IAS officer G Krishnaiah's wife moves SC challenging premature release of convicted Bihar politician
TS Secretariat launch: Routes to take & avoid in Hyderabad on Sunday
ED raid on edutech unicorn Byju's in Bengaluru under 'FEMA violations'
International World News Headlines – 30 April 2023
Neighbors asked man to stop firing rifle outside. He then shot 5 people in Texas
UAE's Sultan Al-Neyadi Becomes 1st Arab Astronaut To Complete Spacewalk
Abhilash Tomy completes the Golden Globe Race, finishing second; makes maritime adventure history
China Philippines Live : Philippines Calls on China To Stop Aggression In South China Sea
Border unlikely to cool down as India reads China the riot act
Two-sided triangle: Fast-growing India is caught in China-Pakistan pincer in Modi's 10th year
Seizure of Biological Lab in Khartoum: A biohazard is brewing
Subscribe Our YouTube Channel For Education Updates – Daily School Assembly News
Sports News Headlines – 30 April 2023
Three stats from Real Madrid 4-2 Almería
IPL 2023: No way home for Prithvi Shaw! After molestation allegations by Sapna Gill now Delhi Capitals show no faith in Mumbai batter in IPL 2023
Cheteshwar Pujara sends Australia big warning ahead of WTC finals, smashes second ton in three matches
F1 2023 Azerbaijan Grand Prix – Sprint results
"Sanju Samson Has Similar Qualities To MS Dhoni": Ex-India Captain's Big Remark
DC vs SRH Highlights, IPL 2023: SunRisers Hyderabad Beat Delhi Capitals By 9 Runs, Put End To 3-Match Losing Streak
Blame Game In Kolkata Knight Riders Camp As Nitish Rana Says THIS After Defeat Against Gujarat Titans
Watch: Pakistan-New Zealand ODI bizarrely delayed after umpires realise 30-yard circle is in wrong position
Satwik-Chirag first Indian men's doubles pair to reach Badminton Asia Championships final
Chennai Super Kings v Punjab Kings IPL Tips: Super Kings strong at home
Business News Headlines – 30 April 2023
Hindenburg-Adani probe: SEBI asks SC for six months more
Wheels are turning back: After two-wheelers lose a decade in India, will this year be different?
Q4 results: IDBI Bank profit zooms 64% YoY, RBL Bank's 37%
Petrol and Diesel Price decreases in capital city of Odisha on April 29
Bank of Baroda: Govt appoints Debadatta Chand as MD & CEO
Citroen C3 AirCross official TVC released
Godrej's acquisition of Raymond's consumer care business raises market doubts
Bajaj Finance to build non-Bajaj book before launch of Bajaj Auto's NBFC
April property sales revenue on decadal high
Want To Read News On Twitter? You May Have To Pay For It From Next Month
Science Technology News Headlines – 30 April 2023
SpaceX ViaSat-3 Americas Launch Update: Know Time and Live Streaming Details of Falcon Heavy Rocket Launch
ESA's Jupiter Icy Moons Explorer (JUICE) Mission Faces Issue with Radar Antenna Deployment
Humanity's Outpost in Space: Partners Pledge Extension of the International Space Station
NASA camera onboard S. Korean orbiter captures lunar South Pole region
Comparative genomics helps researchers understand human genome better
Gravitas: World's first para-astronaut John Mcfall makes maiden zero-gravity trip!
NASA says a dangerous rock is speeding towards earth
Penumbral Lunar Eclipse To Occur In India On May 5; Here's The Science Behind It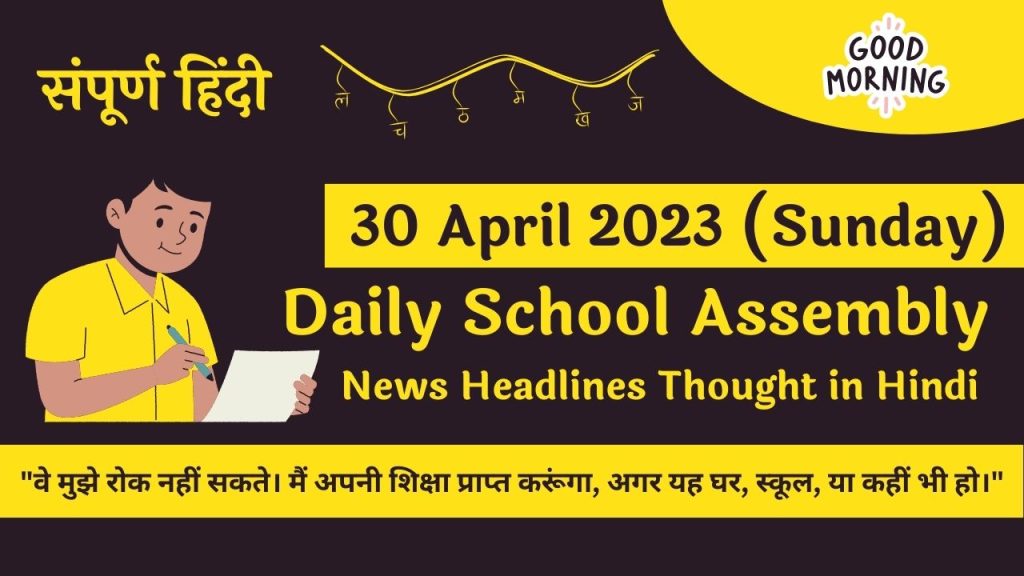 Thought of the Day – 30 April 2023
Every morning is a new opportunity to do things you missed yesterday.