Are you searching for – Daily School Assembly Today News Headlines for 29 April 2023
Then you are at Right Place.
The Complete and Official Information of Daily School Assembly Today News Headlines for 29 April 2023
Daily School Assembly Today News Headlines for 29 April 2023
To inform all pupils of what will be happening in the Nation and the world today, the top headlines of the day are read during the school assembly after the call to prayer. Now let's read the most recent news of the day. Read the most recent news from India and outside while keeping up with Indian political movements.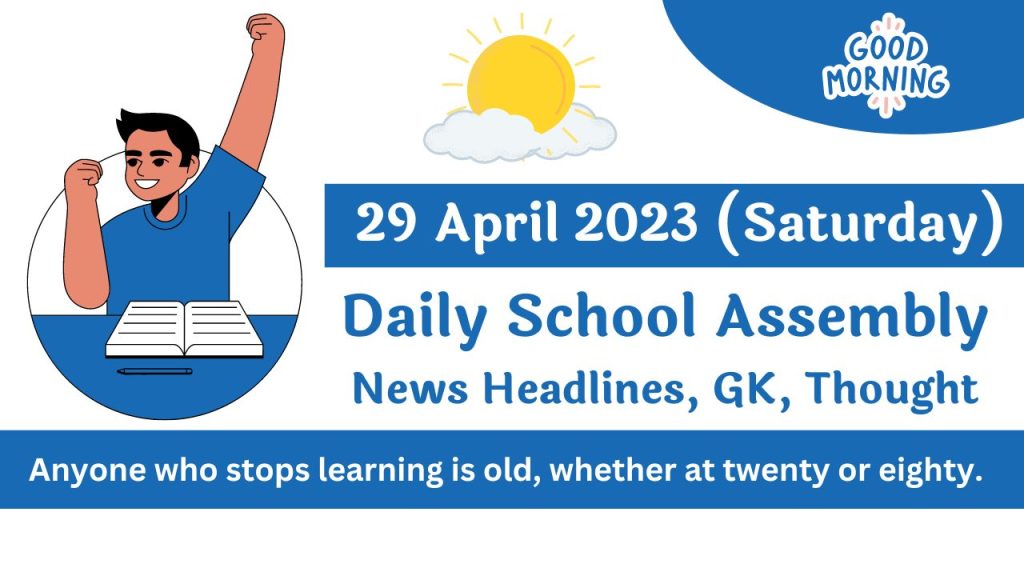 We are giving information News of National News, International News, Educational News, Sports News, Business News and science & Technology News.
Today's Important Day on 29 April 2023
Only Saturday- 29 April 2023
National News Headlines – 29 April 2023 (Saturday)
Shashi Tharoor's Sharp Reaction To PT Usha's Remark On Wrestlers' Protest
Modi is dejected that BJP will lose polls: DKS
'Poisonous woman…': Karnataka BJP MLA attacks Sonia Gandhi in 'Modi snake' row
Supreme Court directs UP govt. to submit status report on steps taken post killing of Atiq Ahmed, his brother
Delhi Excise Policy: Special Court Likely To Pass Order On Manish Sisodia's Bail Plea In ED Case
Taking Exception To Calcutta HC Judge's TV Interview, Supreme Court Directs Transfer Of WB Teacher Recruitment Case To Another Judge Padmakshi Sharma
Supreme Court: India same-sex marriage case tests judges
​How India Became Sudan's 'Guru': Of Luvchand Amarchand Shah, Gujarati Traders & Hakki Pikki
3 days after his death, Parkash Singh Badal gets SC clean chit in forgery case
International World News Headlines – 29 April 2023
BBC Chairman Announces Resignation Over Loan To Boris Johnson
Rajnath Singh chairs SCO defence ministers' meeting
Moscow 'deliberately' repopulating Ukraine with Russians? Vladimir Putin's plan
Vladimir Putin rushing to Kremlin at midnight sparks speculation
"Idea That He Would Make It Until 86 Unlikely": Nikki Haley On Joe Biden
"The End" Of Kim Jong Un? What The 'Washington Declaration' Means
Operation 'Kaveri': Nearly 1,100 Indians Evacuated, Areas Outside Khartoum Hard to Access, Says MEA | Updates
'Butcher of Mariupol' Mikhail Mizintsev removed as Russian deputy defence minister: Reports
Singapore executes convicted drug trafficker: Why are rights groups angry?
Biden Says Nuclear Attack By North Korea Would Result In "End Of Regime"
Subscribe Our YouTube Channel For Education Updates – Daily School Assembly News
Sports News Headlines – 29 April 2023
Sri Lanka vs Ireland Highlights, 2nd Test Day 4 at Galle: IRE trail by 158 runs in second innings
'Virat Kohli was well set and…': Venkatesh Iyer's candid admission on catch that broke RCB and Anushka's hearts
IPL 2023: Match 40, DC vs SRH Match Prediction – Who will win today's IPL match between DC vs SRH?
Zaman steals Mitchell's thunder as Pakistan down visiting Kiwis in 1st ODI
All eyes on Russell as KKR look to sustain winning momentum
Shastri: India should 'look in direction' of giving Kohli captaincy when Rohit is unavailable
PBKS vs LSG Live Score, IPL 2023: Lucknow make history by smashing 257/5 in 20 overs
Virender Sehwag to Kapil Dev: Cricket Stars Offer Support To Wrestlers After Vinesh Phogat Questions Silence
Business News Headlines – 29 April 2023
'Each day, I get 4-5 mails on Air India': Tata Sons chairman N Chandrasekaran
Wipro share buyback may hide weak FY24 outlook. Should you buy, sell or hold?
LIC names Siddhartha Mohanty as its first CEO; why chairman post discontinued?
Axis Bank reports Rs 5,728-crore loss in Q4 on Citi biz acquisition
Majority Of Pilots Have Accepted New Compensation Package: Air India Chief
Sensex soars 460 pts, Nifty crosses 18,000 mark; Wipro, Nestle India, ITC jump, Axis Bank drags
Core sector output growth falls to five-month low of 3.6% in March
"Wish Them The Very Best": Jet Airways CEO-Designate Sanjiv Kapoor On Quitting
Science Technology News Headlines – 29 April 2023
Ambitious genome project shows how humans fit with other mammals
Asteroid Warning! NASA Issues Alert As Three Asteroids Approaching Earth Today; Know If They Will Strike Our Planet
AI Astronomer: Scientists use AI & ML to discover new planet way outside our solar system
Japanese team reviews Lunar Polar Exploration mission with ISRO
Spacewalk with NASA Astronaut Steve Bowen and UAE Astronaut Sultan Alneyadi (April 28)
Solar eclipse and lunar eclipse: What is the difference between both phenomena?
Meltdown: 2023 looking grim for Swiss glaciers
James Webb Space Telescope captures 'baby years' of huge galaxy cluster
Thought of the Day – 29 April 2023
Anyone who stops learning is old, whether at twenty or eighty.