Are you searching for – Daily School Assembly Today News Headlines for 28 March 2023
Then you are at Right Place.
The Complete and Official Information of Daily School Assembly Today News Headlines for 28 March 2023
Daily School Assembly Today News Headlines for 28 March 2023
To inform all pupils of what will be happening in the Nation and the world today, the top headlines of the day are read during the school assembly after the call to prayer. Now let's read the most recent news of the day. Read the most recent news from India and outside while keeping up with Indian political movements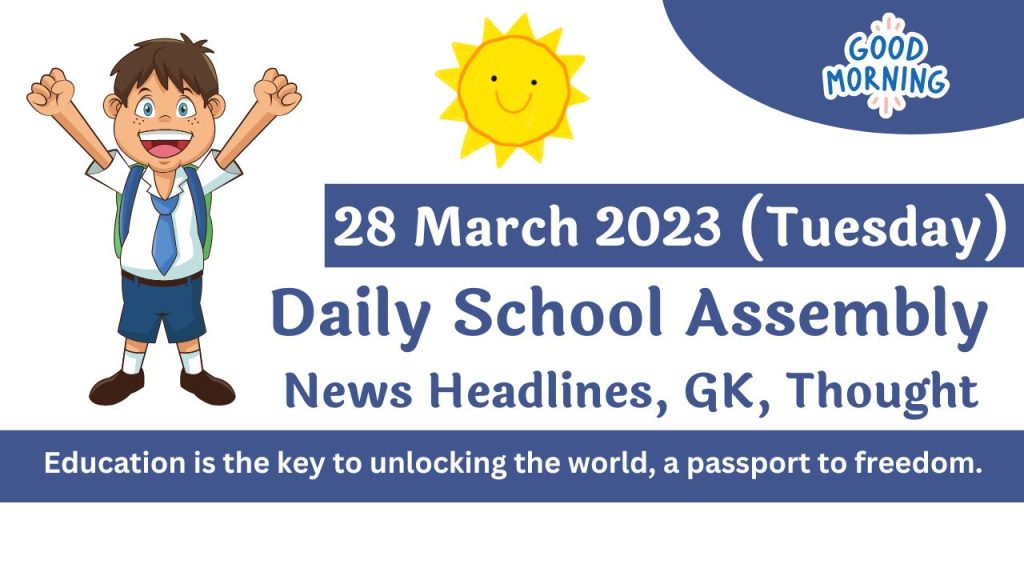 We are giving information News of National News, International News, Educational News, Sports News, Business News and science & Technology News.
Today's Important Day on 28 March 2023
National Black Forest Cake Day.
National News Headlines – 28 March 2023 (Tuesday)
Udhav Thackeray to skip congress meet over Rahul Gandhi's Savarkar Remark
Record heat waves push India closer to Limit of Human Survival
AAP, Delhi LG tussle Intensifies over Power subsidy
Rahul Gandhi's MP Disqualification : Rahul is not a Gandhi, He is 'Rahul Gandagi', says BJP MP
UP Police Get Gangster – Politician Atiq Ahmed's Custody, Hours After He Refused to Leave Jail
Aadhaar Pan Link Last Date till Date Not Extended so Hurry up for Linking – Twitter Income Tax Department
Bihar Deputy Chief Minister Tejashwi Yadav Welcomes 1st Child becomes father to Baby Girl : God sent us a Gift
Kolkata man held for sacrificing neighbor's minor daughter
Rahul Gandhi's Disqualification : Congress Divided after Pramod Tiwari's Admission
COVID 19 Case count Highest in 134 Days, Centre Issues Advisory, Delhi Hospitals Conduct Mock Drills
International World News Headlines – 28 March 2023
NATO condemns Putin's decision to deploy tactical nuclear weapons in Belarus amid the Ukraine war
US Legislation to address Security Worries Foreign Companies" : China on TikTok Bill
Mass Protests against judicial reforms across Israel after Netanyahu sacks Defense Minister
Blast near Afghanistan's Foreign Ministry kills at least two : NGO
UK PM Rishi Sunak to Unveil New Measures against Anti Social Behavior
Either Imran will be eliminated or we will be : Pakistan Minister's Socking threat
Egypt excavation uncovers 2,00 mummified ram heads in ancient city of Abydos
North Korea test fires 2 more missiles as U.S sends carrier
Subscribe Our YouTube Channel For Education Updates – Daily School Assembly News
Sports News Headlines – 28 March 2023
Women's World Boxing Championships : Gold Glory for India as all 4 Boxers win Gold
Indore pitch rating for India-Australia encounter changed after BCCI appeal
Ravindra Jadeja promoted to Grad A+ Contract
Mumbai Indians, the Maximum Team of the WPL
IPL 2023 : Chris Gayle puts on Dancing Shoes, Virat Kohli Reacts as RCB fans give stellar Welcome
"Agar Do Drink Ho Gyi" : Virat Kohli Recalls hit old drinking Day in Fun Q&A with Wife Anushka Sharma
AB de Villers rules out RCB comeback for IPL 2023 : Chris Gayle and I won't get a chance in playing XI
Business News Headlines – 28 March 2023
Stock Market Today : Top thing to Know before the Market opens
Indices Sensex & Nifty Open Flat Amid Mixed Global Cues
US Firm Acquires Silicon Valley Bank After It Went Bankrupt
Elon Musk bought Twitter for $44bn five months ago
Twitter Now work $20 Billion, Less than Half of What Elon Musk Paid
EPFO continues to Invest in Adani Enterprises Adani Ports despite market rout; may continue till Sept
OneWeb should have all clearance in time for July launch in India : Sunil Mittal
Nifty to remain sideways but these 3 stocks can give up to 18% in short term
Science Technology News Headlines – 28 March 2023
Android users may soon get new WhatsApp 'Audio chats' feature
Microsoft apparently doesn't want rivals like DuckDuckGo to use Bing Search data in their AI tools as Chatbot wars heat up
New Open Source ChatGPT Clone – Called Dolly
Supermassive Blackhole sending powerful radiation, as it points directly at Earth: Scientists
Parade of planets to begin tonight : these planets to be visible in skies from India
290 foot and 170 foot giant asteroids among 5 zooming towards Earth, NASA says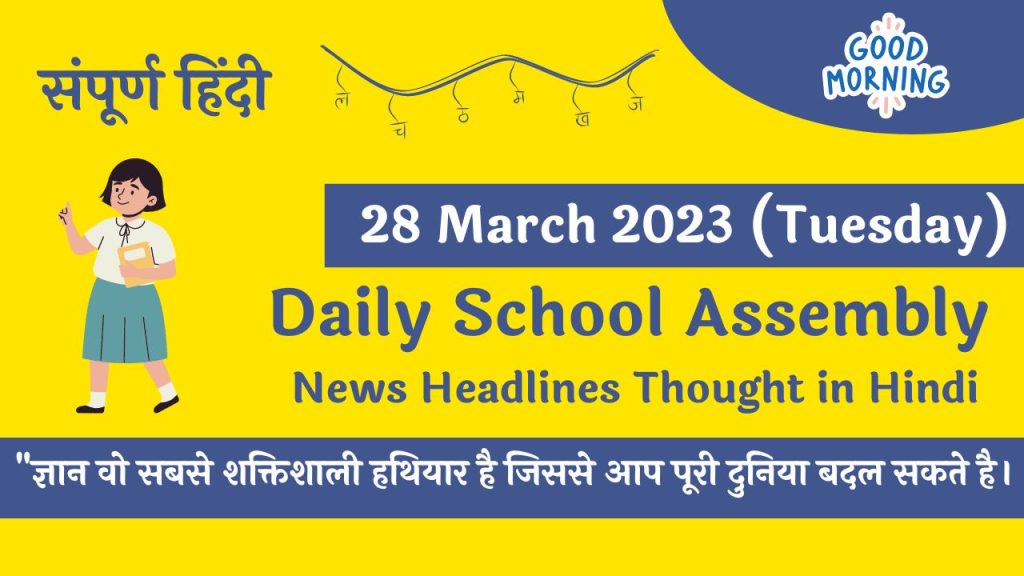 Thought of the Day – 28 March 2023
Education is the key to unlocking the world, a passport to freedom.