Are you searching for – Daily School Assembly Today News Headlines for 27 March 2023
Then you are at Right Place.
The Complete and Official Information of Daily School Assembly Today News Headlines for 27 March 2023
Daily School Assembly Today News Headlines for 27 March 2023
To inform all pupils of what will be happening in the Nation and the world today, the top headlines of the day are read during the school assembly after the call to prayer. Now let's read the most recent news of the day. Read the most recent news from India and outside while keeping up with Indian political movements
We are giving information News of National News, International News, Educational News, Sports News, Business News and science & Technology News.
Today's Important Day on 27 March 2023
World Theatre Day
National News Headlines – 27 March 2023 (Monday)
Rahul Gandhi Graduated from Harvard, Cambridge but They call him 'Pappu' : Priyanka Slams BJP
Air India and Nepal Airlines aircraft almost collided mid – air : Report
At, 1890 India reports Highest Daily COVID – 19 Cases in Nearly 5 Months
ISRO Launches Rocket with UK Firm's 36 Satellites in Major Space Op
Khalistan supporters try to incite violence at Indian Embassy in Washington; Secret Service police foil their bid
Indian Journalist Attacked, Threat against Envoy at US Khalistan Protest
Manhunt For Amritpal Singh Reaches Nepal
Kochi Airport Runaway Shut after Forced Landing of Coast Guard Helicopter, 2 Flights Diverted
Congress Satyagraha against Rahul Gandhi Disqualification, cops say no permit
Reservation based on religion not as per constitution : Amit Shah
Rahul Gandhi changes Twitter Bio to 'Dis' Qualified MP' after Disqualification from Parliament
International World News Headlines – 27 March 2023
Massive Tornado in Mississippi kills 25, dozens injured; Biden assures help
Honduras and China Establish Diplomatic ties in blow to Taiwan
Putin to use nukes against NATO? U.S breaks silence after Russia's Belarus move
Pakistan man gets death sentence over blasphemous content on WhatsApp
Deepening China – Russia Alliance May Lead to Another Cold War
Amid Threat, Imran Khan's Lahore Rally from Inside Bulletproof Container
US Defense System "Falls Flat' against Iranian Suicide Drone in Syria ; US Investigates Avengers' Failure
Bordeaux City Hall set On Fire Amid Protests against French Pension Changes
Putin's Arrest Warrant Gives Russian Successor an Exit Strategy
Bangladesh urges UN to Declare March 25 as World Genocide Day
Sports News Headlines – 27 March 2023
World Boxing Championships : Nitu Ghanghas becomes World Champion win 5-0 win
Investing in Women's Team no CSR activity : Delhi Capitals CEO
When I Fell in Love, I Couldn't See..' Shikhar Dhawan breaks silence on his separation from wife Aesha
Swiss Open 2023 : Satwiksairaj Rankireddy and Chirag Shetty win Doubles crown, 1st Title of the Season
West Indies ride on Powell Brilliance to Down South Africa in Series Opener
Thomas Tuchel Identifies Manchester United Target as Marquee singing at Battern
Business News Headlines – 27 March 2023
Five of Top – 10 Firms lose Rs 86,447 Crore in m-cap; Infosys, TCS, SBI Hit hard
Buy debt funds before March 31 to grab indexation benefit
Crompton, Butterfly Gandhimathi to merge, expect NCLT approval by Q4 FY24
FPIs inflow falls to over Rs7,200 crore as Sensex and Nifty dive 3% in Mar so far
Finance Minister Sitharaman urges public sector bank to be more vigilant
Soft drinks to soaps : Reliance unveils big price war plan
Billionaire mining tycoon Anil Agarwal fights to clear debt
Torrent Investments won't participate in second auction for Reliance Capital
Subscribe Our YouTube Channel For Education Updates – Daily School Assembly News
Science Technology News Headlines – 27 March 2023
NASA's OSIRIS-REx Returning to Earth with Sample from Asteroid Bennu
Severe solar storm hits Earth, strongest in past 6 years
Rare Moon and Venus Conjunction Lights Up the Night Sky
Astronomers say the rare asteroid flyby is nothing to worry about
NASA rover Snaps Eerie view of the Dark Mars Sky
NASA's Hubble Space Telescope Snaps photos of Changing Weather on Uranus Jupiter
Webb telescope spots swirling, gritty clouds on remote planet
Microsoft Warns Competitors against Using big Data for Their AI Search Experiments : Report
Microsoft CEO Satya Nadella shares career advise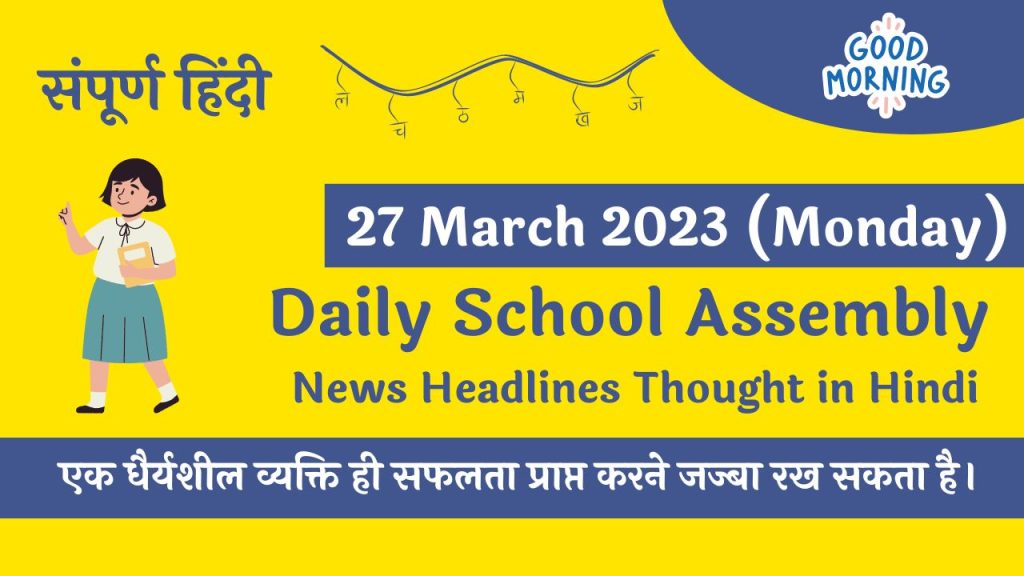 Thought of the Day – 27 March 2023
Education is the kindling of a flame, not the filling of a vessel.