Are you searching for – Daily School Assembly Today News Headlines for 23 April 2023
Then you are at Right Place.
The Complete and Official Information of Daily School Assembly Today News Headlines for 23 April 2023
Daily School Assembly Today News Headlines for 23 April 2023
To inform all pupils of what will be happening in the Nation and the world today, the top headlines of the day are read during the school assembly after the call to prayer. Now let's read the most recent news of the day. Read the most recent news from India and outside while keeping up with Indian political movements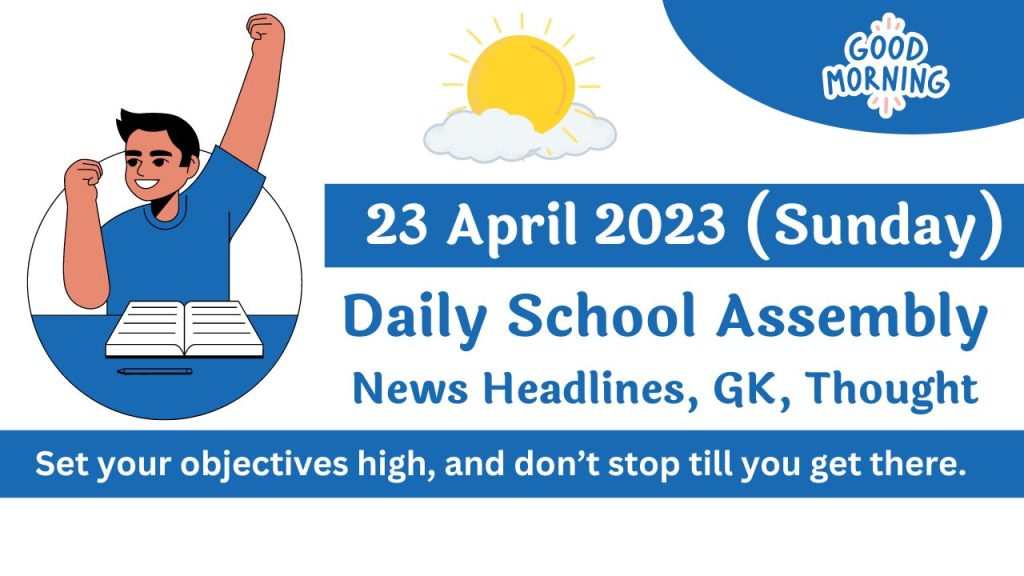 We are giving information News of National News, International News, Educational News, Sports News, Business News and science & Technology News.
Today's Important Day on 23 April 2023
World Book and Copyright Day – 23 April 2023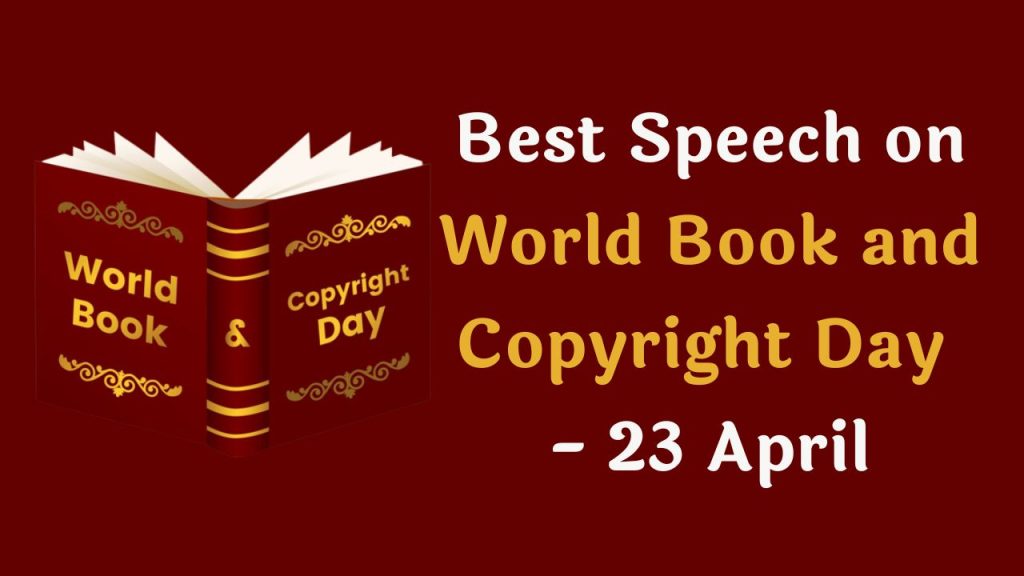 National News Headlines – 23 April 2023 (Sunday)
Satya Pal Malik leaves R K Puram Police station; cops deny arrest claims
Army truck ambushed in Poonch was carrying iftar fruits; village to skip Eid celebrations
Char Dham Yatra Begins Today, Uttarakhand CM Dhami Lifts Cap On Number Of Devotees Per Day
Karnataka: What was BJP's calculation in refusing tickets to senior leaders – especially Lingayats?
Fire Breaks Out At Delhi's Vikas Bhawan Near ITO, 4 Fire Trucks On Spot
CBI registers case against environmental lawyer Ritwick Dutta and LIFE for FCRA violation
We do not want riots. We want peace: Mamata Banerjee at a congregation for Eid namaz
Covid Spike: India Records 12,193 Fresh Cases; XBB.1.16 Omicron Variant Driving Surge in Maha
A week has passed since gangster brothers Atiq Ahmed and Ashraf were killed in Prayagraj police custody. Residents have moved on but are still haunted by what they saw on Live TV.
Saket Court Firing: Shooter Threatened To Kill Her Several Times, Claims Lawyer
On Ajit Pawar's CM ambition, Sanjay Raut says, 'My best wishes'
IIT Madras BTech student found dead, fourth case this year
Kulwant Singh, soldier killed in Poonch terror attack attack, was son of Kargil war hero
Threat letter warns of suicide bomb attack on PM Modi during Kerala visit, police begin probe
Subscribe Our YouTube Channel For Education Updates – Daily School Assembly News
International World News Headlines – 23 April 2023
No Eid Prayers at Srinagar's Jama Masjid Over Law & Order Concerns; CM Mamata Speaks on 'Hate Politics'
Oliver Dowden Named UK Deputy PM After Dominic Raab's Resignation
Supreme Court preserves broad access to abortion pill
Devotees offer Namaz, celebrate Eid-ul-Fitr with devotion in Mangaluru, Udupi
Bill to curb CJP's powers becomes law under shadow of SC freeze
Jaishankar co-chaired the 4th India-CARICOM ministerial meeting with his Jamaican counterpart Kaminaj Smith here in Guyana's capital.
"Eid Mubarak!": PM Modi Greets Nation As India Celebrates Eid-ul-Fitr
Twitter Blue Ticks: From Bill Gates, Pope Francis to Virat Kohli and Shah Rukh Khan, if you didn't pay for it, it's gone
'Devastating toll' of fighting in Sudan: Over 400 killed, 3,500 injured
NATO Chief's First Ukraine Visit Since Russian Invasion, Zelensky Urges End To Weapons "Restraint"
Man gets angry on flight over crying baby, yells at cabin crew.
Sports News Headlines – 23 April 2023
LSG vs GT Live Score, IPL 2023: Krunal Pandya packs Shubman Gill for 0, Hardik Pandya joins action
CSK vs SRH IPL 2023: A walk in the park for Chennai Super Kings against Sunrisers Hyderabad
Arsenal player ratings vs Southampton: Bukayo Saka keeps Premier League title dream alive as Thomas Partey and Fabio Vieira drop stinkers
"Arjun Has Surpassed Sachin In…": Ravi Shastri On Father-Son Duo's IPL Exploits
IPL 2023: Match 31, MI vs PBKS Match Prediction – Who will win today's IPL match between Mumbai Indians vs Punjab Kings?
Seeds tumble and shocks galore in Antalya recurve eliminations
Sachiiiiiin, Sachiiin! Special 50th birthday celebrations in place at the Wankhede
IPL 2023: MS Dhoni is completely fine, Ben Stokes will be out for a week, says CSK coach Stephen Fleming
"Can't Keep Going On Reputation…": Michael Vaughan's Brutal Take On Delhi Capitals Star
Business News Headlines – 23 April 2023
Indian ministries, politicians, celebrities lose blue ticks on Twitter
RIL net profit rises 19% to Rs 19,299 crore in Q4 to highest ever
GST not applicable on transfer of Jaipur International airport business to Adani group
World Earth Day: Polluted India needs to go extra mile with EVs
'Can't wait to return': Apple CEO Tim Cook on last day of India visit
RBI staff see India soon entering a 'low inflation regime'
UK sandwich chain Pret A Manger launches in India
Google Stops Work On Big Silicon Valley Campus: Report
Science Technology News Headlines – 23 April 2023
Alleged Pixel Fold live video, pricing, sale offers leak ahead of expected May 10th launch
Tech this week: India's first Apple store, Twitter blue tick removal, Samsung Galaxy M14 5G launch and more
Wordle 672 puzzle, April 22, 2023: Hints, clues and word of the day
WhatsApp users can now save disappearing messages with Keep in Chat feature, but there is a catch
Google equips Bard with the power of coding, chatbot can now write, debug & explain codes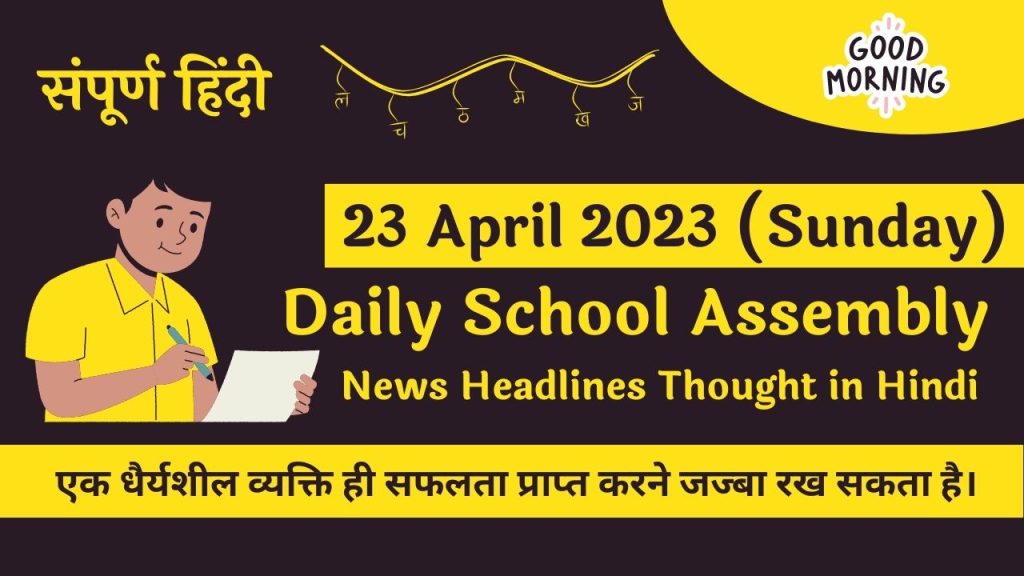 Thought of the Day – 23 April 2023
Set your objectives high, and don't stop till you get there.