Are you searching for – Daily School Assembly Today News Headlines for 13 May 2023
Then you are at Right Place.
The Complete and Official Information of Daily School Assembly Today News Headlines for 13 May 2023
Daily School Assembly Today News Headlines for 13 May 2023
To inform all pupils of what will be happening in the Nation and the world today, the top headlines of the day are read during the school assembly after the call to prayer. Now let's read the most recent news of the day. Read the most recent news from India and outside while keeping up with Indian political movements.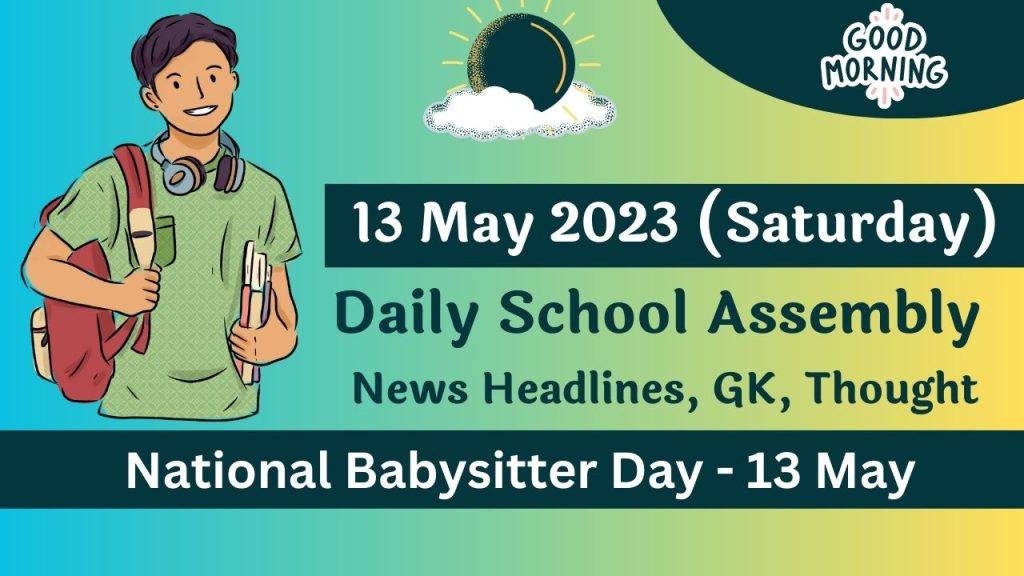 We are giving information News of National News, International News, Educational News, Sports News, Business News and science & Technology News.
Today's Important Day on 13 May 2023
National Babysitter Day – 13 May
National News Headlines – 13 May 2023 (Saturday)
CBSE Result 2023: CBSE Class 12 Results Declared, Navodaya Vidyalaya is Top Notch 97.51
Karnataka elections: 'BJP has accepted its defeat,' Congress leader Randeep Surjewala about JDS alliance
SIT formed to probe sexual harassment allegations against WFI chief Brij Bhushan Singh
PM Modi To Visit Gujarat Today, Will Inaugurate Projects Worth Rs 4,400 Crore
There is no need of demanding resignation from the current CM Eknath Shinde on moral grounds. 
On allegation of a de-facto ban in Tamil Nadu, CJI D Y Chandrachud asks the state government to specify the administrative arrangements made for security to theatres screening the movie
₹ 30,000 Salary, 7 Crore Found In Raids: Madhya Pradesh Officer In Trouble
Nitish-Thackeray Meeting, SC Verdicts on Maharashtra and Delhi Bolster the Idea of Opposition Unity
AAP govt moves SC on issue of transfer of Delhi govt's services secretary
Mocha intensifies into 'very severe' cyclonic storm, IMD issues alert for farmers, fishermen
Former MP and gangster-turned-politician Anand Mohan Singh said he is ready to get hanged or shot dead if the government believes he is guilty.
Not seeking revenge but Ashok Gehlot…: Sachin Pilot amid widening rift with Rajasthan CM
Crime Branch to probe Dr Vandana murder case …
Court probe of Adani short-seller saga tests India's institutions
BJP will cross the magic figure, says Karnataka CM Bommai
SC stays Gujarat government decision to promote 68 judicial officers as district judges
Letter pieces in Punjabi found at Amritsar blast site
Marriage Equality | Civil Union Not An Equal Alternative To Marriage: Dr AM Singhvi Tells Supreme Court
Modi's roadshows impress Bengaluru, but voter turnout still stuck at 56%
International World News Headlines – 13 May 2023
Imran Khan Gets Bail, Day After Pak Supreme Court Called Arrest "Illegal"
YouTuber Who Crashed Plane For Views Could Be Jailed For 20 Years
Pak minister slams top court for releasing Imran Khan: 'Not even worst enemy
Bobi, World's Oldest Ever Dog, Celebrating Its Birthday
Investments via PLI schemes top priority: Nirmala Sitharaman
Hundreds Stuck As US Changes Migrant Rules Overnight
Five senior Gaza commanders killed by Israeli forces; rocket strikes cause first death in Israel
Russia reveals two reasons for Ukraine invasion; Blasts U.S.-led NATO alliance for 'provocation'
Turkey Elections: Why India, Israel, US & EU Would Be Hoping For 'End Of Reign' Of Recep Tayyip Erdogan
U.K. sending Ukraine long-range cruise missiles
"A Black Chapter": Pak Army On Violent Protests Over Imran Khan's Arrest
Russia's 'On Patrol' Pantsir-S1 System Destroyed By Ukrainian Military Near Bakhmut
US accuses South Africa of supplying arms to Russia 
Pakistan's reeling economy takes new hit from protests
Russian Army office targeted in Ukraine drone strike in Bryansk; UAV shot down in Belgorod
Putin's troops fleeing Bakhmut, says Ukraine; Kremlin admits campaign 'very difficult'
Mpox no longer a global health emergency: WHO
China punishes over 100,000 officials in Xi Jinping's anti-corruption drive: Report
Pakistan will not default even without IMF deal: Ishaq Dar
Sudan's Armed Forces and Rapid Support Forces sign agreement intended to lay groundwork for humanitarian assistance in Sudan, say US officials
India and Thailand Conduct 35th Indo-Thai Coordinated Patrol(CORPAT)
One dollar is now equal to 300 Pakistani rupees
Subscribe Our YouTube Channel For Education Updates – Daily School Assembly News
Sports News Headlines – 13 May 2023
With Virat Kohli Analogy, Ex India Star Slams KKR Spinner For Attempt To Deny Yashasvi Jaiswal Ton
IPL 2023: Jos Buttler fined 10 percent of match fee for breach of Code of Conduct
Arjun Tendulkar & Tilak Varma To Return? Mumbai Indians' Likely Playing XI For IPL 2023 Match Against GT
'Are They Aliens From Another World?': Junaid Khan Questions India's Security Concerns Over Touring Pakistan
Delhi News Live Updates: Delhi Police records WFI chief Brij Bhushan statement
Juventus earn last-gasp draw with Sevilla on Gatti header
IPL 2023: On MS Dhoni Not Batting For "Longer Period", CSK Coach Says This
Shahid Kapoor enjoys cricket match at Wankhede stadium with son Zain Kapoor; fans are all hearts for the father-son duo
Xabi Alonso unhappy with first leg result in Rome
Yuzvendra Chahal breaks Dwayne Bravo's spectacular record to rewrite history in KKR vs RR match at IPL 2023
Nitish Rana Brutally Trolled By KKR Fans After Yashasvi Jaiswal Smashes Him For 26 Runs In An Over
'Jaiswal should've been selected as KL Rahul's replacement for WTC final': Ex-England captain Vaughan's bold claim
Shastri expects India to go 'the 2007 route' for next T20 World Cup with Hardik as captain
AFC Asian Cup 2023 Draw: India clubbed with Australia, Uzbekistan, Syria
"Came Home And Shaved My Head": KKR Star Shares Dramatic Tale Of Selection Snub
IRE vs BAN Dream11 Prediction Today Match, Dream11 Team Today, Fantasy Cricket Tips, Playing XI, Pitch Report, Injury Update- 2nd ODI
Draymond Green sets tone as Warriors beat Lakers to stay alive
IPL 2023: Graeme Swann offers bizarre take on spat between Virat Kohli and Gautam Gambhir
BBL to be shortened to 40 regular-season games from 2023-24 summer onwards
Nuggets advance to Western Conference finals, focused on 'winning a championship'
Business News Headlines – 13 May 2023
Sensex falls 300 points, Nifty near 18,200 on weak global cues
Court probe of Adani short-seller saga tests India's institutions
Adani Total Gas, Adani Transmission To Move Out Of MSCI India Index
'India is a risky jurisdiction…,' SMBC Aviation Capital on Go First, Jet Airways, Kingfisher failure
Vedanta Q4 result: Net profit plunges 56% to Rs 2,634 crore, revenue down 5%
Billionaire Gautam Adani's firms weigh raising up to $5 billion, sources say
Morning brief: Elon Musk steps down as Twitter CEO, says he's found a woman to lead, and all the latest news
Multibagger from its 52-week low: This micro-cap company ropes Govinda as brand ambassador and receives Rs 18 crore for branding expenditure!
Exclusive: Pine Labs, PharmEasy face markdowns by Neuberger Berman as tech valuations tumble
Pratt & Whitney says faces higher risks after Go First filed for bankruptcy
Closing Bell: Sensex up 123 points, Nifty above 18,330; M&M, IndusInd, Axis Bank top gainers
Achhe din for rupee? Domestic currency may fall below 80 against dollar in coming months, say analysts
'Boycott Starbucks' Trends As New Ad On Inclusivity Divides The Internet
Maruti Jimny Production Starts – 1st 5 Door Jimny Rolls Out Of India Plant
Zensar Tech hits 52-week high on March quarter results
Amazon, Flipkart, Meesho ordered to stop selling seat belt alarm stopper clips
Dr Lal PathLabs stock under pressure after March quarter earnings fails to impress
Science Technology News Headlines – 13 May 2023
NASA's Jet Propulsion Laboratory designed a snake-like robot to explore one of Saturn's moons
Radioactive Elements Can Replace Essential Rare Earth Metals in Some Bacteria
Possible Meteorite Crashes Through Roof Of US Home, Residents Safe
SwRI to lead NASA/SSERVI Center for Lunar Origin and Evolution
SpaceX-Vast's first commercial space station to go up in 2025
Google Identifies Bug That Showed WhatsApp Was Accessing Mic: Report
Get ready to unleash your inner hero! The Legend of Zelda: Tears of the Kingdom launches on Nintendo Switch
Google I/O shows search giant is feeling competition. Age of generative AI now more exciting
Foxconn will be increasing production yield in India: Chairman Young Liu
Tinder will remove social handles from bios as part of its updated community guidelines
Soon, get real-time traffic, weather updates on Google Maps with Immersive View feature
Never-before-seen objects revealed in new infrared atlas of five nearby star-forming regions
Perseverance rover's new images hint at powerful ancient river on Mars
Asteroid Alert! Colossal 250-Foot Asteroid Heading Towards Earth Today With Tremendous Speed, Know if the Building-Size Rock Will Hit Our Planet
Astronomers detect largest cosmic explosion ever seen
NASA's Plant Science is Rooted in Earth and Shoots for the Stars
The Elusive Enigma: Unravelling the Missing Mass Paradox and Its Cosmic Conundrums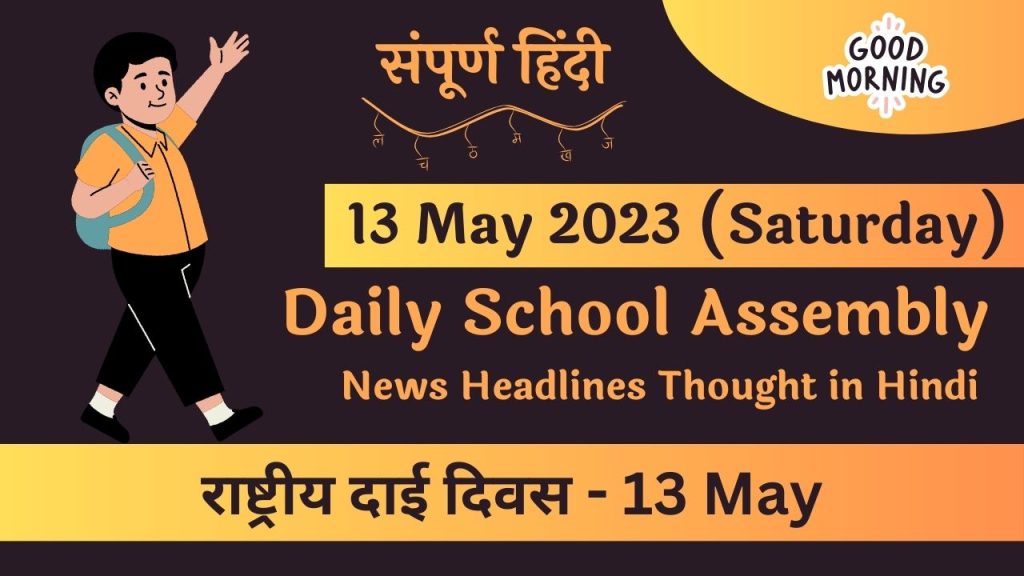 Thought of the Day – 13 May 2023
Education is the tool that breaks down all barriers.