Are you searching for – Daily School Assembly Today News Headlines for 08 May 2023
Then you are at Right Place.
The Complete and Official Information of Daily School Assembly Today News Headlines for 08 May 2023
Daily School Assembly Today News Headlines for 08 May 2023
To inform all pupils of what will be happening in the Nation and the world today, the top headlines of the day are read during the school assembly after the call to prayer. Now let's read the most recent news of the day. Read the most recent news from India and outside while keeping up with Indian political movements.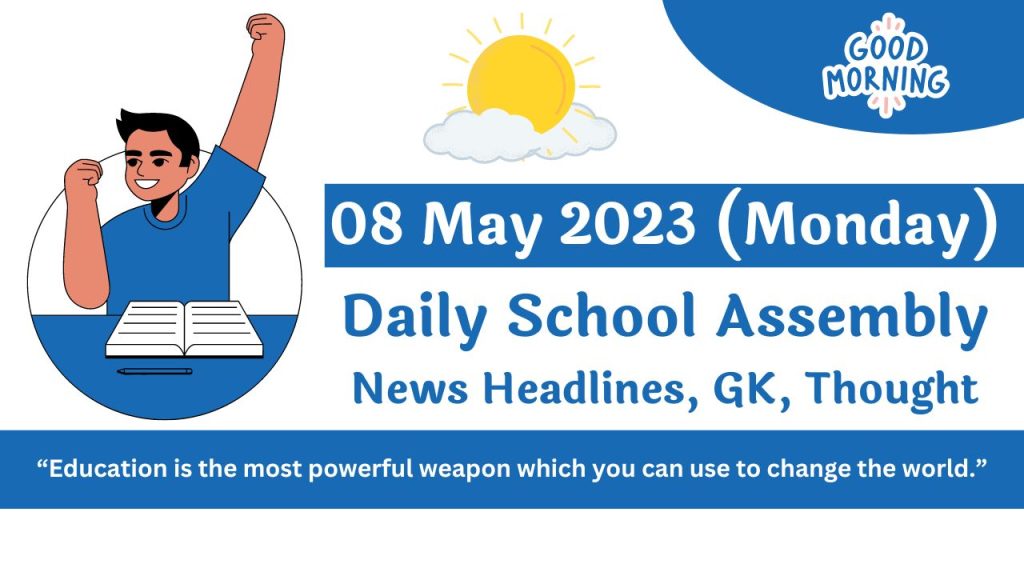 We are giving information News of National News, International News, Educational News, Sports News, Business News and science & Technology News.
Today's Important Day on 08 May 2023
National News Headlines – 08 May 2023 (Monday)
Karnataka Elections Live: How come in a developing India a Muslim man marries 4 women, says Assam CM
Wrestlers' protest: Committee gives May 21 deadline for arrest of Brij Bhushan; protest not hijacked by farmers, says Vinesh
Manipur Violence Is a Setback for Modi's Christian Outreach Moves in Kerala
Cyclone Mocha: IMD issues heavy rain alert for Andaman and Nicobar Islands
Supreme Court to hear plea for SIT into Manipur clashes on May 8
'I'm Good Host If…': S Jaishankar On Talks With Pakistan Minister Bilawal Bhutto
Amid Manipur Unrest, How States Are Reaching Out To Those Stranded
"If You're So Fond Of Court…": BJP On AAP's Liquor Policy "Revelation"
Ashok Gehlot's Vasundhara Raje Bombshell Amid Row With Sachin Pilot
PM Modi to Asaduddin Owaisi, this week's top 5 newsmakers
Karnataka SSLC Result 2023 Live Updates: Class 10 results to be declared on May 8 at 10 am
Bengaluru: Rahul Gandhi rides pillion on delivery boy's scooter to reach hotel
'Not right to step aside': Sharad Pawar explains why he withdrew resignation as NCP chief
Conman Sukesh Chandrashekhar's Big Claim On Arvind Kejriwal's Sheesh Mahal: 'I Paid For Furniture'
International World News Headlines – 08 May 2023
'Is it appropriate for a heathen Prime Minister': British commentator targets Rishi Sunak for reading the Bible at King Charles' coronation
Rare Japan-South Korea Summit Could Help US's Push on China
China comes out to defend Pak after Jaishankar's 'vacate POK' remark, rakes up Kashmir issue
Warring Parties in Sudan to Hold Talks in Saudi Arabia
British Howitzer 'Bombed Out' By Russia's Suicide Drone Once Flaunted By Ukraine For Its Rapid-Fire Capability
No poor people in China? Videos showing poverty vanish from social media
Russian Lawmaker Pitches 'Eagle Squadron' To Intercept Ukrainian UAVs & Thwart Kremlin-Like Attacks In The Country
China & Pakistan Are 'Butchering' The Very Basic Charter Of SCO & Making A Mockery Of So-Called Alliance: OPED
Russia blames Ukraine for car bombing that injured pro-Putin novelist Zakhar Prilepin, killed driver
India steps up rupee's internationalisation for Sri Lanka's economic recovery
'Not my king': 52 anti-monarchy protesters arrested during King Charles' coronation
Subscribe Our YouTube Channel For Education Updates – Daily School Assembly News
Sports News Headlines – 08 May 2023
RR vs SRH Live Updates, IPL 2023: Rahul Tripathi Accelerates, Brings SunRisers Hyderabad Back In Chase Of 215
Vignesh Shivan shares pics as he watches IPL match with Nayanthara in Chennai, Anirudh joins them.
CSK vs MI: MS Dhoni catches up with Suresh Raina after IPL El Clasico win at Chepauk Stadium
"Don't Have Many 'Yes People' Around": Shubman Gill's Mantra For Handling Fame At Young Age
Silver medallist Bindyarani worried about family in riots-hit Manipur
Virat Kohli, Sourav Ganguly bury the hatchet with a handshake
IPL 2023: Match 53, KKR vs PBKS Match Prediction – Who will win today's IPL match between KKR vs PBKS?
Krunal Pandya delivers blistering message to LSG after Kohli vs Gambhir brawl, KL Rahul injury
'There can be no better replacement for KL Rahul': BCCI urged to name Saha for WTC final after crazy IPL 2023 knock
Aakash Chopra's "Trollers" Dig At Ex-Cricketer Amid Alleged 'No-Hit' Remark At Rohit Sharma
Cricket has moved on from Virat Kohli batting template, says former SRH coach Tom Moody
LeBron, Lakers prep for 'next challenge' after winning Game 3
Hardik's honesty wins hearts after GT's victory
'There were a few words': Phil Salt breaks silence after verbal spat with Siraj in DC vs RCB IPL 2023 tie
Business News Headlines – 08 May 2023
Next milestone to be free cashflow positive, AI to bring efficiencies: Paytm CEO Vijay Shekhar Sharma
"I Get Worried": Warren Buffett Compares AI To The Creation Of Atom Bomb
From Go First crisis to highest GST collection: Top five business news of the week
Coal India Q4 Results: Profit declines 18% YoY to Rs 5,528 crore, dividend declared at Rs 4/share
Centre's likely policy changes at LIC would have adverse effect, says AIIEA
GSTN defers by 3 months implementation of e-invoice reporting time limit
Adani Power's Profit For FY 2022-23 Rises By 118.4% To ₹ 10,727 Crore
Dividend yield & probability of capital gains: The non-classical combination of income from stock market
Jairam Ramesh takes dig at BJP for planning to sell off another '26% stake' in BEML
Go First lessors may not get possession of aircraft if IBC kicks in
1,750 per cent dividend announced in this High ROE & High ROCE stock; do you own it?
Science Technology News Headlines – 08 May 2023
All about LIGO-India project, which has put country on elite astronomy map
NASA suggests 4 moons of Uranus may hold hidden oceans
Scientists Reveal What's Inside The Moon In New Findings
Exploring the Cosmic Connection: Universe's Frequency Linked to Om Chanting
Cow Urine Can Be Boon For Humans: Vet Research Body
Scientist Reveals Why We Have Never Detected Aliens
China approves first gene-edited crop; Which crop is it and is it safe?
Researchers believe that solar flares triggered the development of life on Earth
Google plans to make its search engine more 'personal' with AI chat, video clips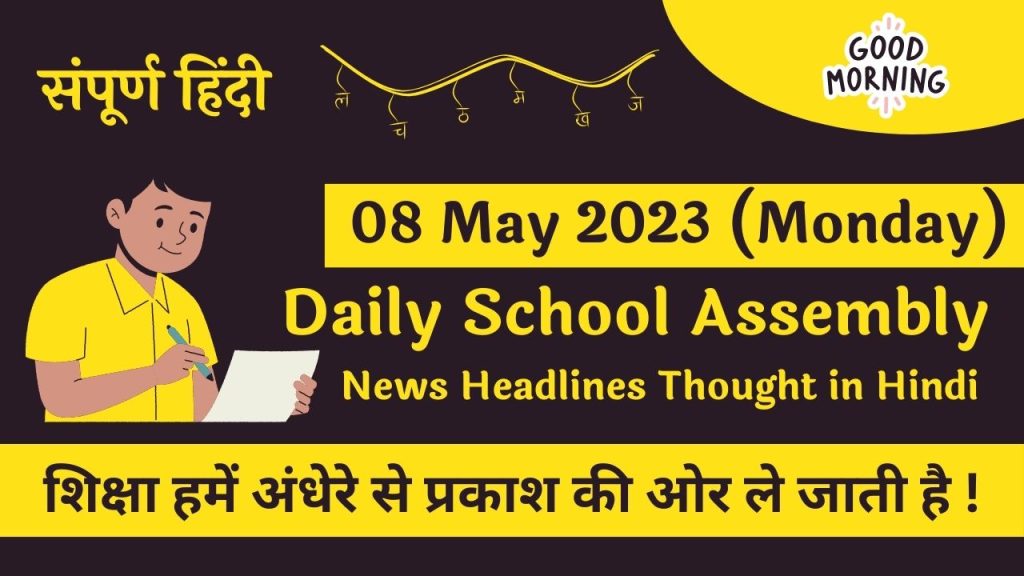 Thought of the Day – 08 May 2023
"Education is the most powerful weapon which you can use to change the world."