Are you searching for – Daily School Assembly Today News Headlines for 07 April 2023
Then you are at Right Place.
The Complete and Official Information of Daily School Assembly Today News Headlines for 07 April 2023
Daily School Assembly Today News Headlines for 07 April 2023
To inform all pupils of what will be happening in the Nation and the world today, the top headlines of the day are read during the school assembly after the call to prayer. Now let's read the most recent news of the day. Read the most recent news from India and outside while keeping up with Indian political movements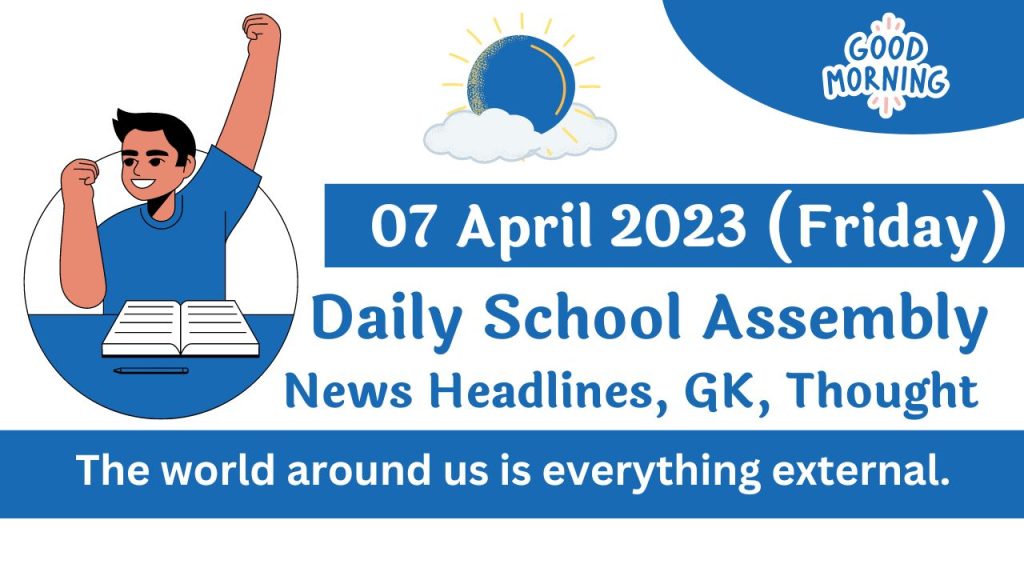 We are giving information News of National News, International News, Educational News, Sports News, Business News and science & Technology News.
Today's Important Day on 07 April 2023
Good Friday
National News Headlines – 07 April 2023 (Friday)
India's Daily COVID Cases Cross 5,000, 20% Higher than Yesterday
PM Modi sets the tone for 2024 : Slams Oppn's 'Badshahi Mindset', says Social Justice not Just a Slogan for BJP
After Ram Navami Violence, MHA Issues Hanuman Jayanti Advisory
Opposition Boycotts Tea Hosted by Speaker, Holds Protest 'Tiranga' March
Anil Antony Joins BJP 2 months after Quitting Congress
Rahul Gandhi "Repeat Offender" : Nirmala Sitharaman Hits back on Adani Issue
Prashant Umrao should be more responsible says Supreme Court while extending his anticipatory bail to all FIRs in Tamil Nadu
Sudha Murty Receives Padma Bhushan, Daughter Akshata in Attendance
Shivamogga Lawyer asks EC to ban Kichcha Sudeep movies till Karnataka Elections
International World News Headlines – 07 April 2023
China Condemns Taiwan Prez's Meeting with United States House Speaker
China deploys warships near Taiwan after United States House Speaker Meets Island President
Violence resumes at Jerusalem holy site for second night
India elected to 'Highest' UN statistical body for 4 year term
Trump's criminal court proceedings must be televised
French President Emmanuel Macron meets Xi Jinping in Beijing
Russia 'Welcomes; Finland to NATO with Massive Combat Drills involving Super Sukhois, S – 400 & Aerial Bombings
Deadly cobra in cockpit forces pilot to make emergency landing
Taliban bans 400 Afghan UN Mission Women from Work
Subscribe Our YouTube Channel For Education Updates – Daily School Assembly News
Sports News Headlines – 07 April 2023
Virat Kohli targets all kinds of records in RCB vs KKR showdown at IPL 2023
"Being in And of Team India" Ex- India Star's huge comment on PBKS captain Shikhar Dhawan
Twitter goes Gaga over Punjab Kings' Win Against Rajasthan Royals
Barcelona defender Ronald Araujo explains late skirmish with Real Madrid's Vinicius Junior in EI Clasico Loss
Samson shatter Rahane's all – time record Chahal goes past Malinga in RR vs PBKS
BCCI expresses sadness at passing away of Sudhir Naik
Rishabh Pant visit Delhi Capitals dressing room, interacts with coach Ricky Ponting and Teammates
Business News Headlines – 07 April 2023
RBI MPC Meet 2023 : RBI opts for a pause in rate hike, raises FY24 growth forecast
Share Market Highlights : Nifty 50 almost makes it to 17,600 Sensex rises 144 pts as RBI surprises
RBI announces a central portal to track unclaimed deposits
Hero MotoCorp Introduces Voluntary Retirement Scheme for Staff
Billionaire Agrawal's India Chip Dream at Risk as Hurdles Mount
Adani Enterprises may enter Sensex, LTI Mindtree Nifty after HDFC's Merger
UPI to now allow borrowers to access digital credit lines from banks
Elon Musk loses World's Richest Crown after Tesla Shares Fall 50%
Gold jumps Rs1,025 to touch life-time high level; silver zooms Rs1,810
Science Technology News Headlines – 07 April 2023
Google announces 'important ban' on Personal loan apps on Android
New Bing attracts new Edge uses – who then use google search
Dangerous solar storm now stalking Earth after Violent Sunspots emerge on Sun
Google CEO Sundar Pichai Talks Bard & The Future of Search
Two supermassive black holes spotted lighting up as galaxies collide
Skyscraper – sized asteroid hurtling towards Earth at fearsome speed, reveals NASA
ESA's Mission Juice to Embark on Exploration of Jupiter and its icy moons on April 13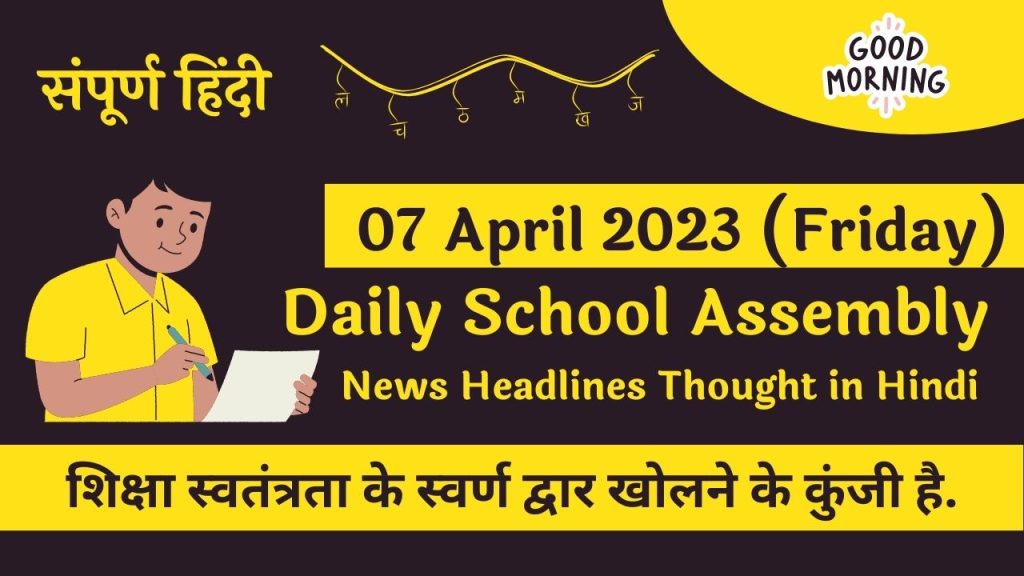 Thought of the Day – 07 April 2023
The world around us is everything external.