Are you searching for – Daily School Assembly News Headlines for 31 January 2023
Then you are at Right Place.
The Complete and Official Information of Daily School Assembly News Headlines for 31 January 2023
Daily School Assembly News Headlines for 31 January 2023
To inform all pupils of what will be happening in the Nation and the world today, the top headlines of the day are read during the school assembly after the call to prayer. Now let's read the most recent news of the day. Read the most recent news from India and outside while keeping up with Indian political movements.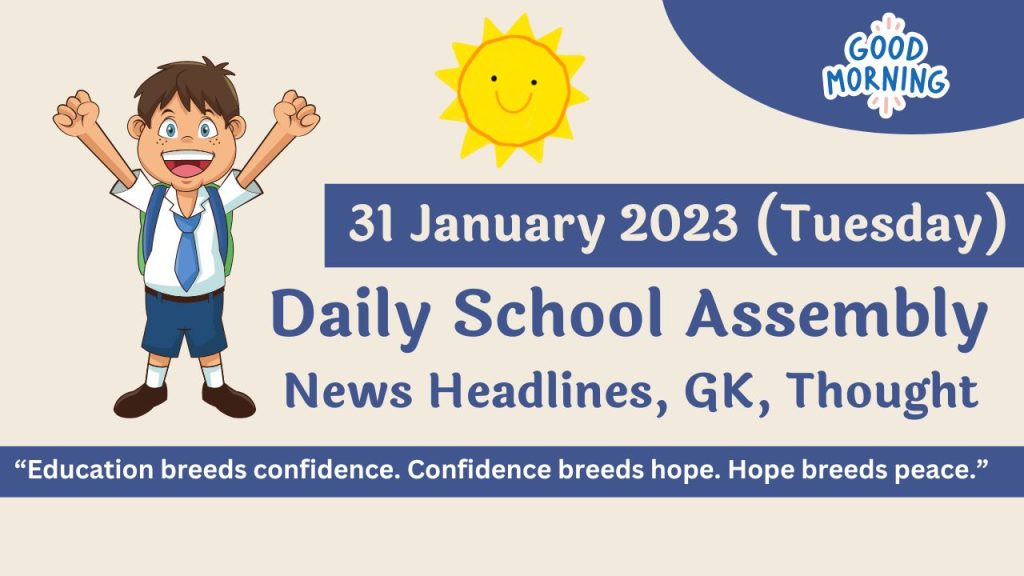 We are giving information News of National News, International News, Sports News, Business News and science & Technology News.
National News Headlines – 31 January 2023 (Tuesday)
Parliament Budget Session from Tuesday ; President to Address Both Houses
Ex Chief of Cooperative bank "Siphoned off" Funds, Probe Agency Finds
No key election for now in Lakshadweep after court scraps MP's Conviction
BJP will retain Tripura, Declared Deputy Chief Minister Jishnu Dev Varma
Supreme court hearing on laws regulating inter-faith marriages on friday
Real time source supersite to help tackle pollution : Arvind Kejriwal
Matters regarding Chinese intrusion can't be discussed in Parliament, Centre said
Parliament panel to take UP issue of Unruly air passengers' behavior
India won't shut coal power plants till 2030 to meet rising demand : report
No parole for convicts under Anti-Terror Law : Bombay High Court
PM Modi said tributes to Mahatma Gandhi on his 75th Death Anniversary
Next week, supreme court to hear cases challenging ban on BBC series on PM
Fresh Snowfall shut Srinagar – Jammu Highway, Flights affected
International World News Headlines – 31 January 2023
UN General Assembly President hailed India's Calls for peace in Ukraine
Philips cut 6,000 Jobs after sleep device recall losses deepen : Report
Imran Khan to run for all 33 seats in key Pakistan polls
Volodymyr Zelensky urged France to Ban Russian Athletes from 2024 Olympics
NATO chief asked south Korea to "Step Up" Military Aid for Ukraine
Sports News Headlines – 31 January 2023
India Men's Hockey coach Graham Reid resigns following World Cup Debacle
Arya Sabalenka won Australian open 2023 Women's Singles Title
Novak Djokovic won his 10th Australian Open Title
Veteran Indian Batter Murali Vijay announced retirement from all forms of International Cricket
I See three to four members of Women's U-19 WC Squad Graduating to Highest level : Mithali Raj
Business News Headlines – 31 January 2023
9 Lakh Government Vehicles to Go off road from April 1, Says Nitin Gadkari
Samsung's upcoming Galaxy unpacked event is set to take place on February 1 in San Francisco
Union Budget 2023-24 is scheduled to be presented in the parliament by Union Finance Minister Nirmala Sitharaman on February 1
Finance Minister Nirmala Sitharaman will present the Union Budget on Wednesday
The Centre will unveil its Budget Wednesday. India has risen to become the world's Fifth – Largest Economy
60% Households expect Dip in Earnings, Seek relief in Budget : Report
Science Technology News Headlines – 31 January 2023
NASA's Record Breaking Lucy Spacecraft has a New Asteroid Target
Hubble Space Telescope Explores A Turbulent Tarantula
Brunt Ice in Antarctica Calves Massive Iceberg as Big as Greater London
Thought of the Day – 31 January 2023
"Education breeds confidence. Confidence breeds hope. Hope breeds peace."
Positive Word of the Day For Daily School Assembly – 31 January 2023
Immaculate This means something sparkling, flawless, or faultless.