Are you searching for – Daily School Assembly News Headlines for 28 January 2023
Then you are at Right Place.
The Complete and Official Information of Daily School Assembly News Headlines for 28 January 2023
Daily School Assembly News Headlines for 28 January 2023
To inform all pupils of what will be happening in the nation and the world today, the top headlines of the day are read during the school assembly after the call to prayer. Now let's read the most recent news of the day. Read the most recent news from India and outside while keeping up with Indian political movements.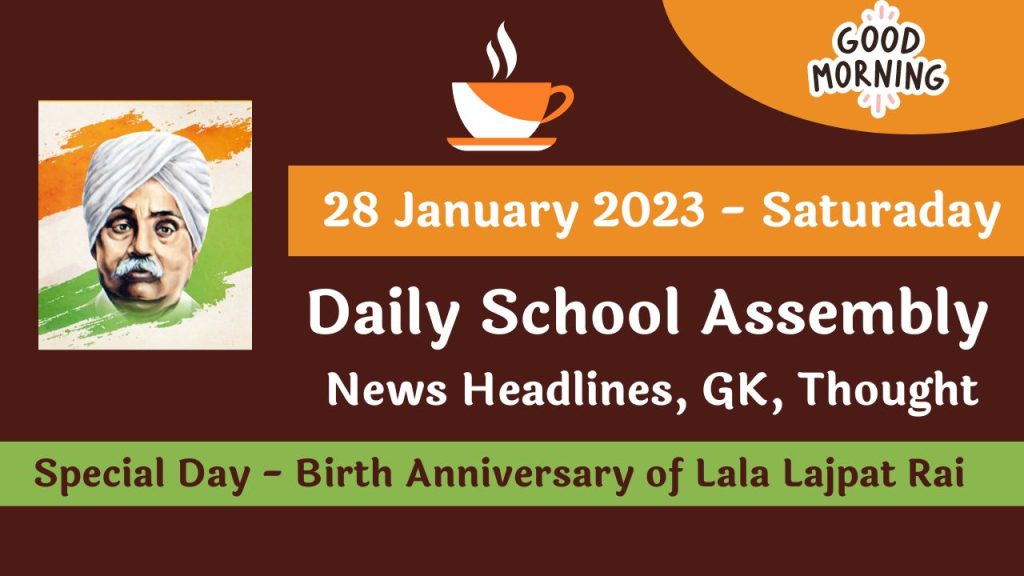 We are giving information News of National News, International News, Sports News, Business News and science & Technology News.
What is Today's Special ?
Birth Anniversary of Lala Lajpat Rai
National News Headlines – 28 January 2023 (Saturday)
Uttarakhand Dhams to Reopen in Late April after Winter Break
Row over Rahul Gandhi's Security at Congress Yatra in Jammu and Kashmir
Don't Screen BBC Film, Tata Institute of Social Sciences tells students
2,967 Tigers in India across 53 Tiger Reserves : Centre to Supreme Court
Go First Fined Rs 10 Lakh after Flight left behind 55 Passengers in Bus
Labourer Turned Painter Got Padma Shri at 84, Awaits Concrete House : "It was promised by PM"
BRICS Meeting in South Africa to Priorities Social Security Issues
The First BRICS EWG and Research Network Forum meetings will be held from February 21-24, 2023
PM advised "Technology Fasting" to children during Pariksha Pe Charcha". He said "Don't consider your gadget to be smarter than you"
Manish Sisodia wrote to Delhi University over Ad Hoc Faculty Row
"Guarantee fulfilled AAP Chief on Punjab opening 400 New 'Mohalla Clinics"
5 people, accused in the 1994 ISRO espionage case, appeared before the CBI.
Informers took Enormous Risk, should be encouraged with Rewards : High Court
Belgian Malinois dogs joined Canine Squad at Mangaluru International Airport
International World News Headlines – 28 January 2023
South Africa can't Keep the Lights on Amid Worst Electricity Crisis
On Holocaust remembrance Day, Volodymyr Zelensky said "Indifference Kills"
Japan to Drop Masking Guidelines, Relax COVID Policy
Lunar New Year Boosts Chinese Tourism As COVID Curbs End
Dismissing Economic 'Gloom', UK Bets on Brexit Boost
"Russians are Approaching" : Ukraine Town Evacuated Amid Rising Attacks
Blasts near Ukraine Nuclear Plant, Says UN Watchdog; Russia Calls it Rumour
"Pak Actions have Forced…" : India Issues Notice over Indus Waters Treaty
Japan Banned Exports of Robots, Vaccines to Russia in New Sanctions
Antony Blinken to Urge End to Violence on His Middle East Trip Next Week
Canada said it will send 4 Leopard 2 Tanks to Ukraine
France, Allies "Not at War with Russia" : Foreign Minister
Sports News Headlines – 28 January 2023
Lakshya Sen Lost In Quarterfinals of Indonesia Masters
Top Indian Wrestlers pull out of Zagreb open saying they are not Ready
Rampant Novak Djikovic surged into 10th Australian Open Final
Stefanos Tsitsipas in Dreamland after Reaching Australian Open Final
Thank you for Inspiring Millions" : Sporting Stars Bow Down to 'Icon' Sania Mirza
Shweta Sehrawat Shone as India Beat New Zealand to Reach Women's U19 T20 World Cup Final
ICC Announced All Female Panel of Match Officials for Women's T20 World Cup
Brian Lara to Assist Wes Indies Cricket Team as Performance Mentor
Business News Headlines – 28 January 2023
Sensex, Nifty Plunge 1% On Heavy selling in Banking, Financials
Foreign Exchange Reserved Rise to Near 6 Month High of $573.7 Billion
Tata Motor's Passenger Vehicles to Cost More From February 1
Adani group Stocks' Fall CVontinues after Allegations by US Research Firm
"Remarkable PRogress" : Air India CEO as Tata – Takeover Completed One Year
Science Technology News Headlines – 28 January 2023
Scientists Created Shapeshifting Robot That can Liquify and Regain Shape
New Blood test can detect Alzheimer's 3.5 years before diagnosis
Worst impacts of sea level rise will hit earlier than thought : study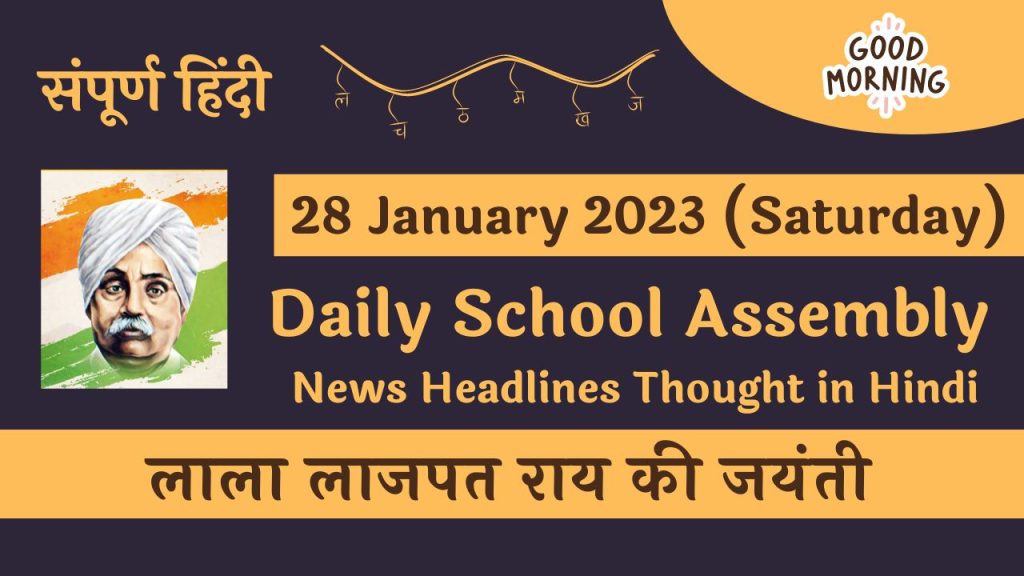 Thought of the Day – 28 January 2023
'Always treat others the way you'd want them to treat you'.
Positive Word of the Day For Daily School Assembly – 28 January 2023
Determination – This positive word means the will to achieve a purpose.