Are you searching for – Daily School Assembly News Headlines for 21 January 2023
Then you are at Right Place.
The Complete and Official Information of Daily School Assembly News Headlines for 21 January 2023
Daily School Assembly News Headlines for 21 January 2023
To inform all pupils of what will be happening in the nation and the world today, the top headlines of the day are read during the school assembly after the call to prayer. Now let's read the most recent news of the day. Read the most recent news from India and outside while keeping up with Indian political movements.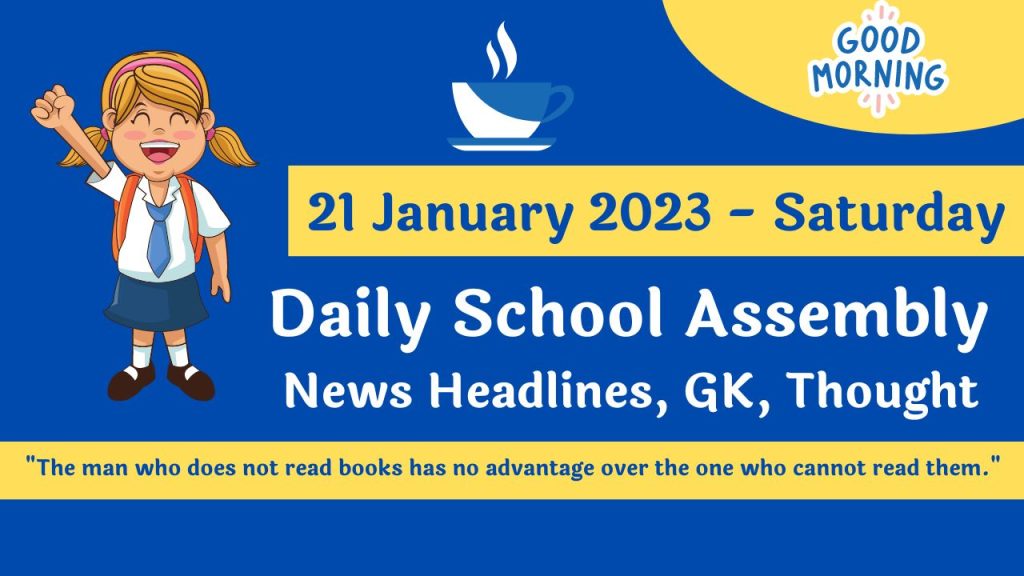 We are giving information News of National News, International News, Sports News, Business News and science & Technology News.
National News Headlines – 21 January 2023 (Saturday)
Woman naval air operations officer to lead Indian Navy's contingent at Republic Day parade
India did not wait for others, did what was right for Sri Lanka's recovery : S Jaishankar
Army to get first Apache attack helicopter in February 2024
National export Co-operative Society to export farm, non-farming products in three months
Henley passport India 2023 : India rose two spots in passport strength index
Egyptian President set to be Republic Day Chief Guest
S Jaishankar's Appealed for Sri Lanka's Reconciliation with Indian – Origin Tamils
"India will decide Global Health Architecture" : WHO Officials praise G20 Presidency
Ban on entry of Heavy Vehicles from Gurugram Ahead of Republic Day
Rozgar Mela's has become "Identity of our Good Governance" : PM Modi
180 – Strong Egypt contingent to join Republic Day parade, President Chief Guest
Egyptian President Abdel Fattah el-Sisi will be the first chief guest from his country at India's Republic Day celebrations
Geopolitical relationships are now issue-based rather than allegiance-based, Gautam Adani said.
Lion spotted in Gujarat's Barda Sanctuary, A First Since Independence
PM Modi virtually distributed appointment letters to 71,000 people as part of Rozgar Mela
International World News Headlines – 21 January 2023
"Do you receive fresh vegetables," Chinese president Xi Jinping asked troops at India-China Border
India engaged Bhutan a Week after its border talks with China
"Fortunate to have caring, Considerate friends" : Sri Lanka's Praised for India
"I have no regrets" : Joe biden Downplays classified documents issue
US announced $2.5 Billion in New military assistance for Ukraine
Zelensky expects " Strong Decisions" on Western Arms Supplies
China reported big Jump in COVID – 19 Hospitalizations : WHO
NATO creating "Problems" between India, China : Russian Minister
Sports News Headlines – 21 January 2023
Ranji Trophy : Karnataka – Kerala match ends in Draw; Wins for Goa, Jharkhand, Rajsthan
Team India reprimanded by ICC, handed hefty fine for slow over rate against New Zealand in 1st ODI
On 'Sifarish' for Players' Selections, Pakistan Cricket Board Chief Najam Sethi's Response
Former World No. 1 Daniil Medvedev Crashed out of Australian open after losing to Sebastian Korda in 3rd Round
Iga Swiatek crushed Qualifier to set up Elena Rybakina clash in Melbourne
Protesting wrestlers wrote to IOA chief PT Usha on alleged Harassment complaints against WFI president
Business News Headlines – 21 January 2023
Nifty, Sensex trade lower Amid Volatile session
Rupee Closed 18 Paise Higher against US Dollar
Pension Fund Body adds 16.26 lakh new subscribers in November, 2022
Budget 2023 : Human resource Industry expects roll out of Labor Codes, Focus on Formal Jobs
Foreign exchange reserves rise to 5 Month High of $572 Billion
Japan's 2022 Trade deficit hits record amid rising Energy costs
Science Technology News Headlines – 21 January 2023
NASA to build next Generation, Low – Emissions Airplanes by 2030
3.3 Billion Celestial objects captured by New Survey of the Milky way
Snowless Ski slopes captured from Space – Lack of Snowfall in Alps and Pyrenees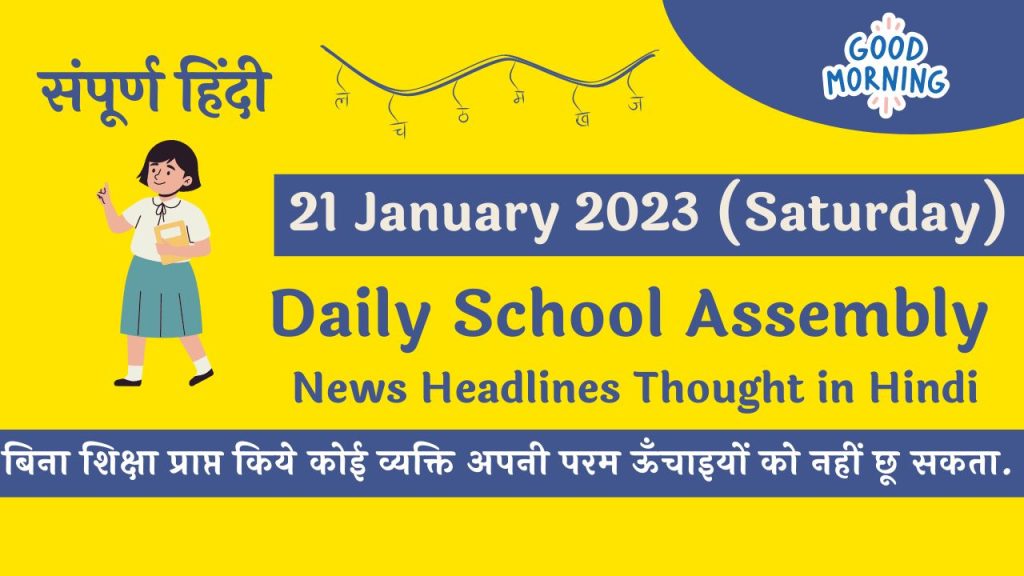 Thought of the Day – 21 January 2023
"The man who does not read books has no advantage over the one who cannot read them."
Positive Word of the Day For Daily School Assembly – 21 January 2023
Captivate – This positive word means to attract someone's attention.
I Hope you like the article of the Daily School Assembly News Headlines, Speech, Thought for