Are you searching for – Daily School Assembly News Headlines for 21 December 2022
Then you are at Right Place.
The Complete and Official Information of Daily School Assembly News Headlines for 21 December 2022
Daily School Assembly News Headlines for 21 December 2022
To inform all pupils of what will be happening in the nation and the world today, the top headlines of the day are read during the school assembly after the call to prayer. Now let's read the most recent news of the day. Read the most recent news from India and outside while keeping up with Indian political movements.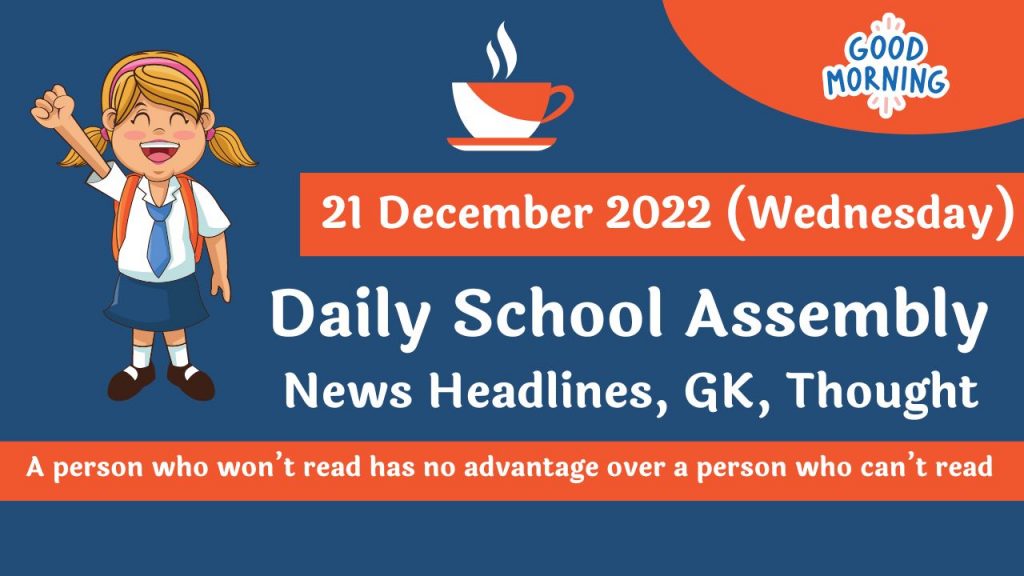 We are giving information News of National News, International News, Sports News, Business News and science & Technology News.
National News Headlines – 21 December 2022 (Wednesday)
"No Laxity" in Registering Cases : Yogi Adityanath's Direction to Officials
Puducherry, Lakshadweep, Goa Top in PM's Economic Advisory Council Report
Navy Received 5th India – Made Scorpaena – Class Submarine 'Vagir'
Opposition Slams Centre for Seeking More Spending of Rs. 3.25 Trillion
"Measurement Through Western Standards" : Smriti Irani on Gender Gap Index
"Discussed India's Digital Transformation" : S Jaishankar Meets Google CEO
Caste – Wise Population Census not Enumerated Since Independence : Minister
Parliament's Winter Session May End A Week Early on Friday : Sources
The Possibility of Enlarging Security Council is Now "Seriously on the Table", Said UN Chief
Counting Trains was Part of "Training" in This Job Scam Worth Crores
India Supported Termination of Iran's Nuclear Policy at UN
Taj Mahal Got Notice for Property Tax, Water Bills. "Mistake", Say Heritage Officials
India Jumps From 7th to 3rd Position in Global Scientific Output : Minister
3 YouTube Channels with 33 Lakh Subscribers Busted in Fake News Crackdown
Banks Write Off Loans Worth Rs 11.17 Lakh Crores in Past 6 Years
International World News Headlines – 21 December 2022
6.4 Magnitude Earthquake Strikes off Northern California
"Absolutely Don't Believe Britain a Racist Country" : Rishi Sunak
IMF Approved Monitoring Program to Help Ukraine Secure Donor Funding
New UK Currency Notes with King Charles's Photo Unveiled
World Bank Grants $1.69 Billion Aid for Pakistan Flood Relief Projects
Court Trial of Myanmar's Aung San Suu Kyi Enters Final Phase
India to UN : No Alternative to Two – State Solution For Israelis, Palestinians
"Still Not Optimistic about…" : UN Chief on Security Council Expansion
"China COVID Outbreak Toll of Concern to Rest of the World" : US
Situation Extremally Difficult in Annexed Ukrainian Regions : Vladimir Putin
North Korea Said Sanctions Won't Stop Its Missile Programme
"Pakistan Attempt to Sideline" : Trump Says US Capitol Riot Charges "Fake"
Russian Drones hit Kyiv as Vladimir Putin Visits Belarus
EU Parliament Invited Elon Musk to Testify
US Says China's Current COVID Situation is Global Concern
Sports News Headlines – 21 December 2022
Indian Premier League (IPL) 2023 Player Auction List is Out with a Total of 405 Cricketers Set to Go Under the Hammer in Kochi on December 23,2022
Rohit Sharma, Navdeep Saini Rules Out of 2nd Test Vs Bangaladesh
Cristiano Ronaldo and Lionel Messi are Two of the Greatest Footballers Ever
"Babar Azam a Big Zero, Stop Comparing Him to Virat Kohli" Ex – Pak Star
Business News Headlines – 21 December 2022
Sensex Falls over 100 Points on Bank of Japan's Hawkish Shift
Rupee Falls 6 Paise to 82.76 Per Dollar
Inflation 'Down But Certainly Not Out'. Says RBI
SEBI to Phase out Share Buybacks Through Stock Exchanges
Fodder Prices Rose by 28% in November : Minister
Centre Raised over Rs 4 Lakh Crore Through Disinvestment Since 2014
Adani Green Energy Received Zero – Waster to Landfill Certification
Banks Wrote Off Bad Loans Worth Rs 11 Lakh Crore in Last 6 Years : Minister
Rajasthan to Slash LPG Cylinder Prices by Half From April
US Congress to Advance $1.7 Trillion Government Funding bill
Science Technology News Headlines – 21 December 2022
James Webb Revealed Young Stars in Early Stages of Formation in Stellar Nursery
Russia May Expedite Launch of Next Space Capsule after Leak
Mystery Nevada Fossil Site Could be Ancient Maternity Ward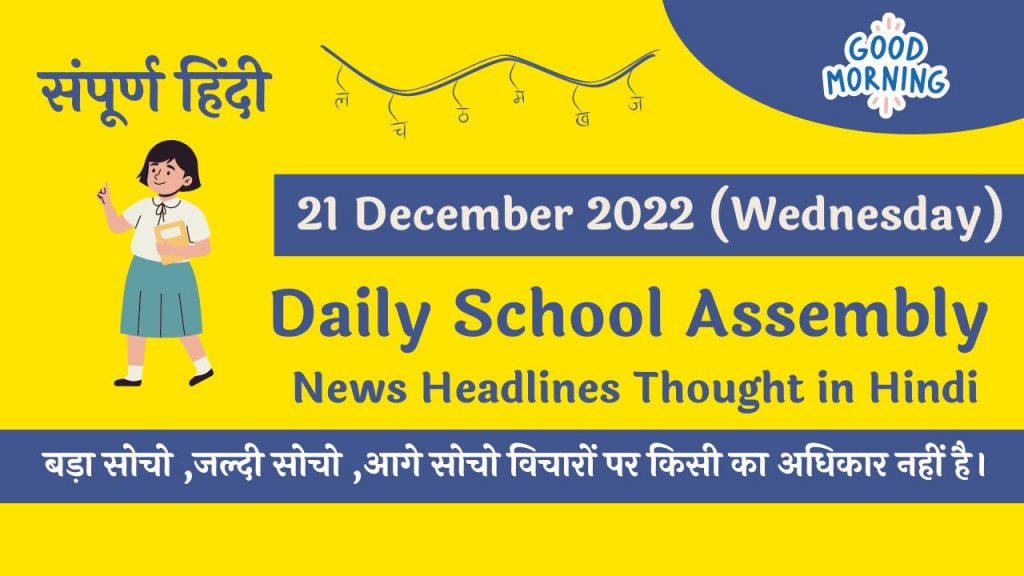 Thought of the Day – 21 December 2022
"A person who won't read has no advantage over a person who can't read
Positive Word of the Day For Daily School Assembly – 21 December 2022
Liberate – This means to set something free or to give independence.
General Knowledge Questions for Daily School Assembly – 21 December 2022
Covered Topics in Today Morning School Assembly Post – 21 December 2022
National News Headlines – 21 December 2022 (Wednesday)
International World News Headlines – 21 December 2022
Sports News Headlines – 21 December 2022
Business News Headlines –