Are you searching for – Daily School Assembly News Headlines for 20 February 2023
Then you are at Right Place.
The Complete and Official Information of Daily School Assembly News Headlines for 20 February 2023
Daily School Assembly News Headlines for 20 February 2023
To inform all pupils of what will be happening in the Nation and the world today, the top headlines of the day are read during the school assembly after the call to prayer. Now let's read the most recent news of the day. Read the most recent news from India and outside while keeping up with Indian political movements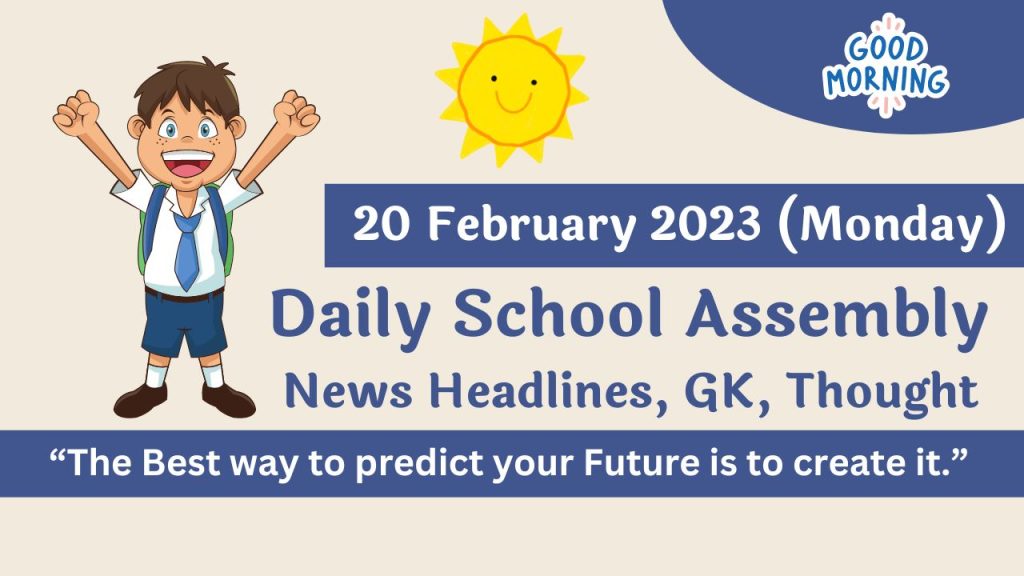 We are giving information News of National News, International News, Educational News, Sports News, Business News and science & Technology News.
National News Headlines – 20 February 2023 (Monday)
India, U.S making fresh efforts for practical cooperation in civil nuclear energy sector
Retired Brigadier B.D Mishra took oath as new Lieutenant Governor of Ladakh
Will make every effort to make life in Ladakh easier : PM Modi
Boost to India's wildlife diversity : PM Modi on 12 Cheetahs arriving in M.P's Kuno National Park
Law Minister Rijiju pitched for institutional arbitration; says AI can help arbitrators
Shivaji's courage, emphasis on good governance inspires us : PM Modi
PM Modi's gift to German chancellor sparks demand for hand -engraved vessels of Moradabad, Says artisan
Emergency arbitration must be promoted, regulated in India : Supreme Court Justice Hima Kohli
HAL readies plan for medium – lift choppers to replace ageing Mi – 17s
Indian – Origin Karthik Subramaniam Won National Geographic's 'Pictures of the Year' Contest
Millets to Be Served in Mid – Day Meals of 12 Districts in Chhattisgarh
Tamil Nadu Moved Supreme Court Challenging Validity of Medical Exam NEET
International World News Headlines – 20 February 2023
Day after North Korea's Missile Launch, US Holds Air Exercises with Allies
China "Most Challenging Threat" In Space Arms Race : US General
Don't Forget Napoleon : Russia Told France's Macron over Regime Change Remark
"We are Bankrupt" : Pak Minister Shreds Colleagues Amid Massive Cash Crunch
French President Macron wanted Russia Defeater in Ukraine, Not "Crushed"
US "Never Again" Warning to China in First Meet Since 'Spy' Balloon
North Korea's "War Capacity" Proof – Ballistic Missile that Flies over Japan
Sports News Headlines – 20 February 2023
Sadio Mane Returned to Training with Bayern Munich
Varun Tomar Bags 10m Air Pistol Bronze at Cairo Shooting World Cup
The BCCI on Sunday announced Team India's squads for the Third and Fourth tests against Australia
Lecce won 2-1 at Atlanta on Sunday to take a big step towards Serie A safety.
Business News Headlines – 20 February 2023
Ola signed MoU with Tamil Nadu for Rs.7.6k Cr Investment in EV production
GST Council reached consensus to create tribunal, new rate cuts
AICTE approved technical curriculum to boost semiconductors mfg, design
Australia to support two – wat investment flows, says official
All GST compensation dues will be cleared, says Finance Minister Nirmala Sitharaman
Adani Credit facilities expose collateral web full of red flags
Science Technology News Headlines – 20 February 2023
Moon Mountain named in Honor of NASA Mathematician and Computer Programmer
NASA Tracks down 1600 – foot oddly shaped Asteroid As Big As Empire State Building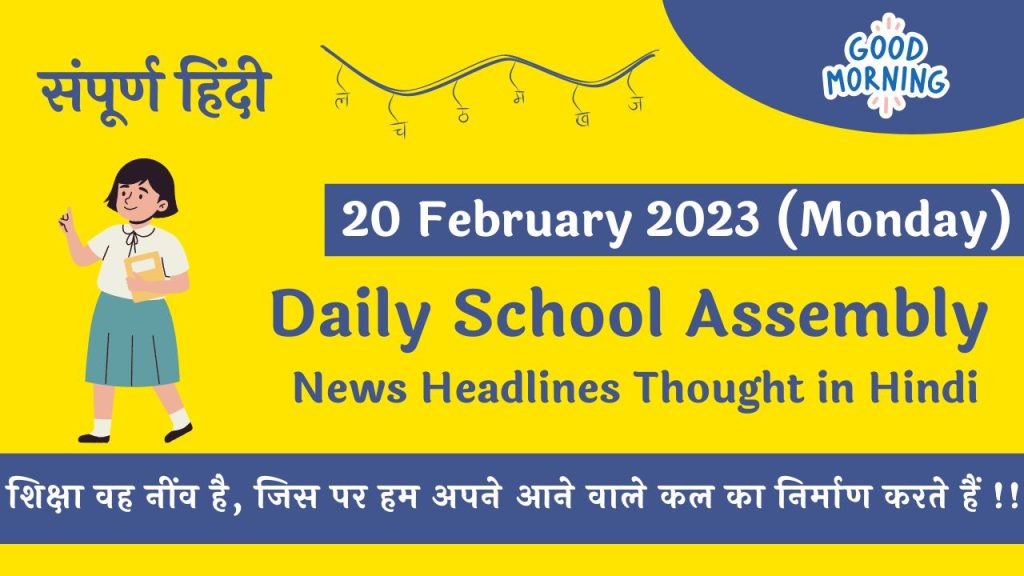 Thought of the Day – 20 February 2023
"The Best way to predict your Future is to create it."