Are you searching for – Daily School Assembly News Headlines for 19 January 2023
Then you are at Right Place.
The Complete and Official Information of Daily School Assembly News Headlines for 19 January 2023
Daily School Assembly News Headlines for 19 January 2023
To inform all pupils of what will be happening in the nation and the world today, the top headlines of the day are read during the school assembly after the call to prayer. Now let's read the most recent news of the day. Read the most recent news from India and outside while keeping up with Indian political movements.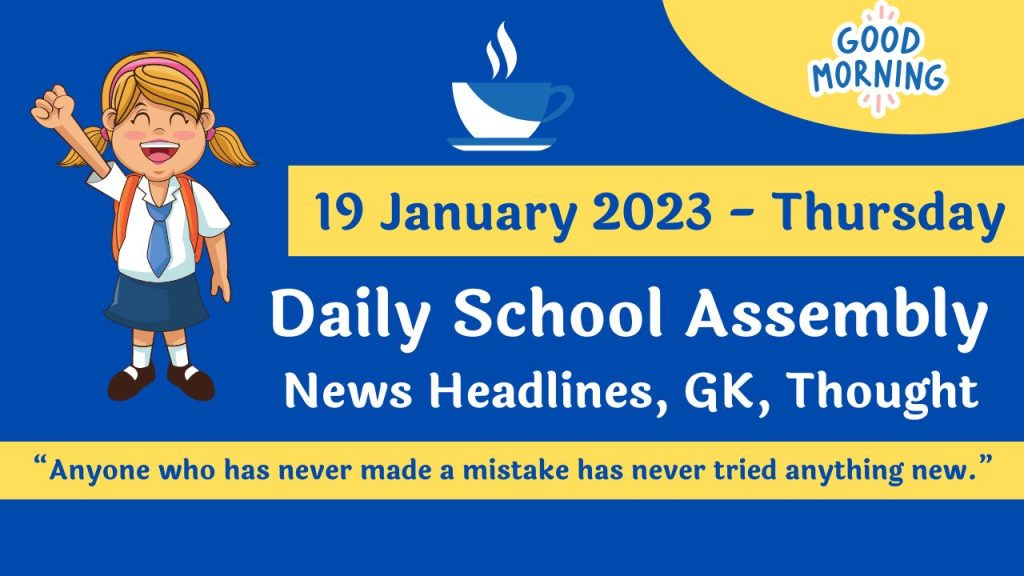 We are giving information News of National News, International News, Sports News, Business News and science & Technology News.
National News Headlines – 19 January 2023 (Thursday)
India and Maldives together have responsibility for regional peace and security : External affairs Minister S Jaishankar
Assembly Elections 2023 : Polling in Meghalaya Nagaland on Feb 27, Tripura to Vote on Feb 16; Results on March 2
Supreme Court reserves order on Interim PLEA on purse seine fishing
Summed Shikhar will remain only a religious place, not a tourist place : Union, Jharkhand governments
PM Modi asked BJP leaders to not make 'unnecessary remarks' on films
Punjab Congress leader Manpreet Singh Badal quits Congress, joins BJP
Rahul Gandhi-led 'Bharat Jodo Yatra' enters Himachal
70% people living Normal Life : Uttarakhand chief minister on sinking town
President Murmu delegates powers to Delhi Lt Governor Amid 'Services' Row
Plane "Door opened by Mistake, He said Sorry" : Aviation Minister Jyotiraditya Scindia on Row over Tejasvi Surya
Such Talent Resides in Every Corner of India : PM Modi Praises India U19 captain Shafali Verma
International World News Headlines – 19 January 2023
Vladimir Putin said Russian Victory in Ukraine is "Guaranteed"
S Jaishankar Reaffirmed India-Maldives Development ties are strong
UN chief slammed oil firms for "Big Lie" on global Warming
Ukraine's Peace plan Absurd, No Serious Proposal to Consider : Russia
Climate Protection not a Crime : Greta Thunberg after Detention in Germany
Philippine Nobel Winner Maria Ressa acquitted of Tax Evasion
US Lawmaker moved Bill to Remove Pakistan As Major Non – NATO Ally
Microsoft to Cut 10,000 Jobs As Tech Layoffs Intensify
"Faking outrage" : White House Slams Republicans over Biden's Classified Documents
Russian Commissioner denied talks on Large prisoner swap with Ukraine
Sri Lankan President said debt restructuring talks with India, China "Successful"
Antony Blinken To visit Beijing on February 5-6
Sports News Headlines – 19 January 2023
India Women's Hockey Team Crushes South Africa 7-0 in Second Test
India Seek Big win against Wales to Qualify directly for World Cup Quarter Finals
India Open : Kidambi Srikanth bows out after losing to Viktor Axelsen
Dutee Chand tests positive for Prohibitive substance, Handed Provisional Suspension
Wrestlers Stage Protest against WFI president's 'Dictatorship'. Vow to fight till end
"Destroyed Mentally" : Rafael Nadal reacts to Early Australian Open Exit
Defending Champion Rafael Nadal out of Australian Open, Loses in Straight sets in Second Round
Hashim Amla announced his Retirement from All forms of Cricket
Shubham Gill Hit double centruy with 3 Back to Back Sixes, creates record
Business News Headlines – 19 January 2023
Sensex, Nifty rise Higher for second consecutive session Amid Foreign funds Inflows
Rupee gained 45 paise to close at 81.24 against US dollar
S Jaishankar arrived in Maldives, to Witness impact of Developmental assistance
Airtel launched 5G services in Noida, Ghaziabad, Faridabad
Adani green energy firm to Acquire stake in Essel Saurya for Rs 15 Crore
Auto Industry may Grow at high single -digit rates in Fiscal 2024 : Report
Adani to use Rs 20,000 Crore share sale proceeds for Capital Expenditure
Science Technology News Headlines – 19 January 2023
Webb space telescope revealed dusty leftovers of planet formation like never seen before
Scientists Unlock nature's secret to Super – Selective Binding
Unearthing prehistoric predators : Giant Megaraptors among Diverse Dinosaurs in Patagonia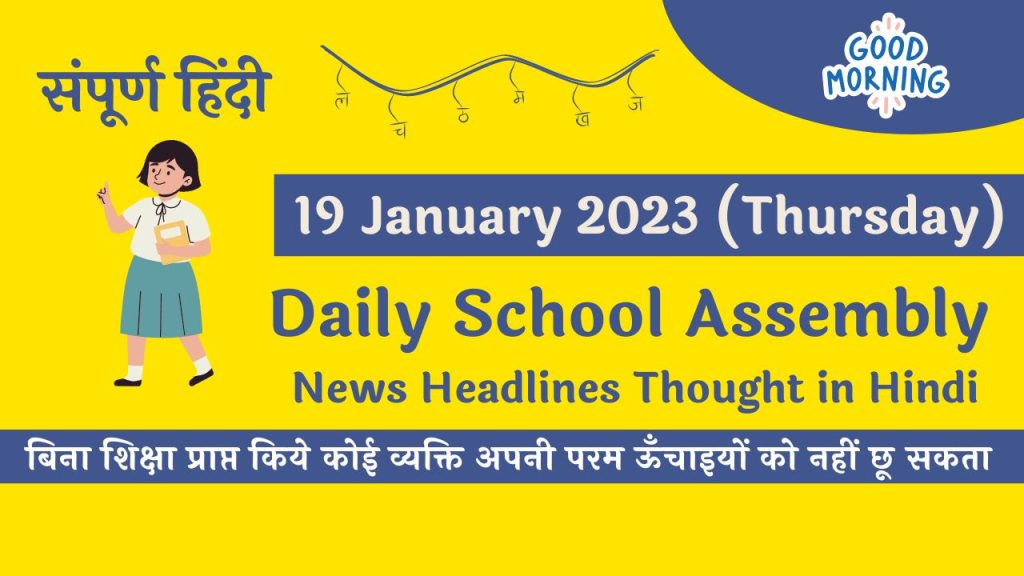 Thought of the Day – 19 January 2023
"Anyone who has never made a mistake has never tried anything new."
Positive Word of the Day For Daily School Assembly – 19 January 2023
Accomplishment – This positive word means a goal or target that is successfully achieved.
I Hope you like the article of the Daily School Assembly News Headlines, Speech, Thought for