Are you searching for – Daily School Assembly News Headlines for 17 January 2023
Then you are at Right Place.
The Complete and Official Information of Daily School Assembly News Headlines for 17 January 2023
Daily School Assembly News Headlines for 17 January 2023
To inform all pupils of what will be happening in the nation and the world today, the top headlines of the day are read during the school assembly after the call to prayer. Now let's read the most recent news of the day. Read the most recent news from India and outside while keeping up with Indian political movements.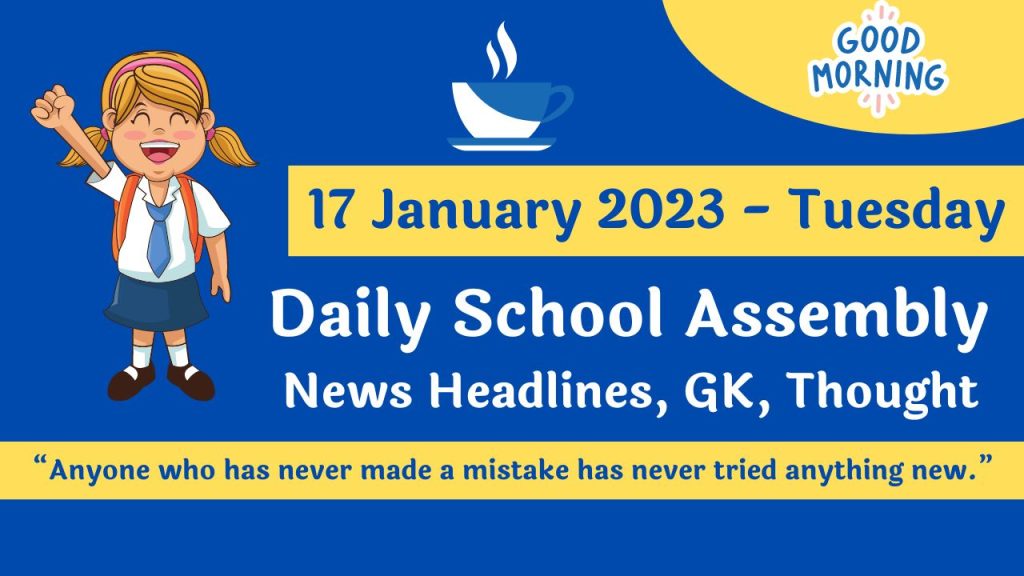 We are giving information News of National News, International News, Sports News, Business News and science & Technology News.
National News Headlines – 17 January 2023 (Tuesday)
Rajya Sabha Session from January 31 to April 6
No demonstration of remote EVMs before political parties after opposition seeks more discussion
Supreme Court to hear PLEA of Google against NCLAT order on January 18
Supreme Court refuses to enterain PLEA seeking its intervention to declare crisis in Uttarakhand's Joshimath a national disaster
Agnipath game changer, will make the forces more youthful and tech savvy, says PM Modi
Karnataka Assembly elections 2023 | Congress promises Rs 2,000 per month to each household if elected to power
India, France joint naval exercise 'Varuna' starts
Goa witnessing steady growth in tourist arrivals after COVID 19 pandemic : Governor Pillai
"To Infuse Transparency" : Centre wants seat in Judges' Appointments Body
Luxury cruise wasn't stuck, tourists took boats for sightseeing : Operator
International World News Headlines – 17 January 2023
3 More suspects arrested over Imran Khan's Assassination Attempt
Nuclear watchdog to Increase its presence in Ukraine to prevent "Accident"
Russia says UK tanks sent to Ukraine "Will Burn"
3 Cops on Trial for Negligence in Indonesia stadium stampede
Russia – Belarus begin Air Drills, Spark fear of New Attack in Ukraine
6.0 Magnitude Earthquake hits off the Coast of Indonesia
No Survivors found after Nepal Plane Crashed with 72, 5 of them Indians
Crashed Plane's black box handed over to Nepal Aviation Authorities
Man arrested after Uranium found at London's Heathrow Airport
Sports News Headlines – 17 January 2023
Stefanos Tsitsipas shows fighting spirit at Australian open
Rafael Nadal wins but Nick Kyrgios suffers Australian Open Heatbreak
"Humbled and Grateful" : Rishabh Pant's First Social Media Post after Car Crash
IPL 2023 : Punjab kings Rope in Sunil Joshi as Spin Bowling coach
Viacom18 Bags Women's IPL Media Rights for 951 Crore for 2023-27
Business News Headlines – 17 January 2023
Nifty, Sensex rise in Early Trade on Firm Global Trend
Rupee Declines 21 Paise to Close at 81.59 against US Dollar
Pact will elf boost Trade Between India, Israel : Israel – Asia Chamber of Commerce
Worldwide Recession likely in 2023 : Davos Summit Survey
Centre Exempted Imports of COVID Vaccines From Customs Duty Till March 31
December Exports Fall 12.2% To $34.48 Billion
Global jobs Growth to halve in 2023, Inflation to Eat into real wages : UN Body
No Data available on Faulty FASTags, collection of Penalties : Highways Authority
Science Technology News Headlines – 17 January 2023
Unlocking the Secrets of the Universe : Researchers Use High – Powered Lasers to Study Magnetic Reconnection
New Study Suggests dark matter may be Made of Dark Photons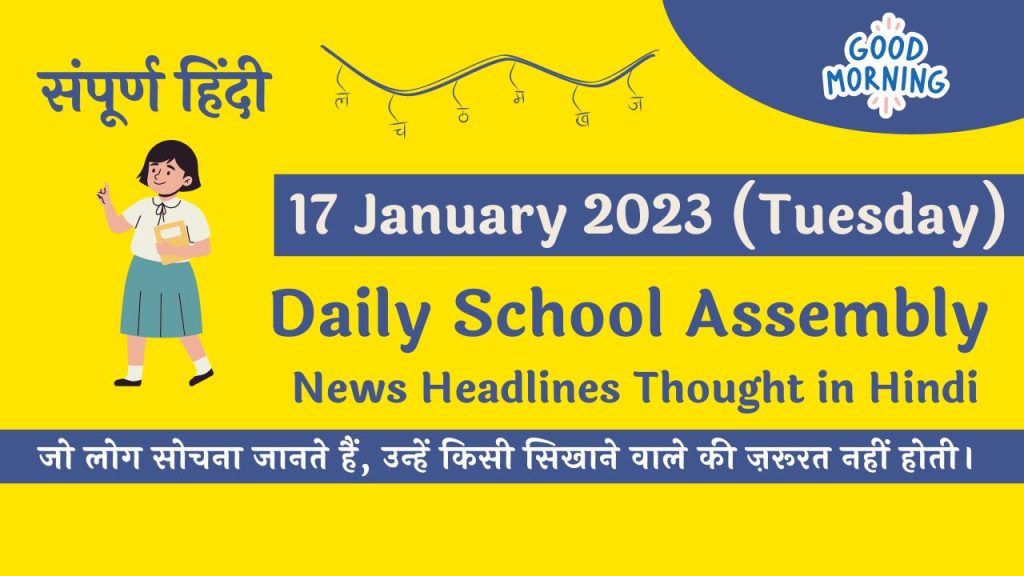 Thought of the Day – 17 January 2023
"Anyone who has never made a mistake has never tried anything new."
Positive Word of the Day For Daily School Assembly – 17 January 2023
Accommodated – This positive word means to make allowance for the needs of others.
I Hope you like the article of the Daily School Assembly News Headlines, Speech, Thought for