Are you searching for – Daily School Assembly News Headlines for 12 January 2023
Then you are at Right Place.
The Complete and Official Information of Daily School Assembly News Headlines for 12 January 2023
Daily School Assembly News Headlines for 12 January 2023
To inform all pupils of what will be happening in the nation and the world today, the top headlines of the day are read during the school assembly after the call to prayer. Now let's read the most recent news of the day. Read the most recent news from India and outside while keeping up with Indian political movements.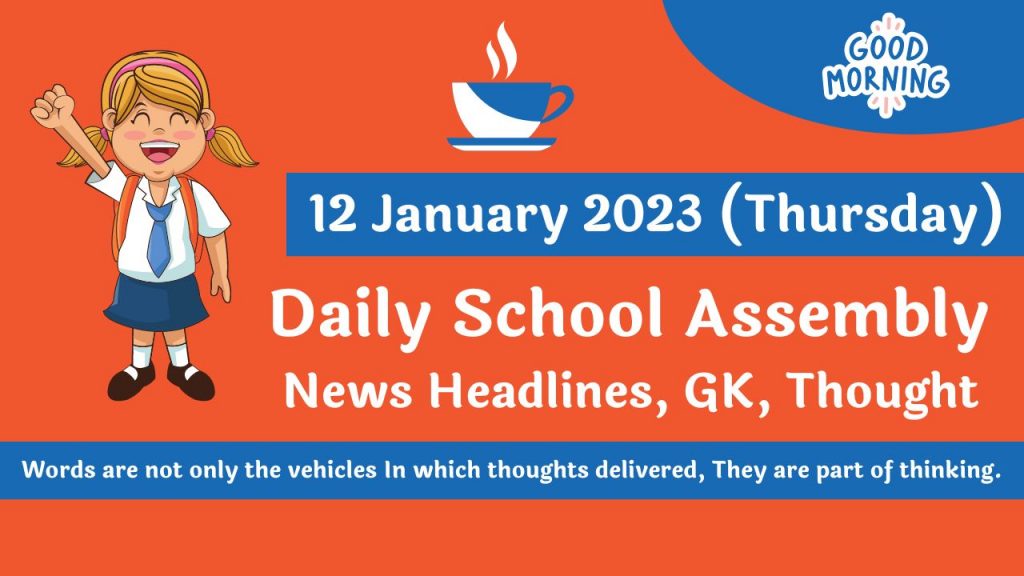 We are giving information News of National News, International News, Sports News, Business News and science & Technology News.
What is Special Day on 12th January 2023 ?
National News Headlines – 12 January 2023 (Thursday)
Free Food grains distribution scheme to cover 80 crore poor named PMGKAY : Centre
Supreme Court to hear plea against Bihar caste census on January 20
Bombay High Court quashed FDA order against Johnson & Johnson, permits company to sell baby powder
Key road project near Myanmar faces cancellation as funds have lapsed, Mizoram writes to Centre
Kharge Invited 21 like -minded parties to join concluding function of Bharat Jodo Yatra in Srinagar
Union Cabinet cleared Rs2,600 crore outlay for digital payments
Union Cabinet approved formation of 3 new cooperative societies
Sitharaman, U.K. Chancellor of Exchequer discussed bilateral issues, G20
Joshimath sinking Uttarakhand CM announced Rs1.5 lakh compensation for affected families
Rainfall expected to temporarily abate cold wave conditions, fog in Delhi, Punjab
PM Modi to flag off 'Ganga Vilas' (World's Longest river cruise) on January 13
17th Pravasi Bharatiya Divas | Murmu : Indian diaspora making stellar contributions in leadership positions
PM to attend 3 day police chief's conference from Jan 20
Supreme Court Collegium names 9 for HCs, one for third time
Micro-seismic observatories to be set up in Joshimath this week : Union minister Jitendra Singh
International World News Headlines – 12 January 2023
US Flights grounded in Massive Chaos after System Failure
Japan starts 2023 with the world's most powerful passport, allowing visa-free entry to 193 global destinations.
Ukraine Military denied Russian Group Wagner Captured Soledar
South Korea, US to hold February Nuclear Tabletop Drills to deter North
Taiwan Air Force official Revealed details of Rare NATO Interaction
Saudi Crown Prince's Big Step Towards Boosting Investment in Pakistan
Zelensky at Golden globe awards : "There will be no third world war"
Package containing Uranium seized at London Airport
Biden said Unaware of Content of Classified documents found at Think Tank
Russia Hits Ukraine's Kharkiv after German Minister Visits
Brazil's Supreme Court ordered arrest of Bolsonaro's Ex -Justice Minister
Sports News Headlines – 12 January 2023
Malaysia Open : PV Sindhu Losed to Carolina Marin in Opening round
Malaysia Open : Prannoy Trumps Compatriot Lakshya Sen in thrilling Opener
Novak Djokovic Cut Australian Open Practice Short over Hamstring Issue
No Career Finished line in sight for confident, Pain Free Andy Murray
Manchester United Ease into League Cup Semi Finals
ICC ODI Rankings : Virat Kohli Moves to 6th Spot ; Rohit Sharma, Mohammed Siraj Make Gains
Business News Headlines – 12 January 2023
Sensex, Nifty Fall in Early Trade as Foreign fund outflows continue
Rupee rises 13 paise per US Dollar in Early Trade
Investors Skeptical as Risks for India stocks ahead of Budget
Google denied Temporary relief in Rs 936 Crore Antitrust Fine
IMF Saw India as "bright sopt" in Global Economy, Says PM Modi
Science Technology News Headlines – 12 January 2023
India carried out successful test launch of Prithvi – II
Russia to send rocket to retrieve crew from International Space Station
Researchers Discovered Egypt's Oldest Tomb oriented to Winter Solstice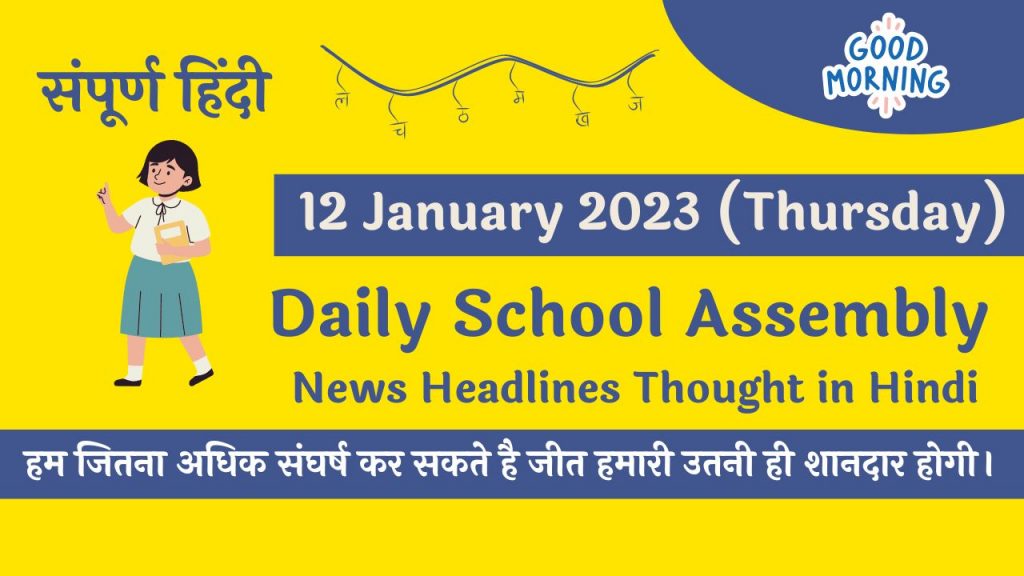 Thought of the Day – 12 January 2023
Words are not only the vehicles In which thoughts delivered, They are part of thinking.
Positive Word of the Day For Daily School Assembly – 12 January 2023
Able – having the necessary means or skill to do something
Covered Topics in Today Morning School Assembly Post – 12 January 2023
National News Headlines – 12 January 2023 (Thursday)
International World News Headlines –