Are you searching for – Daily School Assembly News Headlines for 10 February 2023
Then you are at Right Place.
The Complete and Official Information of Daily School Assembly News Headlines for 10 February 2023
Daily School Assembly News Headlines for 10 February 2023
To inform all pupils of what will be happening in the Nation and the world today, the top headlines of the day are read during the school assembly after the call to prayer. Now let's read the most recent news of the day. Read the most recent news from India and outside while keeping up with Indian political movements.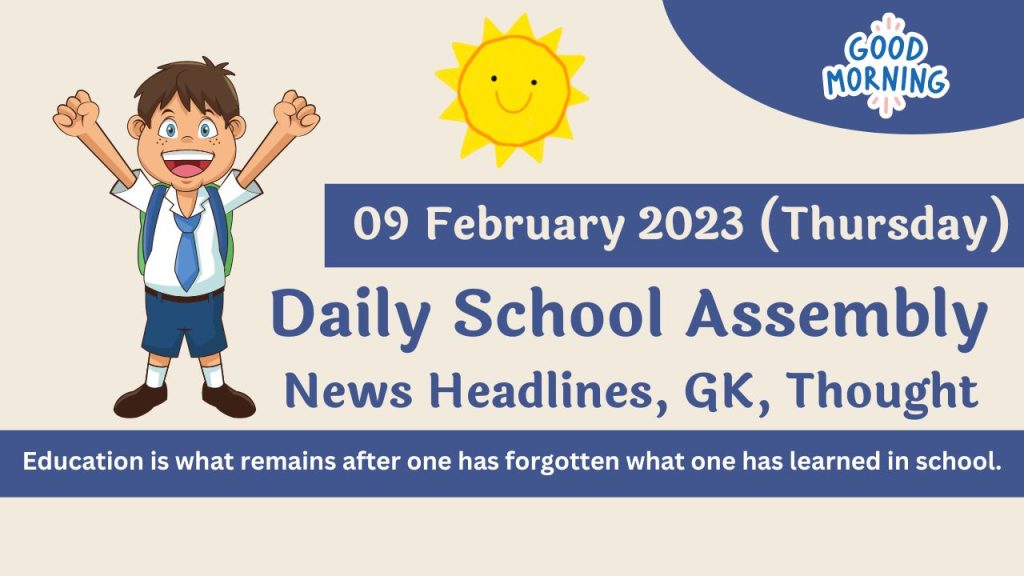 We are giving information News of National News, International News, Sports News, Business News and science & Technology News.
National News Headlines – 10 February 2023 (Friday)
RTI can't be used for "Childish Curiosity" : University on PM Degree Row
Supreme Court to have a Full Strength of 34 Judges Soon : Sources
Pfizer appointed Meenakshi Nevatia as Managing Director
BJP Chief JP Nadda released party's manifesto for Tripura
Russia to Display 5th Generation Sukhoi fighter at Aero India Air Show
2.25 Lakh people Gave Up Indian Citizenship in 2022 : Centre
Serum Institute's Cervical Cancer Vaccine to Hit Market this Month : Report
Crew Shortage hit Air India flights to US, Canada : Report
Domestic Airlines Reported 2,613 Technical Snags in Last 5 Years : Minister
PM Modi shared Arunachal Student's Account of a Day in Parliament
Gulf Nations will Remain India's Major Oil Suppliers for "A Long Time" : Minister
Ashok Gehlot will present Rajasthan Budget on Today (10 February)
Centre Returned 10 Proposals Reiterated by Judges' Appointment Body
Supreme Court has 69,000 Pending Cases, 59 Lakh in 25 High Courts : Centre
International World News Headlines – 10 February 2023
"We are Defending you" : Ukraine's Zelensky Rallies European Allies
Elon Musk's SpaceX should choose between Ukraine and Russia : Zelensky Advisor
Putin had no Role in Malaysia Airline MH17 Downing : Kremlin
President Macron Awards 'Legion of Honor' to Ukraine's Zelensky
China Slammed Joe Biden's Extremally Irresponsible : Remarks on Xi Leadership
North Korea showed off Large Number of Nuclear Missiles at Nighttime Parade
"Brave Girl" : WHO Chief Viral Video of Syrian Girl Shielding Brother
Amid Balloon Row, Joe Biden says US "Not looking for Conflict: with China
Deliver Plan es, Heavy Arms "As soon as Possible" : Zelensky in France
"Complete Fiction" : White House Dismissed Report US Behind Nord Stream Blast
Sports News Headlines – 10 February 2023
Must Bring Curtain Down on Issues Concerning All India Football Federation : Supreme Court
India vs Australia : Ravindra Jadeja Made Heroic comeback, Takes 11th Five Wicket Haul
Harmanpreet Kaur's India Eye Maiden T20 World Cup Title, Australia to Chase Sixth Trophy
Lionel Messi's PSG Crash out of French Cup after Losing to Marseille
Turkey Syria Earthquakes : Cristiano Ronaldo's Juventus Jersey to be Auctioned, Funds to be donated
Business News Headlines – 10 February 2023
Stock Indices close Flat on Fed Rate Hike Fears
Air India Finalized Deal with Airbus for 250 Planes : Report
LIC's Net Income Jumped to Rs 8,334 Crore in Q3
Finance Minister Urged IMF to Develop Coordinated Approach on Crypto Assets
Feeding of Fake Notes in Coin Vending Machines Led to UPI – Based alternative : RBI
Adani Total Gas December Quarter Profit Rises 17.2% on Price Hikes
Income Tax Case : No Coercive action Against Flipkart till February 24
Science Technology News Headlines – 10 February 2023
Astronomers discovered Ring Around Distant Frigid Planet Near Pluto
Scientists Proposed Using Moon Dust to keep Earth From Overheating
SpaceX planned to fire up all 33 starship engines in Pivotal test ahead of first orbital launch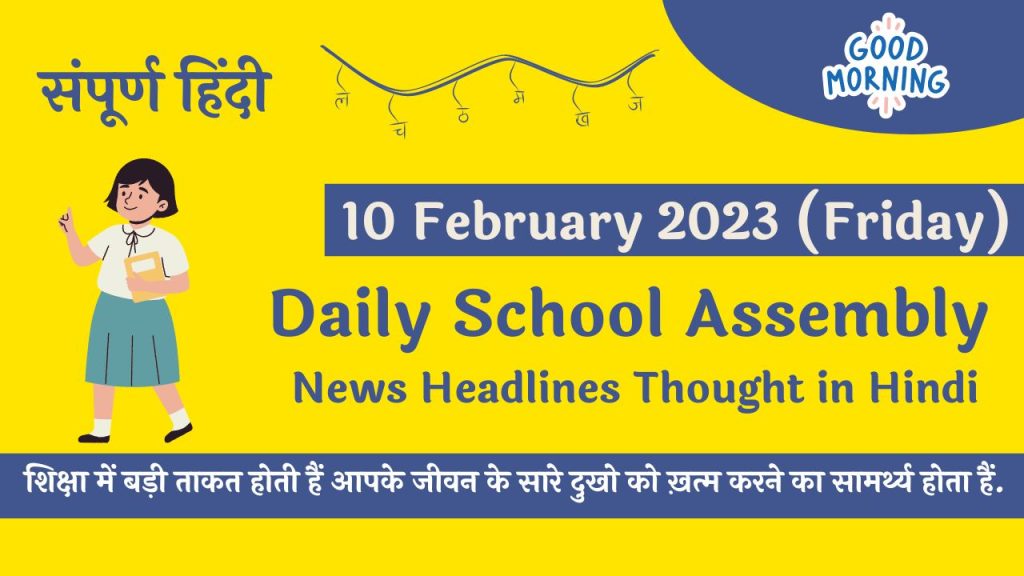 Thought of the Day – 10 February 2023
Education is what remains after one has forgotten what one has learned in school.