Are you searching for – Daily School Assembly News Headlines for 09 March 2023
Then you are at Right Place.
The Complete and Official Information of Daily School Assembly News Headlines for 09 March 2023
Daily School Assembly News Headlines for 09 March 2023
To inform all pupils of what will be happening in the Nation and the world today, the top headlines of the day are read during the school assembly after the call to prayer. Now let's read the most recent news of the day. Read the most recent news from India and outside while keeping up with Indian political movements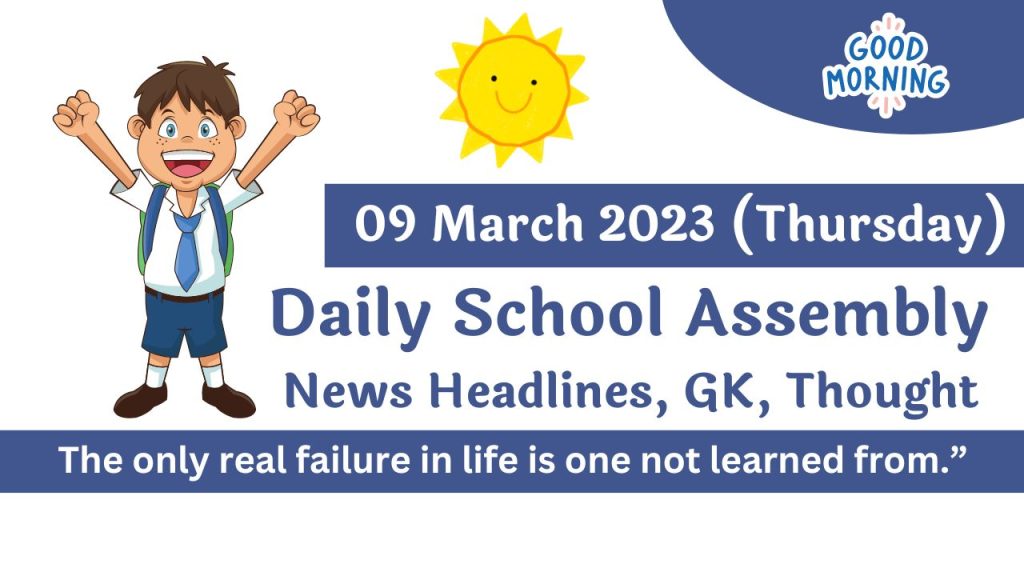 We are giving information News of National News, International News, Educational News, Sports News, Business News and science & Technology News.
Today's Important Day on 09 March 2023
No Smoking Day
National News Headlines – 09 March 2023 (Thursday)
KCR's Daughter K Kavitha wants Questioning in Liquor Policy Case Postponed.
International Women's Day | President Murmu stresses making women equal partners in progress of Humanity
Sharad Pawar's NCP decided not to sit in opposition in Nagaland, accepts Neiphiu Rio's leadership
Amit Shah, Nadda meet TIPRA Motha chief after Tripura govt's swearing – in
Now Indian degrees to be recognized in Australia – Says PM Anthony Albanese
Manish Sisodia refused 'Vipassana' cell in Tihar Jail, Alleges AAP's Saurabh Bharadwaj ; Jail Authorities deny charge
Brahmapuram – Two day holiday for all Educational Institutions in and around Ernakulam City
No More Dumping of Plastic waste at Brahmapuram : Kerala CM
Holi Festival Celebrations in India and Around the World
International World News Headlines – 09 March 2023
Police uses tear gas, water cannon on Imran Khan's supporters as rallies banned in Lahore
In "World's Most Repressive Country", A Rare Women's Day Protest – Afghanistan is World's Most repressive country for women, says UN
UK's Sunak pledges to stop cross – channel migrants
International Women's Day : The exclusion of Afghanistan's Women
Sports News Headlines – 09 March 2023
GG vs RCB Highlights : Gujarat beat Bangalore by 11 runs, RCB endure 3rd defeat
Rohit Sharma terms Ravi Shastri's assertion as 'rubbish'
PM Modi likely to flip coin at toss for India vs Australia 4th Test Tomorrow, do commentary.
Smith : Can't remember being unsure two days out which pitch I would be playing on
Australian cricketers Steve Smith, Alex Care and Others Play Holi ahead of Ahmedabad Test
Business News Headlines – 09 March 2023
Adani Enterprises, Adani Green, Adani Power : Adani shares in focus as group prepays Rs 7,347 cr Loans
Crypto Transactions, Virtual Assets to Come Under Money Laundering Act
Gautam Adani's Fortunes to $50 Billion mark, group m-cap hits Rs 9 Lakh crore as Adani Shares rally
Share Market Highlights : Nifty closes above 17750, Sensex Surges 120 pts ; Banks Nifty ends above 41570, Adani Stocks gain
Indian aviation market large enough to 'accommodate all players profitably' : Emirates
F & O Manual : Market momentum likely to bring more gains, say analysts
GAIL to consider Interim dividend next week, record date fixed.
Science Technology News Headlines – 09 March 2023
For the first Time, NASA's Curiosity rover captures first sun rays on Mars
Artificial Intelligence May Help Find Life on Mars, Icy Worlds
Madhya Pradesh Fossil find throws light on croc ancestors
Kids can launch a rocket to Moon like NASA Artemis team with Minecraft
Google I/O 2023 is set for May 10th, with News on Pixel Phones and Android 14 Expected
DuckDuckGo Enters the AI Race with DuckAssist
Apple Boss Tim Cook wishes Twitter Followers Happy Holi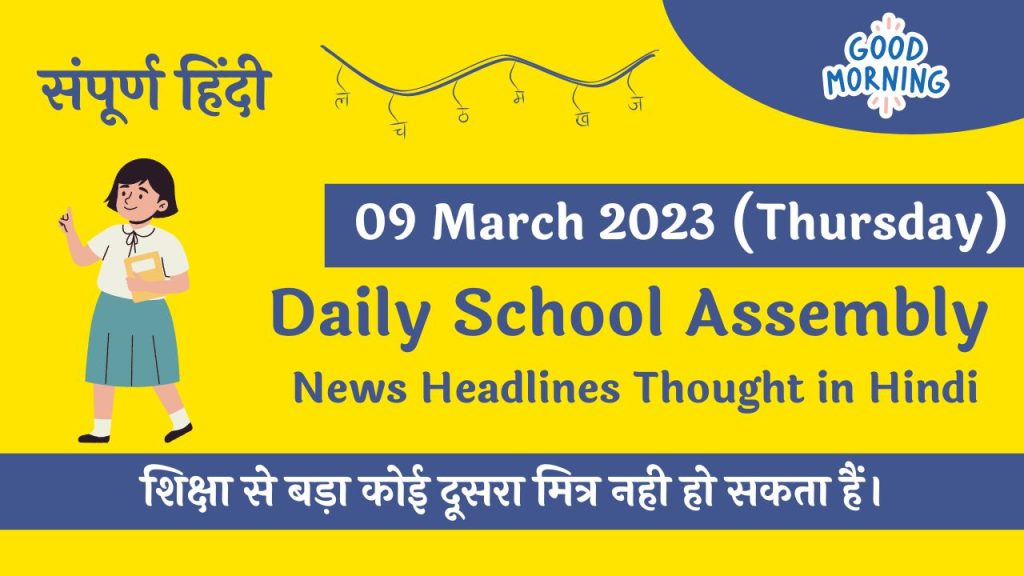 Thought of the Day – 09 March 2023
The only real failure in life is one not learned from."