Are you searching for – Daily School Assembly News Headlines for 09 February 2023
Then you are at Right Place.
The Complete and Official Information of Daily School Assembly News Headlines for 09 February 2023
Daily School Assembly News Headlines for 09 February 2023
To inform all pupils of what will be happening in the Nation and the world today, the top headlines of the day are read during the school assembly after the call to prayer. Now let's read the most recent news of the day. Read the most recent news from India and outside while keeping up with Indian political movements.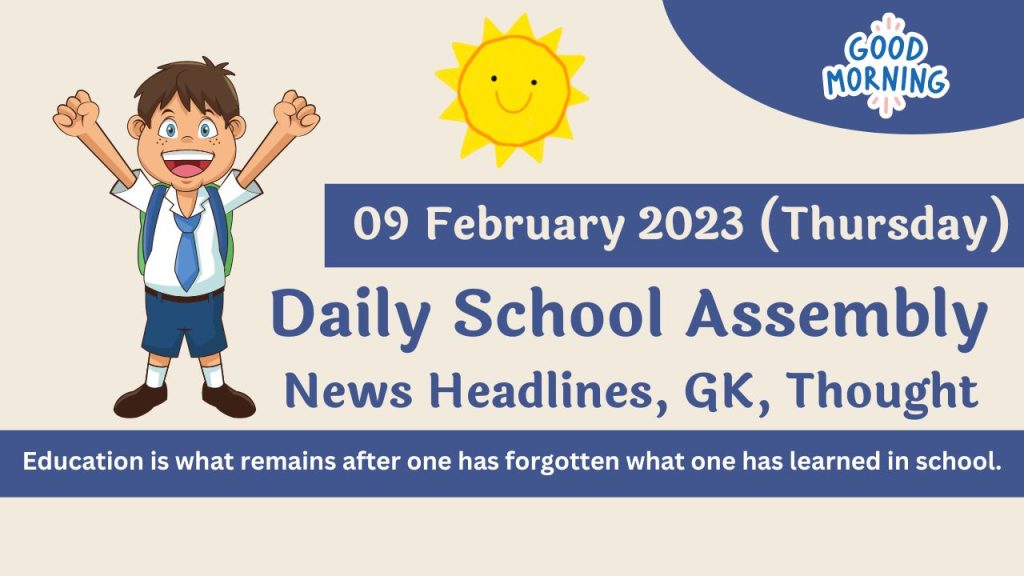 We are giving information News of National News, International News, Sports News, Business News and science & Technology News.
National News Headlines – 09 February 2023 (Thursday)
Aarogya Setu app contact – tracing data deleted : IT Ministry
Parliament Budget session | PM Modi wears jacket made of material recycled from plastic bottles
Education Ministry calls for CAG audit of 'misuse' of PM Poshan funds in West Bengal
Turkey earthquake | 10 Indians stuck in remote areas, but safe, says External affairs Ministry
India delivered 6 tons of emergency relief assistance to quake hit Syria
New Zealand foreign Minister met Jaishankar, discusses ties, Indo – Pacific
PIB Busted 1,100 cases of fake news in 3 years : Anurag Thakur in House
Paramilitary forces facing shortage of 83,000 officers, MHA informs Rajya Sabha
Trust of people my protective shield, opposition's abuses will have no impact : PM Modi in Lok Sabha
GM mustards safe for cultivation, no harmful effect on honey bees, Union Agriculture Minister Narendra Singh Tomar tells MPs
International World News Headlines – 09 February 2023
China offered Emergency Aid of $4.4 Million to Syria after quake
Ukraine's Zelensky visited London, secures more Arms against Russia
China has more Ballistic Missile launchers than US, Military tells congress
China reacted after Joe Biden slams Beijing over suspected spy balloon
"Ready to make Unpopular Decisions for Nation's Sake" : Lankan President
"US will stand with Ukraine as long as it takes" : Joe Biden
Oil still Indispensable to Global Economy : UAE climate change Envoy
"Sharing as much as we can" : US Briefs 40 nations on China 'Spy Balloon'
"Test for America, Test for World' : Biden on Putin's War against Ukraine
Sports News Headlines – 09 February 2023
Amid Nagpur Pitch debate, Pat Cummins' Subtle "Custom Made" Jibe at Team India
"No Doubt about that" : Ramiz Raja Issues Huge Warning for Rohit Sharma ahead of Test Series
"Australia Could Win" : Ex South Africa Star made surprising prediction ahead of test series
Turkey Syria Earthquakes : The amount received from Cristiano Ronaldo's Jersey will be donated to a local NGO
Business News Headlines – 09 February 2023
Nifty, Sensex End trading session with gains
Rupee gains 9 Paisa to close at 82.51 against US Dollar
Digital Rupee Pilot : 50,000 users transacting through Digital Currency, Says RBI
Indian Banking System Won't be Impacted by "Case Like This" : RBI Chief on Adani Row
Current Account Deficit to Moderate in Second Half of 2022-23 : RBI Governor
Science Technology News Headlines – 09 February 2023
Samsung Partners with IISc for Advanced Nanoelectronics Device Research
Scientists Discovered Small Molecules that successfully target COVID Spike proteins
Israel launched sniffing Robot to Detect Diseases, Aid in Security Checks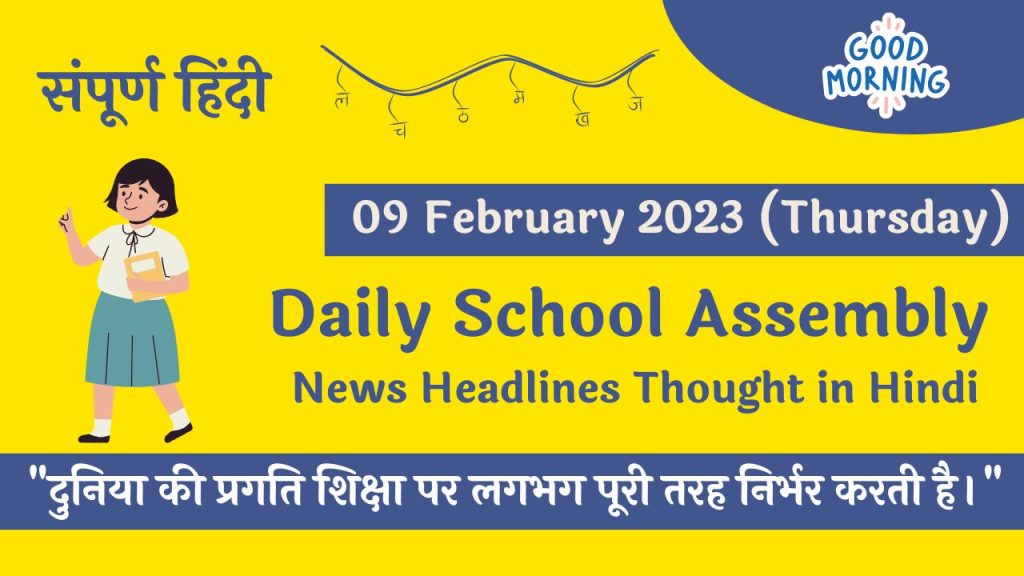 Thought of the Day – 09 February 2023
Education is what remains after one has forgotten what one has learned in school.