Are you searching for – Daily School Assembly News Headlines for 07 January 2023
Then you are at Right Place.
The Complete and Official Information of Daily School Assembly News Headlines for 07 January 2023
Daily School Assembly News Headlines for 07January 2023
To inform all pupils of what will be happening in the nation and the world today, the top headlines of the day are read during the school assembly after the call to prayer. Now let's read the most recent news of the day. Read the most recent news from India and outside while keeping up with Indian political movements.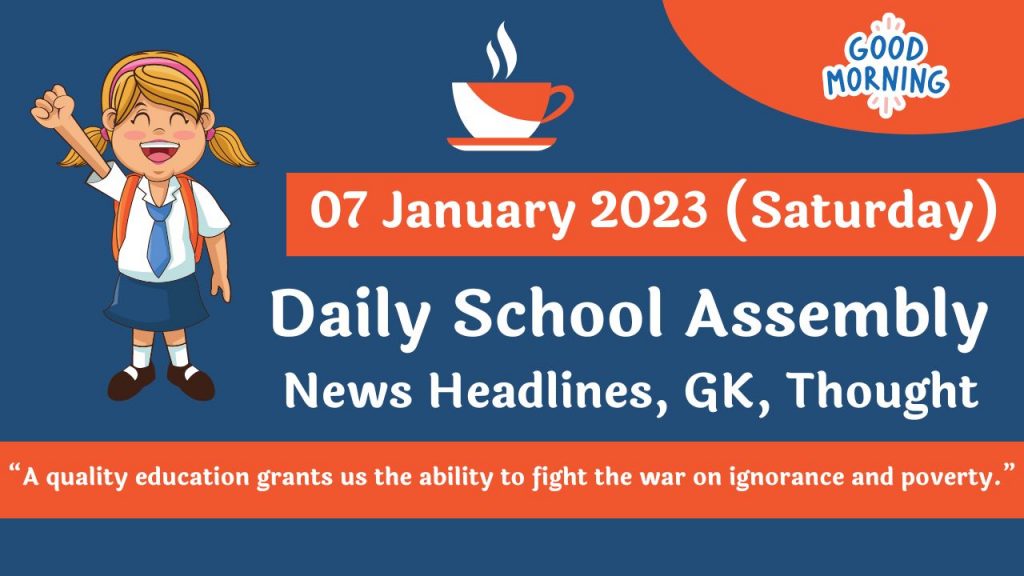 We are giving information News of National News, International News, Sports News, Business News and science & Technology News.
National News Headlines – 07 January 2023 (Saturday)
Adani among Potential Suitors Eyeing Stake in Government – Backed Power Trader
In Uttarakhand's "Sinking" Town, People Camp out on Cold Nights in Fear of Collapse
Amazon Plans to Lay off around 1,000 Employees in India : Report
"Use Restraining Devices" : Regulator to Airlines on Unruly Passengers
Foreign Universities will be able to apply online to open campuses in India
Trinamool Released 1st List of Candidates for Meghalaya Polls
Rahul Gandhi Slammed Centre over Agnipath Scheme, GST at Haryana Rally
Fresh Rs 395 Crore Bank Froud case against Unitech, Its former directors
India to Host 'Voice of Global South' Meet Next Week, 120 Nations Invited
Defense Minister Rajnath Singh Visited Naval Air Station INS Baaz in Andamans
Clinical Trials of New TB Vaccine to Start Soon : Ex Scientific Body Chief
International World News Headlines – 07 January 2023
India Deploys its "Largest Single Unit of Women Peacekeepers in UN Mission"
Uncertainly for Tiktok after US Government Ban
Amid Pressure over US Border Crossings, Biden Step up Migrant Expulsions
Biden Says Putin "Trying to Find Some Oxyzen" With Ukraine Casefire Order
Taiwan offers China Help again to tackle COVID 19 Surge
Germany, US to Send Combat vehicles to Ukraine to fight Against Russia
"Hypocrisy, Propaganda" : Ukraine dismisses Russian Ceasefire Declaration
US Warship Crossed sensitive Taiwan Strait; China angered
Sports News Headlines – 07 January 2023
Delhi Cricket : DDCA Sacks Selection Panel for Senior Team with Immediate Effect – Report
Ranji Trophy : Ayesh Khan Stars in MP's Big Win Over Vidarbha
"Baseless" : Asian Cricket Council Slams PCB Chairman's Comments Targeting Jay Shah
UEFA President Aleksander Certain Unopposed for New Mandate
Rs. 1 Crore Reward for each player if India win Hockey World Cup : Naveen Patnaik
Daniil Medvedev, Aryna Sabalenka Power into Adelaide International Semi finals
Business News Headlines – 07 January 2023
Reducing Inflation top priority for south Asian Nations : RBI Governor
Dabur India Expects Q3 Revenue to Rise on Late Demand Pickup
Indian Economy estimated to grow at 7 per cent in 2022-23 : Govt data
Rupee falls 9 paise to close at 82.71 against US dollar
Sensex falls for 3rd day, ends below 60k
Govt, RBI in talks with few South Asian Countries for rupee trade : Shashikanta Das
Science Technology News Headlines – 07January 2023
CO2 in Deep Earth may play larger role in Climate change than previously assumed
Carnegie Mellon Researchers Project 2 out of 3 Glaciers could be lost by 2100
NASA's perseverance Rover drops fourth sample on Mars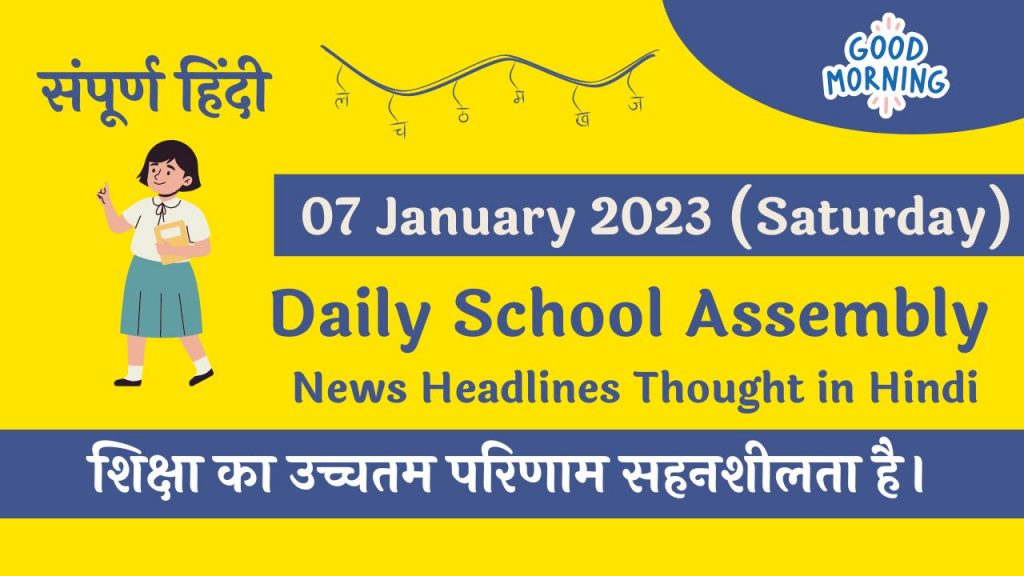 Thought of the Day – 07 January 2023
"A quality education grants us the ability to fight the war on ignorance and poverty."
Positive Word of the Day For Daily School Assembly – 07 January 2023
Justice – This means fair treatment.
Covered Topics in Today Morning School Assembly Post – 07 January 2023
National News Headlines – 07 January 2023 (Saturday)
International World News Headlines –