Are you searching for – Daily School Assembly News Headlines for 06 March 2023
Then you are at Right Place.
The Complete and Official Information of Daily School Assembly News Headlines for 06 March 2023
Daily School Assembly News Headlines for 06 March 2023
To inform all pupils of what will be happening in the Nation and the world today, the top headlines of the day are read during the school assembly after the call to prayer. Now let's read the most recent news of the day. Read the most recent news from India and outside while keeping up with Indian political movements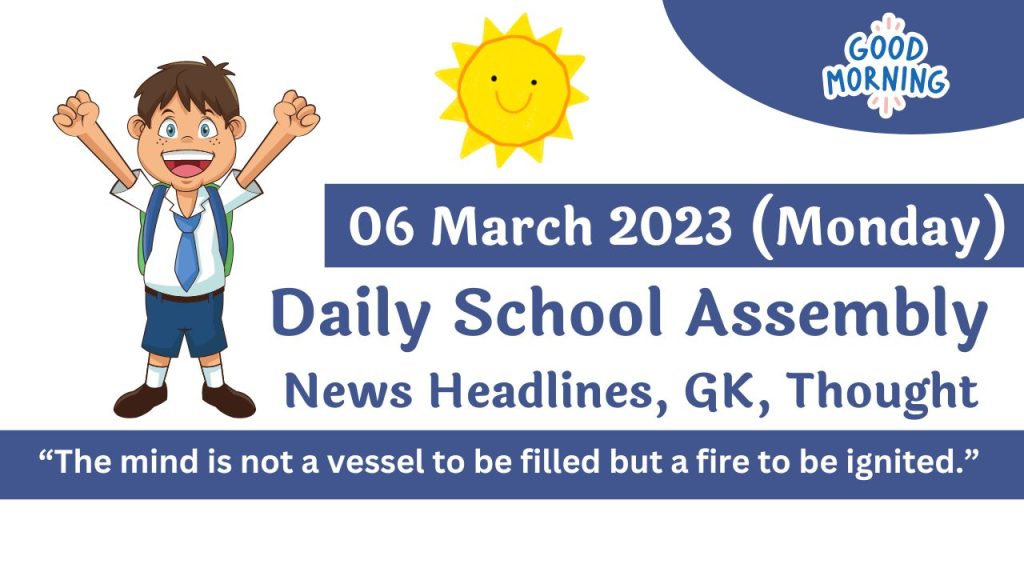 We are giving information News of National News, International News, Educational News, Sports News, Business News and science & Technology News.
Today's Important Day on 06 March 2023
Day of Memorial And Respect For Veterans.
National News Headlines – 06 March 2023 (Monday)
Pak obsessed with us as its people battle for Livelihood : India
US Secretary of State Antony Blinken Seen in Autorickshaw in Delhi
"Dream to make Delhi Centre of Education for the World" : Arvind Kejriwal
Australia's Deakin the 1st Foreign University to set UP Campus in India
"Pursue Mutual Trust, Not Exclusivity" : China Slams Quad meeting in Delhi
Quad Foreign Ministers Announced setting up of working group on counter Terrorism
iPhones to be built in 300 Acre Karnataka Factory, "To Create 1 Lakh Jobs"
PM Modi Congratulated Conrad Sangma for Meghalaya Election Win
Greed for Wealth led to Corruption developing like Cancer : Supreme Court
Sonia Gandhi Admitted to Delhi Hospital Due to Fever, "Condition Stable"
Homelessness a Global Issue, People Living on Streets Human Beings too : High Court
Quad foreign ministers met in Delhi, Review Maritime Security
International World News Headlines – 06 March 2023
We hope to work Closely with India to End Russian Aggression : US
Elon Musk no longer world's Richest Man after Losing 1.9 $ Billion in a Day
"India a critical, Great Power," Australia Minister At Quad Meet
"We never Engage In Playing Country against Country" : Russian Foreign Minister
World Bank Committed $1 Billion to India for Healthcare Initiative
Sports News Headlines – 06 March 2023
ICC rates Indore Pitch, Which hosted 3rd India – Australia Test, As 'Poor'
"Greatest Bit of Rubbish" : Australia Great's Explosive Took on Controversy over Indore Pitch
Bengaluru FC Beat Kerala Blasters in Their ISL Playoff Encounter
Business News Headlines – 06 March 2023
Foreign Exchange Reserves at 3 Month Low of $560.94 Billion
Amazon Pay fined Rs 3.06 Crore for Non – Compliance with Norms
Adani Group Stocks closed Higher after GQG's $1.88 Billion Investment
Rupee rose 63 Paise to End at 81.97 against US Dollar
World Bank Committed $1 Billion To India for Healthcare Initiatives
Wheat Production dented by Heatwave, could Limit Centre's Stock Holding
Science Technology News Headlines – 06 March 2023
WhatsApp may bring feature to let users mute call from unknown numbers
Apple gives Nod to ChatGPT – Driven App Amid Concern
Skype's New AI- Powered Bing ChatGPT is a Game – Changer for Social Messaging .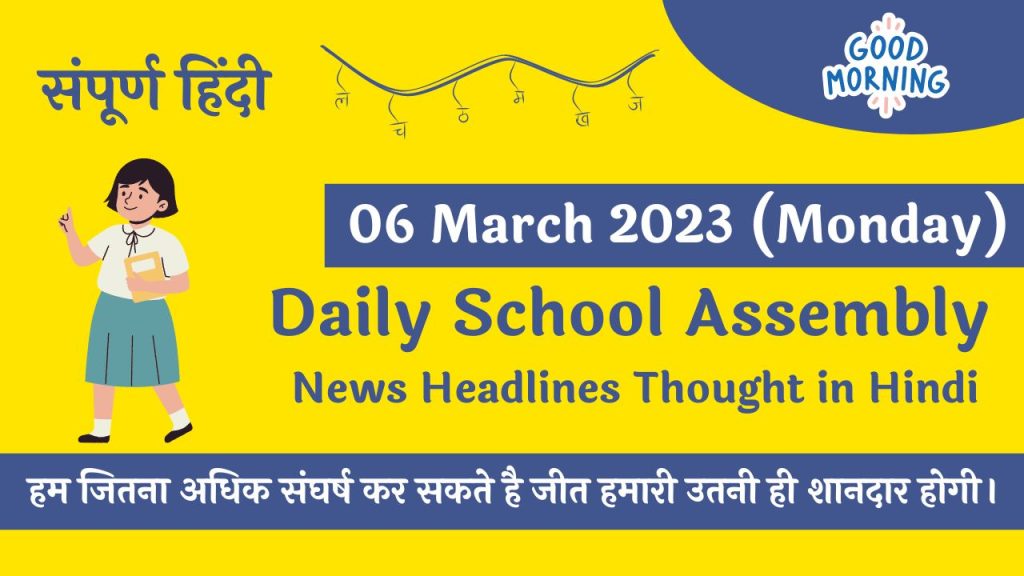 Thought of the Day – 06 March 2023
"The mind is not a vessel to be filled but a fire to be ignited."