Are you searching for – Daily School Assembly News Headlines for 06 January 2023
Then you are at Right Place.
The Complete and Official Information of Daily School Assembly News Headlines for 06 January 2023
Daily School Assembly News Headlines for 06 January 2023
To inform all pupils of what will be happening in the nation and the world today, the top headlines of the day are read during the school assembly after the call to prayer. Now let's read the most recent news of the day. Read the most recent news from India and outside while keeping up with Indian political movements.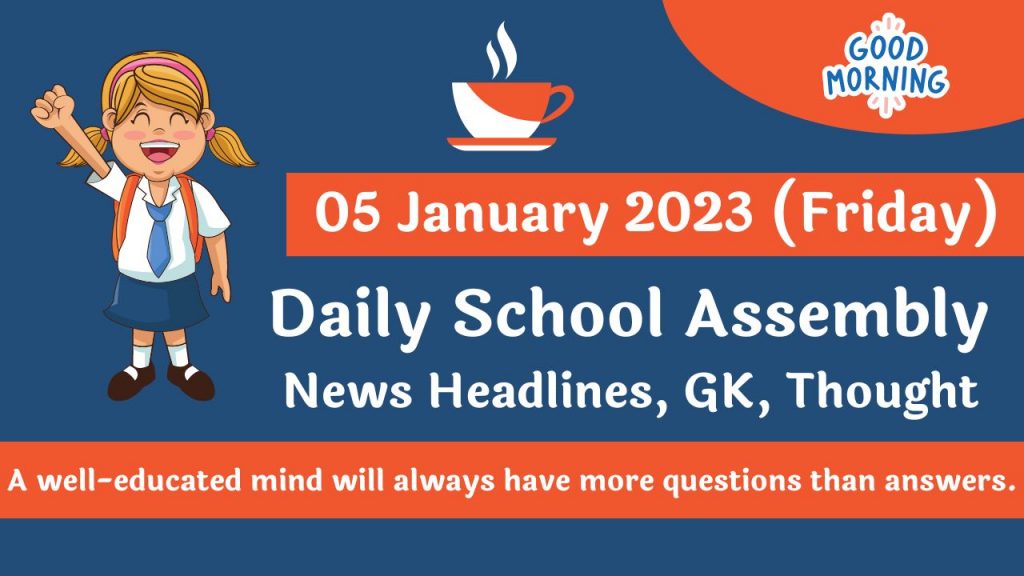 We are giving information News of National News, International News, Sports News, Business News and science & Technology News.
What is Special in this Day ?
World Day of War Orphans – 6 January
National News Headlines – 06 January 2023 (Friday)
Microsoft CEO Satya Nadella Met PM Modi, Calls Meeting "Insightful, Inspiring"
IndiGo Flight from Hyderabad Became 1st Arrival at Manohar Airport in Goa
11 COVID Variants found in 124 International Passengers in 11 Days : Sources
"Can't Uproot 50,000 Overnight" : Supreme Court Halts Uttarakhand Eviction
ISRO and Microsoft Collaborate to Support Space – Tech Start – Ups In India
Fresh $140 Crore Bank Fraud Case Against HDIL Promoters Wadhawans
Google to Challenge India Antitrust Ruling in Supreme Court : Report
Big Drop in Insurgency in Northest Under PM's Leadership : Union Minister
India to send 3 Aquanauts 500 Meters into Sea This Year in 'Samudrayaan Mission'
Sri Lanka to Restart rade Deal Talks with India, China, Thailand : Report
On Judge Appointment Rules, No Consensus in 7 Years, Key Panel "Surprised"
India to Focus on Health Emergency Prevention During G20 Presidency
Focus on 9 Election – Bound States in Top BJP Meet this month
International World News Headlines – 06 January 2023
China Under – Representing COVID Deaths, Concealing Data, Says WHO
China Reported Nearly 2,20,000 New Weekly COVID Cases Till Jan 1 : WHO
Google India committed to Mentor 1 Million Indian Women Entrepreneurs : US
In Increasing Oil Trade Between India and Russia, An Unusual Developement
"They Haven't Been" : Biden Rises Concern Over China's COVID Response
North Korea Drone Entered No – Fly Zone Last Week : South Korea Military
"Embarrassing" : Biden Slams Republicans as They Fail to Elect New Speaker
UN Security Council to Meet Next Week on Taliban Ban on Female Aid Workers
France to Send Light Combat Vehicles to Ukraine to Fight Against Russia
EU Recommends Pre-Flight COVID Testing of Passengers From China
Microsoft, ISRO Partner to Support Space Technology Startups in India
Sports News Headlines – 06 January 2023
Novak Djokovic recovers from Shaky to Reach Adelaide quarters
Novak Djokovic Resigned to missing more US tournaments over vaccination status
India, Pakistan in Same group for Asia cup 2023 as Asian cricket Council announces Calendar for Net Two Years
"Provide Psychological Support" : Abhinav Bindra to BCCI on Rishabh Pant's Recover post car accident.
Ishan Kishan, Deepak Hooda Make Gains in ICC T20I ranking for Batters
Novak Djokovic praises Nick Kyrgios for support in tough times
Business News Headlines – 06 January 2023
Nifty, Sensex Settle Lower for 2nd Day on Foreign Fund Outflows
Microsoft CEO Satya Nadella Meets PM Modi, Pledges Support to Digital India Vision
BSNL to Launch 5G Services in 2024 : Telecom Minister Ashwini Vaishnaw
Delhi Sees Highest Ever Monthly Elecric Vehicle Slaes Across States
Sundararaman Ramamurthy Takes Charge as Managing Director, Chief Executive Officer Of BSE
Centre Planning to Make Synchronization with Indian Standard Time Mandatory : Official
Capital Infusion in Vodaphone Idea by Centre Under Discussion : Telecom Minister Ashwini Vaishnaw
Science Technology News Headlines – 06 January 2023
Microsoft, ISRO Partner to Support Space Technology Startups in India
Largest Animal to ever Live may have been Triassic Ichthyosaur Super-Predator
Advancing our Understanding of ADHD – Scientists Discover Genomic Differences in Brain Tissue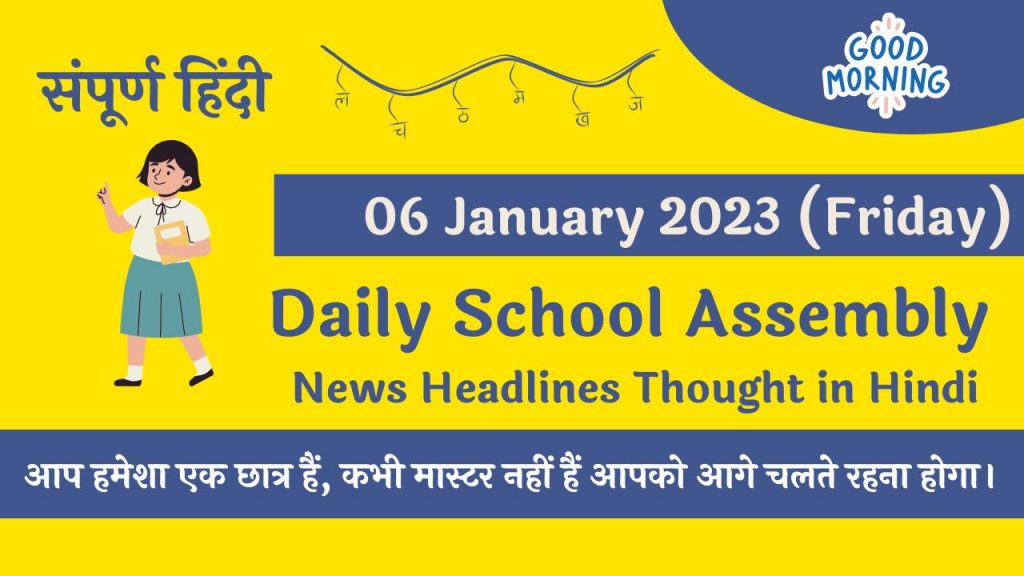 Thought of the Day – 06 January 2023
A well-educated mind will always have more questions than answers.
Positive Word of the Day For Daily School Assembly – 06 January 2023
Ideal – considered the best of its kind or highly satisfactory
Covered Topics in Today Morning School Assembly Post – 06 January 2023
National News Headlines – 06 January 2023 (Friday)
International World News Headlines –