Are you searching for – Daily School Assembly News Headlines for 04 March 2023
Then you are at Right Place.
The Complete and Official Information of Daily School Assembly News Headlines for 04 March 2023
Daily School Assembly News Headlines for 04 March 2023
To inform all pupils of what will be happening in the Nation and the world today, the top headlines of the day are read during the school assembly after the call to prayer. Now let's read the most recent news of the day. Read the most recent news from India and outside while keeping up with Indian political movements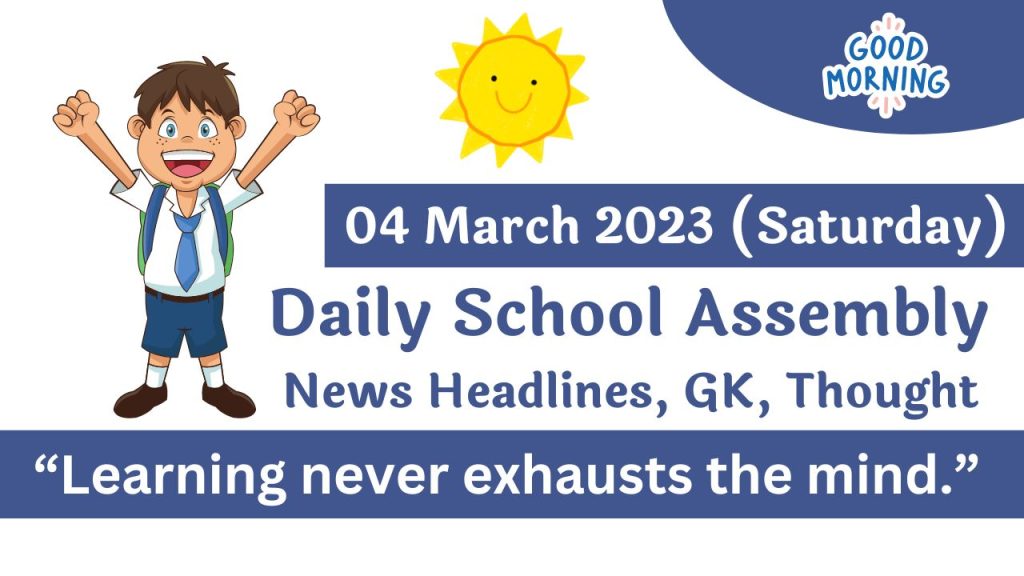 We are giving information News of National News, International News, Educational News, Sports News, Business News and science & Technology News.
Today's Important Day on 04 March 2023
Ramakrishna Jayanti
National News Headlines – 04 March 2023 (Saturday)
EC appointments : Supreme Court Says it's 'Myth' court can't make law, no strict separation of power in India.
India's Supreme Court set up panel to Investigate Adani Allegations
Central Government clears appointments additional Justice Amit Sharma of Delhi High Court as Permanent Judge.
Industrialists commit up to Rs 13 Lakh Crore Investments at Andhra Summit
Former ASG and Union Minister Satyabrata Mukherjee Passes Away
Sisodia Moves Delhi court for Liquor scam case after Supreme Court Junks plea
Discussions on Next Meghalaya government in Meghalaya sans NPP, BJP : Mukul Sangma
Rahul Gandhi's Cambridge speech "Modi blowing my country to smithereens. In Kashmir, Militants were looking at me.
Hathras Case : UP court says no medical evident of gang rape : possible that victim was tutored to change statement
Bill Gates : India is not just a beneficiary of new breakthroughs, but an innovator of them
International World News Headlines – 04 March 2023
Belarus court sentences Nobel laureate to 10 years in prison
Quad Foreign Ministers take him at Russia and china
Russian Foreign Minister Lavrov strikes defiant note on Ukraine at Raisina dialogue
India, China discuss border tensions in bilateral meeting : Jaishankar highlights 'abnormal' ties
India Scores 74.4 in World Bank index on Life cycle of working women
Putin Seen living with rumored girlfriend children spotted in luxury mansion.
Sports News Headlines – 04 March 2023
India Vs Australia 3rd test : Australia defeat India by 9 Wickets, Qualify for WTC final
Told Rohit Sharma I am watching whatever you do; Labuschagne after 3rd Test
Live BFC 1-0 KBFC score, ISL Knockout : Chhetri goal creates controversy
Hockey India announced Craig Fulton as the new Chief Coach of the Indian Men's Hockey Team
Business News Headlines – 04 March 2023
Taking stock – A happy Friday for market : Sensex zooms 900 points, Nifty closes in on 17,600
ICRA revises rating outlook of Adani ports, Adani Total Gas to 'Negative'
Foxconn to Invest under $1 Billion in Bengaluru
Market Garner largest single – day gain of 2023 after mega block deal in Adani stocks; SBI, Airtel, RIL top gainers
Billionaires Mukesh Ambani and Gautam Adani plan to build 25GW of clean energy in Andhra Pradesh.
Science Technology News Headlines – 04 March 2023
4 Astronauts Arrive at International Space Station in SpaceX Capsule
Hubble Captures the aftermath of NASA's DART Mission
Watch Venus and Jupiter parting ways, dwarf planet ceres at its brightest this month
Top NASA Astronomy pictures of the week : Crescent Moon, Flaming Nebula, Venus to Jupiter
'doomsday' Glacier is melting in Antarctica and it's bad news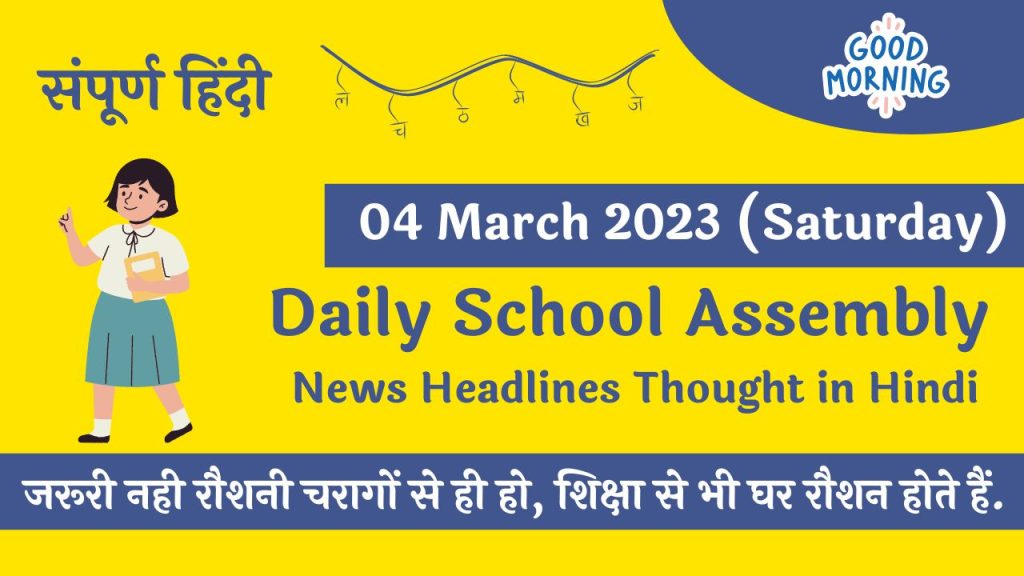 Thought of the Day – 04 March 2023
"Learning never exhausts the mind."