Are you searching for – Daily School Assembly News Headlines for 03 January 2023
Then you are at Right Place.
The Complete and Official Information of Daily School Assembly News Headlines for 03 January 2023
Daily School Assembly News Headlines for 03 January 2023
To inform all pupils of what will be happening in the nation and the world today, the top headlines of the day are read during the school assembly after the call to prayer. Now let's read the most recent news of the day. Read the most recent news from India and outside while keeping up with Indian political movements.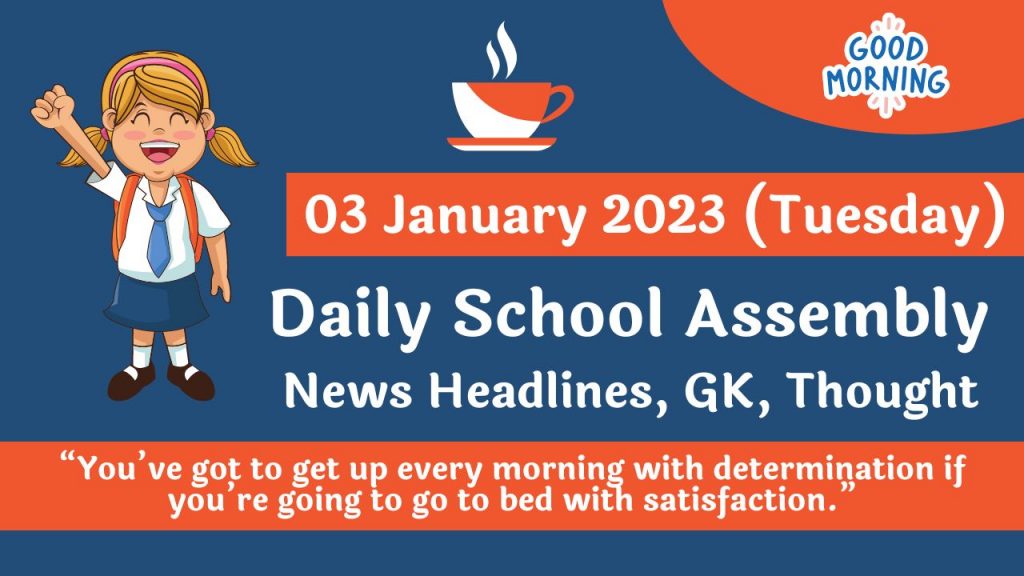 We are giving information News of National News, International News, Sports News, Business News and science & Technology News.
What is Special in this Day ?
Savitribai Phule Jayanti Birthday – 3 January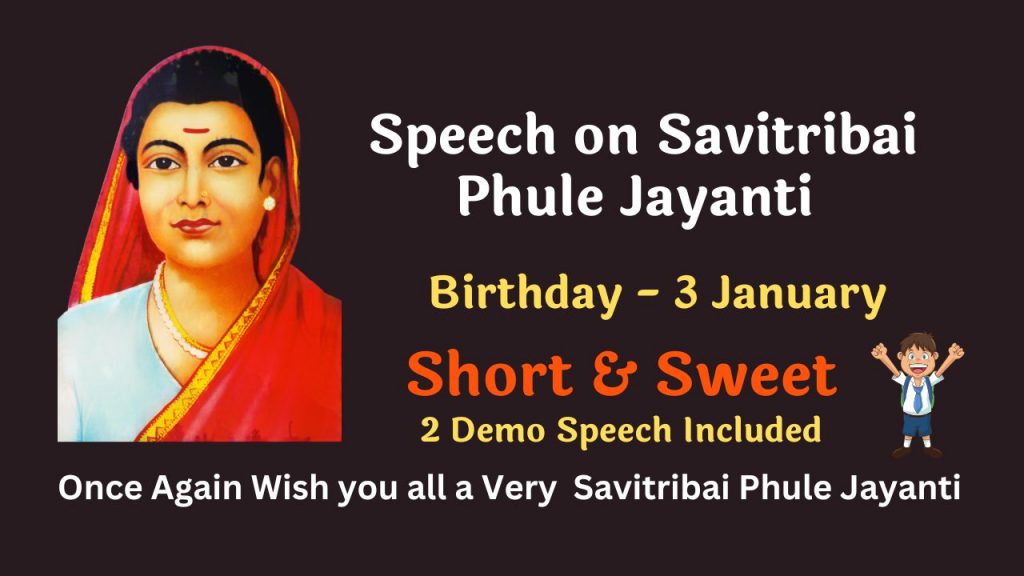 National News Headlines – 03 January 2023 (Tuesday)
PM Modi in contact with leaders of Russia and Ukraine, Jaishankar says in Australia
Senior Officers were the target of IED blast : J & K DGP
Members of first Agniveer batch arrive at Guards Regimental Centre for Training
Supreme Court upholds demonetization, says there was consultation between centre, RBI for Six months
India's G20 Presidency 'Very big deal' : EAM Jaishankar to critics
After claims that potholes caused Rishabh Pant's accident, NHAI repairs road at the spot
Parliament's Budget Session to Start From Jan 31, Budget to be Presented on Feb 1 : Report
Delhi Government launched 'Mathematics Winter Camp' for City schools
IIT Madras, DRDO conducted Research on advanced defense technologies
Bomb Found Near Punjab Chief Minister's House in Chandigarh
Government Moots Self – Regulatory Mechanism, Mandatory Verification for Online Gaming firms
International World News Headlines – 03 January 2023
"Terror Epicenter located close to India" : S Jaishankar's Veiled Dig at Pak in Austria
Hundreds stranded on Cruise ship off Australia due to 'Marine Growth'
"Both Sides Willing.." : New China Foreign Minister on Ties With India
Most Foreigners in Canada banned from Buying houses for 2 Years
US, South Korea may hold Nuclear Drill Amid North Korea Threat
Ukraine Authorities Sound alert in Kyiv after Early Morning "Air Attack"
Lula Da Silva Became Brazil's President for 3rd Time
Nepal Inaugurated International Airport Built with Chinese Help
Sports News Headlines – 03 January 2023
"Prayers are always with Him." : Hardik Pandya wishes Rishabh Pant Speedy Recovery
Brazil Began paying Final respects to Football Giant pele
Rafael Nadal Beaten again as lga Swiatek, Stefanos Tsitsipas Cruise at United Cup
Felix Auger – Aliassime, Holder Rune Stunned at Adelaide International
Business News Headlines – 03 January 2023
Sensex, Nifty Made Gains on First Day of trade of New Year
Rupee Closed at 82.75 Against US Dollar
Betting on Outcomes of Online Games to be Barred, Rules Expected in February : Minister
Maruti Suzuki's Production Down 18% to 1,24,722 Units
Recession will Hit a Third of the world in 2023, warns IMF chief Kristalina Georgieva
Corporate Tax collection Exceeds 3% of GDP in 2021-2022 after Gap of 2 Years
Manufacturing Sector activity grows 13 month high in December
2016 notes Ban decision Valid Supreme Court
Science Technology News Headlines – 03 January 2023
NASA shared Dyanamic pic of The sun as we enter a new orbit
3,700 years old – scientists discover the first sentence ever written in Canaanite
COVID 19 Virus Found in the Brain : Autopsies Reveal Startling New Information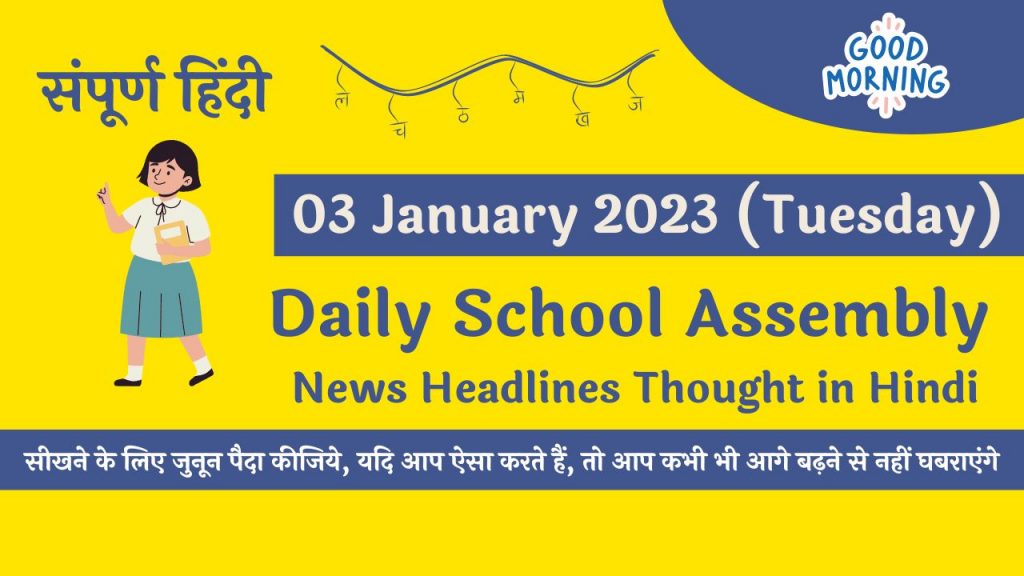 Thought of the Day – 03 January 2023
"You've got to get up every morning with determination if you're going to go to bed with satisfaction."
Positive Word of the Day For Daily School Assembly – 03 January 2023
Ideal – This means an optimal idea or example.
Covered Topics in Today Morning School Assembly Post – 03 January 2023
National News Headlines – 03 January 2023 (Tuesday)
International World News Headlines –