Office Procedures and Practices
Two-days' Capacity Building Programme for teachers teaching 'Office Procedures and Practices' (Skill subject) in CBSE affiliated schools.
NEP (2020) mandates that the learning should be holistic, integrated, enjoyable and engaging in order to minimize rote learning and to encourage holistic development along with the 21st century Skills.
Traditional pedagogy focusses predominantly on educational theory and less on student engagement with the practice world.
To address this issue, the Department of Skill Education, CBSE is organizing an activity-based Capacity Building Programme for the teachers teaching the skill subject 'Office Procedures and Practices'. This training, to be held in offline mode, will provide an opportunity to teachers to engage meaningfully with real world activities. The teachers will also be able to assess their own competencies through self-efficacy and remodification.
The program schedule is as follows:
Date : 16th & 17th September 2022 (Friday & Saturday, respectively)
Timings : 10:00 AM to 4:00 PM
Venue : National Victor Public School, I.P. Extension, Patparganj, Delhi–92
Program Schedule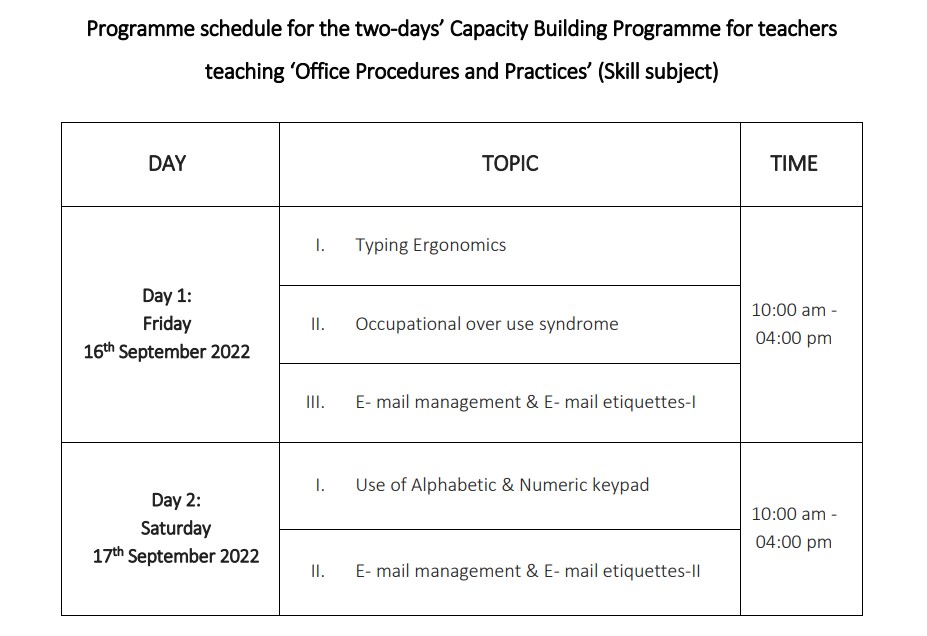 How to Register or Participate in Training of Office Procedures and Practices 2022