Are you searching for – What is Responsible AI for Youth Program 2022
Then you are at Right Place.
The Complete and Official Information of CBSE Circular – Responsible AI for Youth Program 2022.
What is Formation of Hubs of Learning- for Collaboration among Affiliated Schools for self-improvement
CBSE, launched the concept of Hubs of Learning (HoL) through its office circular No. Aff 12 dated March 9th, 2019 in order to ensure the enhancement of the quality of education and to promote self improvement. It was decided by the Board to form groups of 5-6 neighborhood schools for collaborative growth as Hubs of Learning (HOL). The main aim of this collaborative partnership between schools is to create an ecosystem for the schools to effectively take up all round self-improvement. It had been expected that school leadership would assume greater responsibility towards improving the quality of their school and also extend their support to neighborhood schools. The Board is of the view that there would be as much to learn from a small school with less resources as from a large school with several resources.
A number of orientation programmes for Hub leaders (Lead Collaborators) as well as members were conducted in May to July 2019 and again in January, 2020 for successful implementation of the programme and to fulfill the objectives of:
A. Creating a culture of support and healthy interdependence across different areas of teaching learning viz. curriculum planning, teaching-learning activities and other school practices;
B. Providing an opportunity to share a repertoire of ideas, instructional and assessment strategies which would help individual teachers to improve classroom practices and contribute to their continuous professional development;
C. Enabling sharing of resources: manpower, infrastructure, teaching-learning material etc.
D. Promoting solidarity by facilitating joint conduct of various student/staff activities culminating in an enriched school life.
Depending on the excellence achieved by these groups in their collaborative efforts, the Board has also engaged with few groups for partnering in developing teacher training modules, econtent for teaching and learning, teacher handbooks/sourcebooks/manuals, providing master trainers, etc.
During Covid – 19 pandemic time, the functioning of HOL was largely impacted by epidemic. Based on its revived efforts in the form of online meetings and discussions post pandemic, the need was felt to align the movement with the mandate of NEP 2020 which recommends:
The formation of school complexes with adequate number of counsellors/trained social workers and teachers (shared or otherwise) for teaching all subjects including art, music science, sports, languages, vocational subjects, etc.
Adequate resources (shared or otherwise), such as a library, science labs, computer labs, skill labs, playgrounds, sports equipment and facilities, etc.
A sense of community is built to overcome the isolation of teachers, students, and schools, through joint professional development programmes, sharing of teachinglearning content, joint content development, holding joint activities such as art and science exhibitions, sports meets, quizzes and debates, and fairs.
Cooperation and support across schools for the education of children with disabilities.
Improved governance of the schooling system by devolving all finer decisions, to Principals, teachers, and other stakeholders within each group of schools.
Now, the HOL has been restructured and a dedicated HOL portal has been created with multiple functionality, the Hubs of Learning as well as the individual schools must keep records and upload it on the HOL portal its case studies, e-content, teacher manuals, documentation of innovations and best practices, etc. which may subsequently be disseminated by the Board as exemplars for the teaching community for wider adoption/adaptation/replication. The feedback from the various HoLs as well as teacher (s) about their difficulties/problems shared with the Board have been considered and necessary action have been taken by the Board to remove those problems in the new version of HoL. Now, the CoEs of the Board have been authorized to address day-to-day problems of Hubs including addition, deletion and modification of Hubs structure.
All the principals of CBSE affiliated schools as well as Regional Officers and CoE Heads are expected to implement the programme in its true spirit to achieve the objectives outlined in NEP 2020 and Constitutional framework.
CBSE HoL Portal Login Link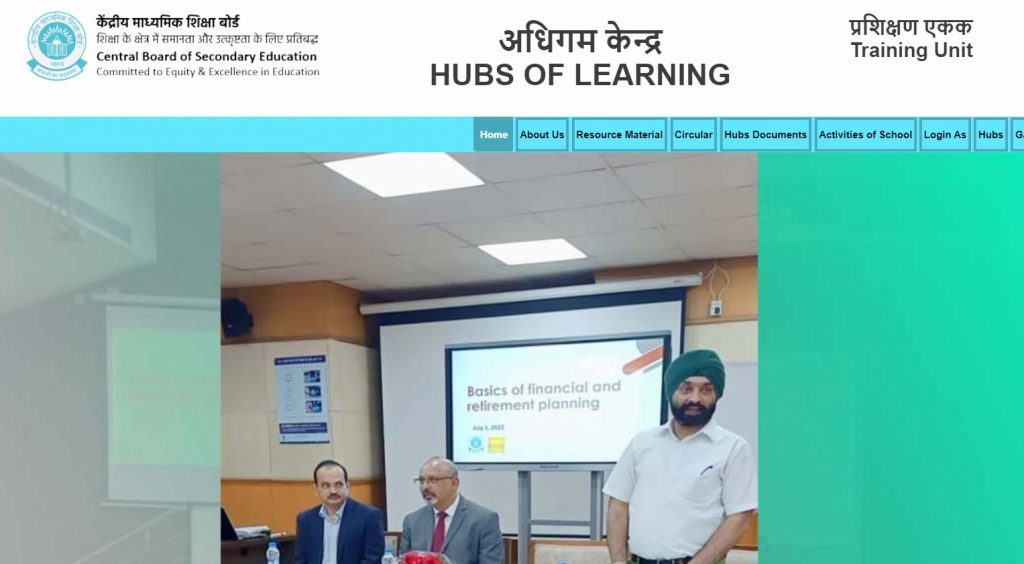 Download Official CBSE Circular in PDF File
For any request/clarification, you are requested to contact the Centre of Excellence of your jurisdiction or contact at HQ to Dr. B. N. Singh, Deputy Secretary (Department of Skill Education) CBSE at [email protected]