Are you searching for – Best Speech on International Yoga Day – 21 June 2023
Then you are at Right Place.
The Complete and Official Information of Best Speech on International Yoga Day – 21 June 2023
Best Speech on International Yoga Day – 21 June 2023 (Speech 1)
"Yoga is the Journey of the Self, Through the self, To the Self ". – The Bhagavad Gita
It's aim is to purify our mind, body and soul. It maintains a connection between ourselves and mother nature.
Theme of 2023 – International Yoga Day is (Friends we will update when officially announced)
Yoga itself plays a significant role in boosting our immunity and in curing respiratory disorders. The first 'International Yoga Day' was celebrated on 21st June 2015, Across the world with a lot of zeal and enthusiasm. This year we are celebrating the 8th 'International Yoga Day'. 21st June, this days shares a special significance in many parts of this world. This day is the longest day of the yet in the Northern Hemisphere.
Actually, Yoga itself is a very old practice. It's origin can be traced back to lord Shiva, who is also called Adi Yogi (First Guru) and is know as the teacher to all the Yogi's in the world. So, true Yoga is not about the shaping of our body, It is about the shaping of our life. It is not a work out, It is a work in.
This is a spiritual practice. Our Prime Minister Shir Narendra Modi focus on it's awareness and declared 21st June as 'International Yoga Day'.
This is very important for us to understand that yoga targets all the different systems of the body and mind. The Asanas make the body strong and flexible, The practice of Pranayama regulate the purification of the organs and internal systems.
My dear friends/students, our soul is our best friend, we should treat it with care and feed it with love. Make Yoga part of your life, live it and enjoy your life.
Thank You.
हिंदी में पढ़ने के लिए – अंतर्राष्ट्रीय योग दिवस 21 जून 2023 पर सर्वश्रेष्ठ भाषण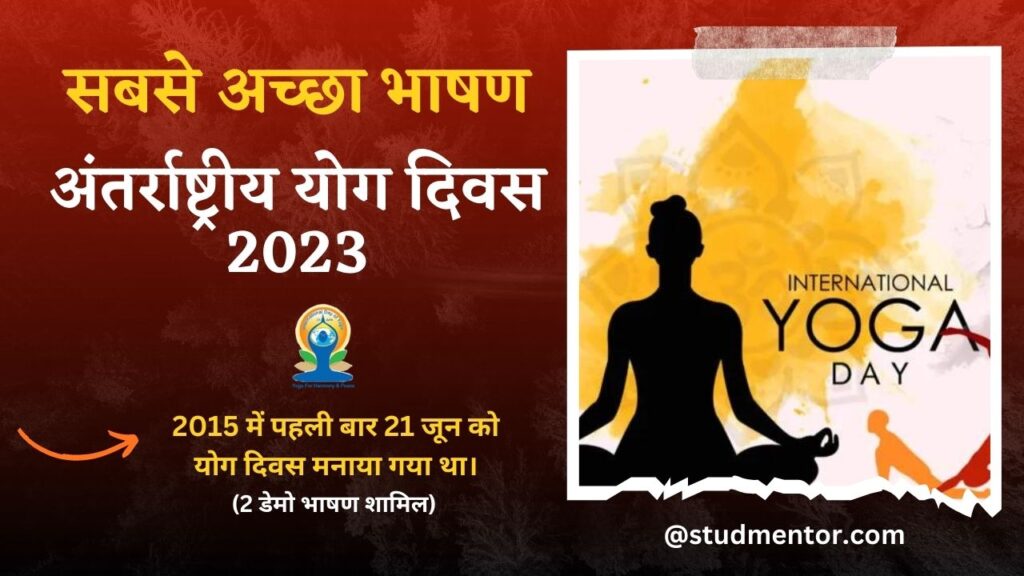 Short Speech on International Yoga Day – 21 June 2023 (Speech 2)
Respected Principal Sir, Teacher and my dear friends Good Morning to all.
The International Day of Yoga is celebrated on 21st June every year. It was first started by our Present Prime Minister Shri Narendra Modi.
He celebrated Yoga day for the first time on June 21st in 2015. After which Yoga Day started being celebrated all over the world and its turned into International Yoga Day. Yoga is a beautiful physical mental and spiritual practice that is adopted in India.
It is related to make a healthy body and a healthy mind. People all over the world are moving toward practicing yoga for having a healthy body. It relaxes and calms the soul and mind. It positively changes our lifestyle and increases the level of well-being. In the end. I would like to thankyou all for giving me this opportunity.
Have a Wonderful Day.
Thanks to All Beloved Readers.