Are you Searching For Best Speech on International Nurse Day in English – 12 May 2023
Then you are at Right Place.
The Complete and Official Information of Best Speech on International Nurse Day in English – 12 May 2023
Best Speech on International Nurse Day in English – 12 May 2023
Respected Principal Sir, Teachers and My Dear Friends Good Morning to All.
"Save one Life, You are a Hero. Save a Hundreds of Lives, You are a Nurse"
This is Chetan Darji (your name) standing before you. On behalf of School Name, I wish to all the Nurses of the World 'A Very Happy International Nurses Day'.
May 12 is celebrated as International Nurse Day every year all over the. It is the birth anniversary of Florence Nightingale, who is considered as the founder of modern nursing. She is also known as 'The Lady with the Lamp'.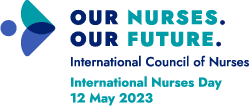 The theme for the 2023 resource is Our Nurses. Our Future.
This is day is celebrated to mark the contributions of nurses to the society. Nurses gives their selfless dedication to the service of mankind. Nursing is the largest health care profession in the world. Nurses have various roles like taking care of patients, assisting with evaluations and tests, setting drips, checking and managing drugs and injections, observing and recording the condition of patients, etc. Most of the time nurses work in tough environments where extreme stress is part of their job.
On this day, Several activities like educational seminars, debates, competitions, etc are held. Also, nurses are honored by the friends, doctors and patients by distributing gifts and flowers.
This day is to thank all nurses for their dedication and work, especially during ongoing coronavirus pandemic. The COVID-19 pandemic is a reminder of the vital role played by nurses. Without nurses and other health workers, we will not win the battle against COVID – 19.
Yes, you are the angels in the earth. Thank you for being on the front lines of care. Thank you for your kindness, dedication and healing touch.
Thank you, nurses, for honoring our lives with your care.
Our YouTube Channel – Watch the Best Essay on International Nurses Day – 2023
In YouTube channel Video are Different from Article
Thank you for isolating yourself away from your families, sometimes going weeks without seeing your family members. We are so grateful. We know your families are proud of you. We promise not to forget your sacrifices.
Finally I concludes my speech expanding the word, 'NURSE'
N for Nobility
U for Understanding
R for Responsibility
S for Sympathy
E for Efficiency
Praying for your safety and protection as you do your job helping others.
Thank you.
on My Side Thanks to All Beloved Readers.
I Hope you like the article of the Best Speech on International Nurse Day – 12 May 2023. If you like then share to others.
Happy Reading Stay Connected
FAQ – Some Questions Regarding International Nurses Day
Why May 12 is celebrated as Nurses Day? – Answer : The day is celebrated on Florence Nightingale's birth anniversary on May 12 every year. The special day was chosen by the International Council of Nurses and has been observed officially since 1974.
What is the theme of International Nurses Day 2023?- Answer : The theme for the 2023 resource is Our Nurses. Our Future. Our Nurses.
Who is the father of nursing? – Answer : Florence Nightingale