Are you searching for – Best Speech Essay on World Radiography Day – 2023
Then you are at Right Place.
The Complete and Official Information of Best Speech Essay on World Radiography Day – 2023
Best Speech Essay on World Radiography Day – 2023
Respected Principal Sir, Teachers and My Dear Friends Good Morning to All.
World Radiography Day is a global healthcare awareness event observed on the 8th of November every year to increase public awareness with respect to the vital role of diagnostic imaging, radiation therapy and radiographer play in healthcare management.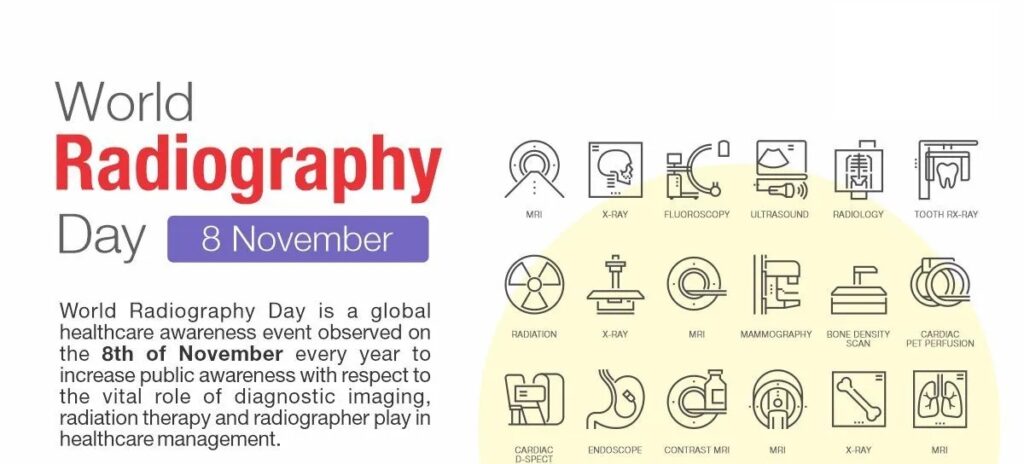 On this day, various organisations such as the European Society of Radiology (ESR), Radiological Society of North America (RSNA), and American College of Radiology (ACR) join and conduct several awareness campaigns to raise awareness about radiology and honour the role that radiologists and radiology technologists play in healthcare.
Importance of World Radiography Day
Radiology is the medical field that uses imaging technology to identify and treat conditions affecting human and animal bodies. To diagnose or treat diseases, a range of imaging techniques are utilised, including fluoroscopy, positron emission tomography (PET), computed tomography (CT), ultrasound, X-ray radiography, and magnetic resonance imaging (MRI). Using imaging technologies to guide minimally invasive medical operations is known as interventional radiology.
The occurrence of adverse events as a result of unsafe care is likely one of the world's top 10 causes of mortality and disability. Every year, 13.4 crore adverse events occur in hospitals in low- and middle-income countries (LMICs) because of unsafe care, resulting in 26 lakh deaths.
In high-income countries, it is estimated that one in every ten patients is at risk while receiving hospital care, where nearly 50% of them being preventable. World Radiography Day is celebrated to create public knowledge of radiographic imaging and therapy, which are essential for patient diagnosis and care.
World Radiography Day 2023 Theme
This year, 2023, the World Radiography Day Theme is "Celebrating patient safety". The theme emphasises the importance of the professional role in maintaining the efficiency of healthcare systems and in ensuring patient safety beyond radiation protection.
Year by year, the themes for World Radiography Day:
World Radiography Day 2022 Theme: Radiographers at the Forefront of Patient Safety
World Radiography Day 2021 Theme: The Role of the Radiographer in a Pandemic
World Radiography Day 2020 Theme: Elevating Patient Care with Artificial Intelligence
World Radiography Day 2019 Theme: Your Safety, Our Priority
Reasons Why Radiology is Important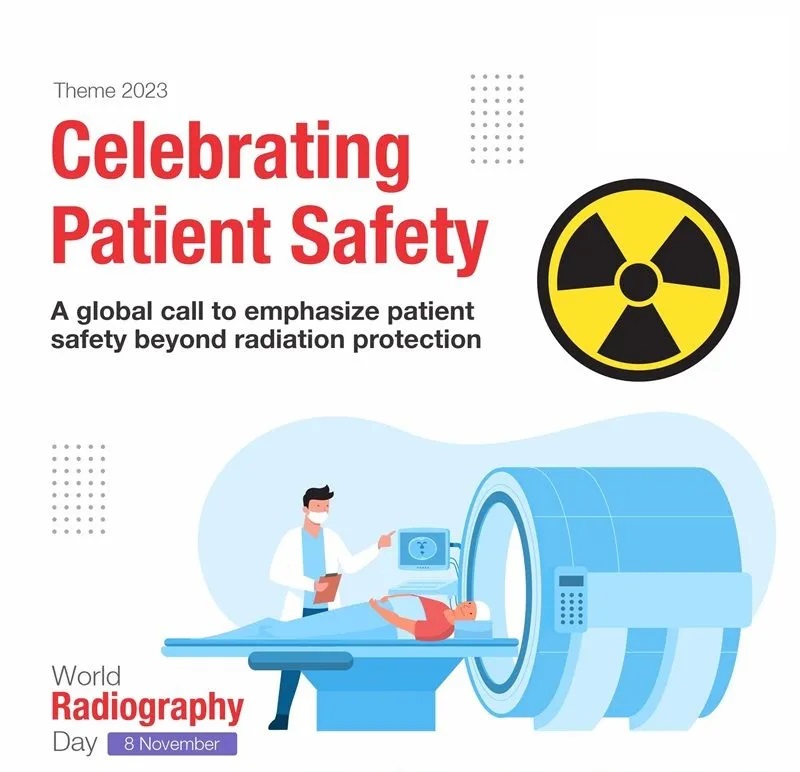 Radiography images can help diagnose disease: Having high-quality photos captured at the first sign of an issue can make a tremendous impact, as early diagnosis is known to save lives.
Radiography images can help detect injuries: A doctor can evaluate fractures, traumas, and joint anomalies most quickly and easily with bone X-rays. They can take pictures of every bone in the body using minute doses of ionizing radiation.
Disease conditions can be managed through radiography images comparison: Imaging can give specific details on changes related to conditions or structural changes.
Family and emergency physicians depend on radiology tests to determine treatment: It may be essential for a patient's care and recovery in emergencies to obtain information promptly. To make an accurate diagnosis, all physicians desire the most comprehensive pictures and test results.
Radiography images can help determine when treatments are necessary: In some situations, it would be challenging to determine if surgery is needed. Without a clear internal injury image of their patient, a physician cannot determine the severity of an internal injury or changes associated with an undetectable illness.
Radiology reduces the need for exploratory surgeries: In certain situations, having precise inside imaging to detect presenting symptoms may help avoid unnecessary procedures and identify the actual disease. Or it can outline the necessary procedure and assist in choosing the most appropriate physician for the patient.
Radiology reduces the length of hospitalisations: Medical imaging may show progress and assist physicians in better understanding how a patient is recovering after surgery or other treatment.
History of World Radiography Day
In 2007, on November 8, World Radiography Day was observed by the International Society of Radiographers and Radiological Technologists. In 2012, the first major event of the day was organized when the European Society of Radiology (ESR), the Radiological Society of North America (RSNA), and the American College of Radiology (ACR) joined together for the initiative. The 11th International Day of Radiology will be observed this year.
International Patient Safety Goals
There are some International Patient Safety Goals (IPSGs), and CT radiographers need to be aware of the actions to attain them are:
Identifying patients correctly
Improving effective communication
Improving safety of high alert medication
Ensuring correct site, correct procedure, correct side
Reducing the risk of healthcare infections