Are you searching for – Best Speech Essay on International Youth Day – 12 August 2023
Then you are at Right Place.
The Complete and Official Information of Best Speech Essay on International Youth Day – 12 August 2023
Best Speech Essay on International Youth Day – 12 August 2023
Respected Principal Sir, Teachers and My Dear Friends Good Morning to All
"Youth is happy because it has the capacity to see beauty. Anyone who keeps the ability to see beuty never grows old"
I am happy to stand before you as we celebrate International Youth Day. Youth is the golden period to cherish a big dream full of passion and energy. It is an age recognised by trails of heroism, adventure, toughners, curiosity and many more.
Youth is the hope of all nations and the whole world. Unfortunately, our young days don't last forever. Many youngsters around the world face difficulties and have limited access to essential resources. International Youth Day is observed annually on 12 august. It is an awareness day designed by the United Nations.
First International Youth Day was celebrated on 12 August 2000. The day is meant as an opportunity for governments and others to draw attention to youth issues worldwide. It gives a platform to the voices of the youth. It engages youngsters and aims to take initiatives and actions that will increase opportunities for them.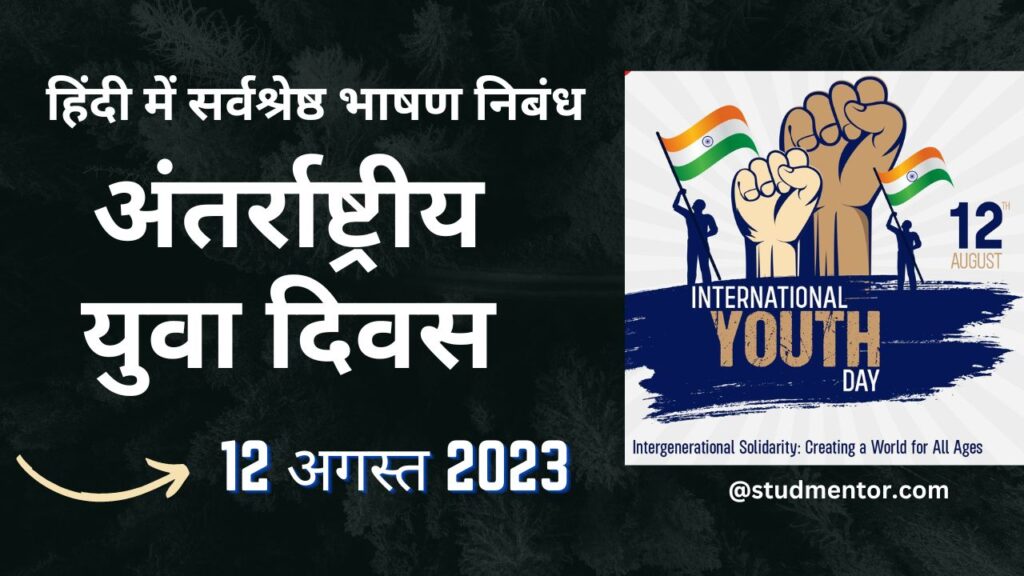 It also serves as an opportunity to raise awareness about the challenges and problems faced by youth. The theme of International Youth Day 2023 is "Green skills for youth : Towards a sustainable world". Green skills are the skills needed to adopt processes, services and products to climate change and environmental regulations and requirements to it.
They include the knowledge, abilities, values and attitudes needed to live in a sustainable and resource – efficient world. Today, the world is embarking on a green trasition. The shift towards an environmentally sustainable and climate friendly world is critical for everyone especially the youth as they should be prepared for a sustainable future.
The youth has the ability to bring reforms and improvements in our society. We should be brave and responsible enough to say no to drugs and other intoxications. Nowadays world is facing global warming, poverty and war.
As Youth, we should work together to make this world a better place for living. On this occasion of International Youth Day, Let us promise to work together to make our country proud.
On My Side Thanks to All Beloved Readers.
I Hope you like the Article of the Best Speech Essay on International Youth Day – 12 August 2023. If you like then share to others.
Happy Reading Stay Connected