Are you searching for – Best Powerful Speech on National Sports Day – 29 August 2023
Then you are at Right Place.
The Complete and Official Information of Best Powerful Speech on National Sports Day – 29 August 2023
Best Powerful Speech on National Sports Day – 29 August 2023
Good Morning everyone ! A very warm welcome to Respected Principal Sirt, Respected teachers and my dear friends.
As we gather here to celebrate National Sports Day or Rashtriya Khel Diwas, I would like to thank my teacher for giving me an opportunity to speak a few lines about National Sports Day or Rashtriya Khel Diwas.
National Sports Day is celebrated every year on the birth anniversary of Indian hockey legend Major Dhyan Chand on August 29.
National Sports Day is dedicated to the great athlete and hockey player Major Dhyan Chand known as "The Wizard of Hocky" He won three gold medals in the olympics for India in the years 1928, 1932 and 1936.
This day is celebrated to realise the necessity and importance of sporting activities in our daily routine life. As sports help to maintain better cardiovascular health, weight loss, loweing blood pressure, stress and reduced body fat.
Sports also help us to get sound sleep and proper coordination and balance of our body and mind. Even it helps to improve your abilities and confidence level by working hard toward reaching specific goals. On this day, the President of India offered awards at the Rastrapati Bhavan to recognize athletes contributions to the discipline.
National Sports Day of India is also an important opportunity to honour our sports heroes with recognition, appreciation, and exemplary awards. Different exemplary awards such as the Major Dhyan chand Khel Ratna Award initially referred to as the Rajiv Gandhi Khel Ratna, Arjuna Award, Dronacharya Award and Dhyan Chand Award.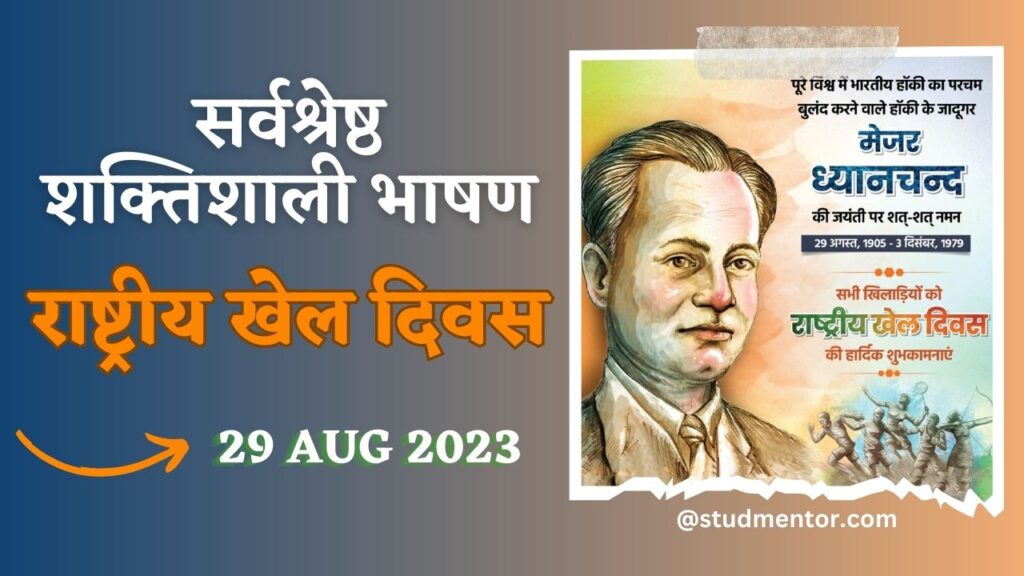 Dhyan Chand Award recognizes the lifelong contributions of athletes in their sports fields. Dronacharya Award honoured the best coaches for their contribution towards the growth and development of sports in India.
Arjuna Award honours athletes for their excellent achievements in the previous sports seasons. Major Dhyan Chand Khel Ratna Award honours athletes to Olympic champions in the year of the Olympic Games.
I would like to wind up my speech by sharing a few famous quotes for National Sports Day.
Being a mother of two, If I can win a medal, so can you all. Don't give up: take me as an example – Mary Kom.
"Dreams define your individuality, They have the power to offer you wings and make you fly high" – PV Sindhu
"People will throw stones at you; you turn them into milestones" – Sachin Tendulkar
Last but not least, National Sports Day is a day to celebrate and honour India's sports heroes for their achievements and to encourage the youth to embrace sports and fitness.
Thanks to Beloved Readers