What is Vidyarthi Vigyan Manthan (VVM) ?
Vidyarthi Vigyan Manthan (VVM) is an initiative of Vijnana Bharati (VIBHA), in collaboration with Vigyan Prasar, an autonomous organization under the Department of Science and Technology, Government of India and National Council of Educational Research and Training (NCERT), an institution under the Ministry of Education (earlier known as Ministry of Human Resources and Development). VVM is a national program for popularizing science among school students of standard VI to XI, conceptualized to identify bright minds with a scientic aptitude from the student community.
Objectives of Vidyarthi Vigyan Manthan (VVM):
To create interest among students in pure science
To educate school children about India's contributions, from traditional to modern, to the world of science and technology
To provide hands-on training to students through workshops and other events
To provide mentors for preparing students to carry forward their education in the eld of science
To conduct competitive exams to identify students who have a scientic bent of mind
To identify successful students at the State and National levels and felicitate them
To organize exposure visits for the winners to various R&D institutions in the country separately for Junior Group (class VI to VIII) and for Senior Group (class IX to XI).
Structure of Vidyarthi Vigyan Manthan (VVM):
Students participating in VVM shall undergo the following multi-level testing procedures:
Objective type Multiple Choice Questions
Comprehensive Writing
Presentation and Group Discussion
Role Play
Practical examination
Methods of Science
For the winners of VVM, the program also includes organizing visits to National Science Laboratories and Centers of repute and interaction with renowned scientists of the nation. The VVM will identify Vigyan Jigyasu ( ) – Keen Knowledge Seeker of Science at the national-level.
Each student will be evaluated vis-à-vis his/her class peers at all the stages i.e. school, state and national level.
School Level examinations (Junior and Senior)
There will be only one examination for a total of one hour thirty minutes duration at school level with 100 multiple choice questions, each weighted for one mark. Examination will consist of Two Segments viz. Section-A (comprising of 40 questions from study material Indian Contributions to Science; Life story of Acharya Prafulla Chandra Ray & India's Freedom Struggle & Science to be provided by Vijnana Bharati) & Section-B (comprising of 60 questions based on the Text Books of NCERT Curriculum & Logic and Reasoning (open source)). The examination will be conducted separately for
Junior Group (class VI to VIII) and for Senior Group (class IX to XI).
Evaluation of students will be based on their individual performance at each level. The examination will be conducted in English, Hindi, Tamil, Telugu, Kannada, Malayalam, Marathi, Gujarati, Punjabi, Bengali, Odia and Assamese (major regional languages).
Important Dates to Remember VVM :-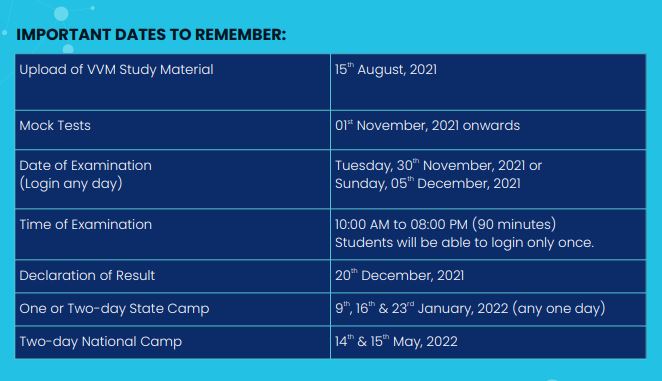 The Pattern of Question Paper :
How to Register on VVM :
School Registration Link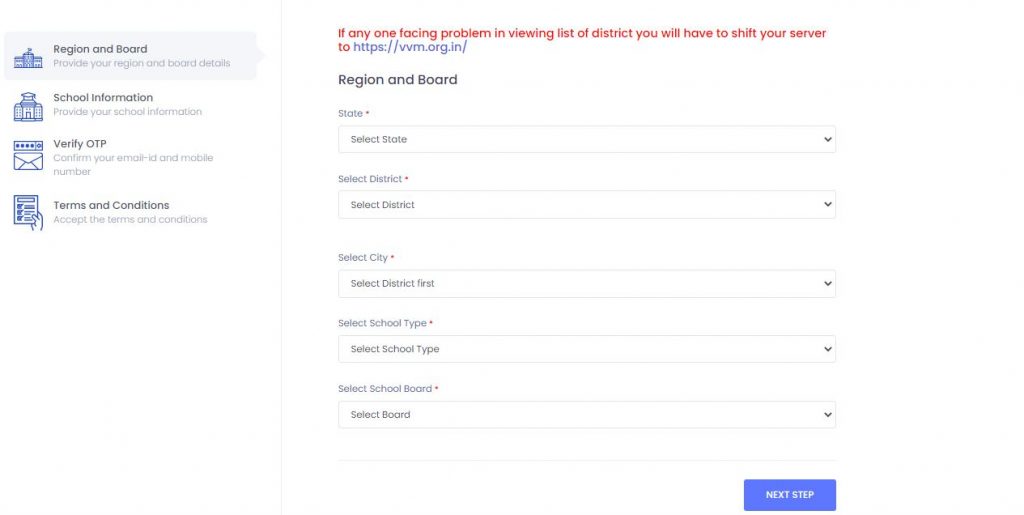 Student Registration Link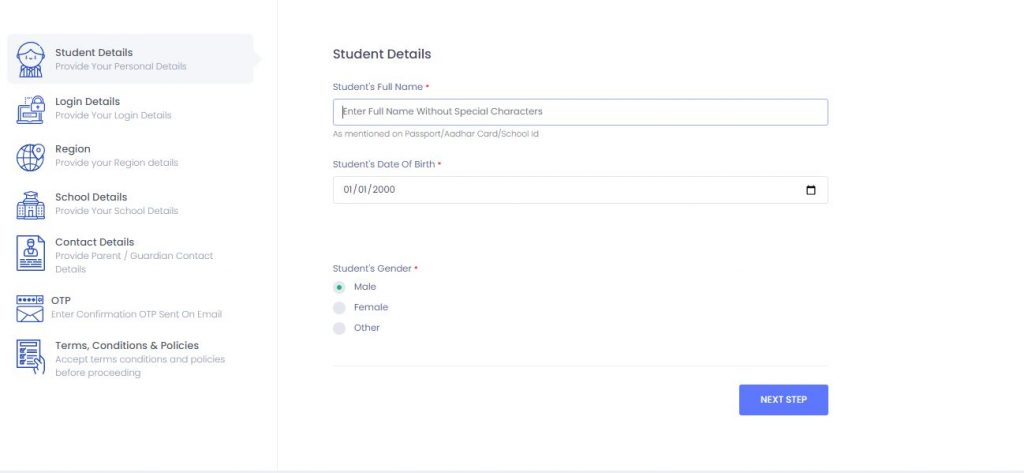 The Syllabus of Examination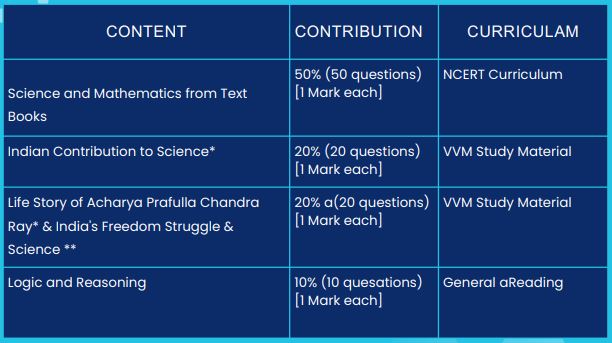 Note :
Will be available in Digital Format from 15 August, 2021 onwards. No hard copies will be provide
Digital Format can be accessed 45 days prior to exam. No hard copies will be provided.
Fee Structure :
Students registering individually or through school will have to pay a fee of Rs. 100/- (Rupees Hundred Only).
School/Institute coordinator is requested to retain Rs. 20/- per student as a service charge with school/institute and rest of the amount will be transferred only through Online Payment Mode to VVM Delhi office. In case of account payment, please ensure to upload the receipt & transaction id and submit the transaction details.
Exam Application (App) Download and Installation
Once the registration process is complete, the Exam App will be made available for download from the prole page of the student. The App will be installed and will function properly only if the registered device (laptop / tablet / mobile) details are correct or it is downloaded according to the operating system of the desired device from student's prole page. The prole page will contain detailed instructions for App download and installation. Request support link will be available in case of any issues.
Once the App is downloaded, the user will have the option to test the same by attempting Mock Exams. Students will have to update it regularly and for this purpose he/she will have to allow push notification from this App to update notifications.
Any Query Related to Feel Free to Call ( Helpdesk ):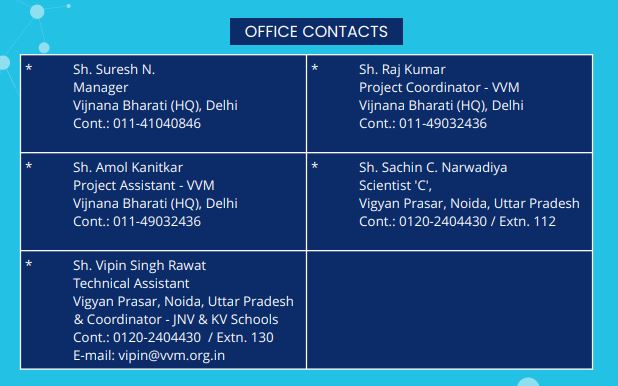 Official Website