Registration of students in class IX(9) & XI(11) is a very significant process which helps CBSE in advance planning for holding in the class X & XII examinations of these students in the subsequent year.
Another important aspect of registration is to communicate the student's personal particulars to the parents so that in case there is any mistake in the personal details of the student concerned the same may be corrected prior to the conduct of Class X/XII examination.
The process of Registration shall start from 15/12/2021 (Wednesday).
Registration Link
Following Actions are Desired to be taken for registration of students:-
The Registration data contain a lost of information, without understanding which, the schools will not be able to fill the registration data correctly. It is therefore requested that principal should read these instructions personally and carefully to understand the provisions.
Only those students shall be allowed to appear for class X/XII Board's Examinations for session 2022-23, whose names would be submitted through the online process of registration explained.
Schools should ensure that :-

Students being sponsored are their own regular and bonafide students
Name of any bonafide student is not left unsponsored
Students are not from any unauthorized/unaffiliated schools
Students are regularly attending classes in your school
Students are not registered with some other school education boards in addition to the CBSE
Students are eligible for admission in Classes IX & XI and appearing in Class X and XII board's examinations as per provisions of Examination Bye Laws.
In case of Class-XI admission, it may be specially ensured that the student has passed the Class-X examination from a recognized Board.
Features of the Online Registration System
Before proceeding for registration of students, existing schools shall have to update the data on OASIS.
Only those TGTs/PGTs who are teaching Classes IX-X/XI-XII respectively should be shown as TGT/PGT to ensure appointment of eligible evaluators for quality evaluation. Accordingly, in OASIS, classes taught need to be clearly filled in by the schools. The names of teachers who have left the school shall be deleted from the data and simultaneously the names of teachers whose names are not figuring in the existing data shall be included.
It may be ensured that the full names of all the teachers shall be filled in the OASIS. Abbreviations should not be used. No salutations etc. Shall be prefixed.
New schools have to first enter the information on the OASIS portal. The information on OASIS should be filled very carefully as schools will not be allowed to change the declared section/strength of students afterwards.
Schools are requested to fill in Full name of the candidate, Mother, Father/Guardian. Abbreviations should be avoided as these may create problems for the students in future. The schools shall take all possible care to ensure that the correct name has been entered.
Class IX/XI examinations have to be conducted internally by the schools.
Schools can complete the registration process by individual entry or uploading, duly filled-in, excel file provided by the online registration system.
Schools shall have to upload the photographs and signature of their bonafide students in Class IX/XI registration before final submission.
For Class IX(Skill) and Class XI(Academic & Skill), schools are advised to offer only those subjects which have been permitted to them by the board.
Fee Details for Registration in Class IX/XI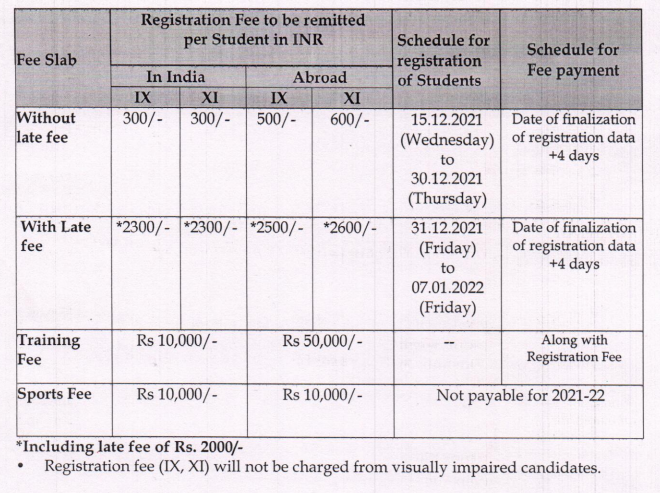 Official Letter about CBSE Registration Class 9 & 11 Download