Are you searching for –  Speech on 'Principles of Arya Samaj' 2022
Then you are at Right Place.
The Complete and Official Information of Speech on 'Principles of Arya Samaj' For Students and Teachers 2022.
Speech on 'Principles of Arya Samaj' 2022 in English
Respected Principal, Teachers and My Dear Friends. Good Morning to All
"Give the world the best you have and best will come back to you." – Dayanand Saraswati
In the middle of the 19th Century, when India was drowning in the dark quandary of British Oppression, Illiteracy and Social Backwardness there a bright star arose on the Indian Horizon – Maharshi Dayanand Saraswati– the Founder of Arya Samaj. He Revitalised India intellectually, emotionally and spiritually and is considered one of the 'Makers of Modern India'. My Name is Chetan Study in Class 10th. I got an Opportunity to speak on the 'Principles of Arya Samaj'.
Dear Friends, the Mission of the Arya Samaj is to eradicate Poverty, Injustice and Ignorance from this earth. Arya Samaj Believes in One God, Known by "Om, "who is Omniscient, Omnipresent, Omnipotent.
Dear Friends, Dayanand Saraswati initially introduced 10 Basic Guiding principles of Arya Samaj. Let us know the principles of Arya Samaj :
10 Basic Guiding principles of Arya Samaj
God is the primary source of all proper knowledge.
He is Omniscient. He is the one worthy of being worshipped.
Vedas are scriptures of proper knowledge. An Aryan should read, recite and teach to others.
We should read to accept the truth and give untruths.
All actions should be performed by following Dharma
The Objective of Arya Samaj is to promote physical, and social well – being for everyone.
Everyone should follow love, righteousness, and justice.
We should avoid ignorance and accept knowledge.
One should not be concerned with one's welfare. We should consider the welfare of others too.
One should follow the rules of society to promote the well-being of all while following the rules of individual welfare; all should be free.
Dear friends, the framework of these ten principles is vital in Today's World. Dear friends, anyone can follow theses principles to attain enlightenment.
Speech on 'Principles of Arya Samaj' 2022 in Hindi
आदरणीय प्रधानाचार्य, शिक्षकगण और मेरे प्रिय मित्रों। सभी को सुप्रभात
"दुनिया को अपना सर्वश्रेष्ठ दें और सर्वश्रेष्ठ आपके पास वापस आएगा।" – दयानंद सरस्वती
19वीं शताब्दी के मध्य में, जब भारत ब्रिटिश दमन, निरक्षरता और सामाजिक पिछड़ेपन के अंधेरे दलदल में डूब रहा था, तब भारतीय क्षितिज पर एक उज्ज्वल सितारा उभरा – महर्षि दयानंद सरस्वती- आर्य समाज के संस्थापक। उन्होंने भारत को बौद्धिक, भावनात्मक और आध्यात्मिक रूप से पुनर्जीवित किया और उन्हें 'आधुनिक भारत के निर्माताओं' में से एक माना जाता है। माई नेम इज चेतन 10वीं क्लास में पढ़ता है। मुझे 'आर्य समाज के सिद्धांत' पर बोलने का अवसर मिला।
प्रिय मित्रों, आर्य समाज का मिशन इस धरती से गरीबी, अन्याय और अज्ञान को मिटाना है। आर्य समाज एक ईश्वर में विश्वास करता है, जिसे "ओम" द्वारा जाना जाता है, जो सर्वज्ञ, सर्वव्यापी, सर्वशक्तिमान है।
प्रिय मित्रों, दयानंद सरस्वती ने शुरू में आर्य समाज के 10 बुनियादी मार्गदर्शक सिद्धांतों की शुरुआत की। आइए जानते हैं आर्य समाज के सिद्धांत :
आर्य समाज के 10 मूल मार्गदर्शक सिद्धांत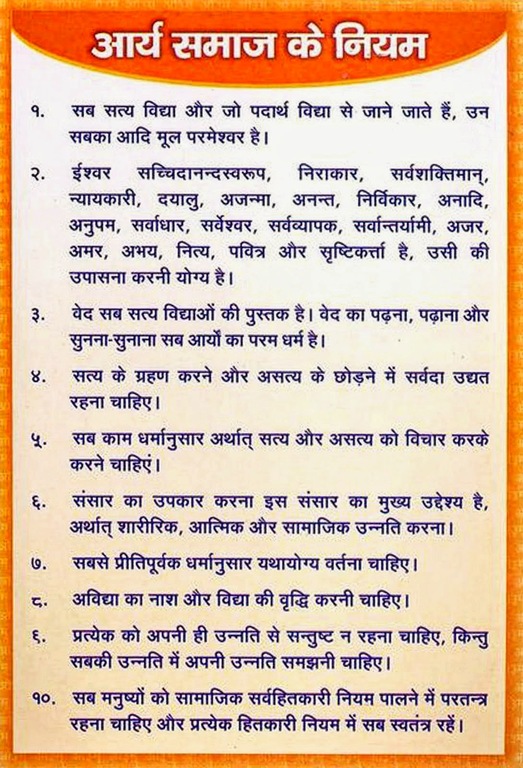 प्रिय मित्रों, इन दस सिद्धांतों की रूपरेखा आज की दुनिया में महत्वपूर्ण है। प्रिय मित्रों, ज्ञान प्राप्त करने के लिए कोई भी इन सिद्धांतों का पालन कर सकता है।