CSIR- CECRI Jigyasa is being organized an online Essay competition for the students of KendriyaVidyalaya, NavodayaVidyalaya, State Govt./ Govt. aided schools of the standards VI – XII in two categories. We welcome the participation of students from your school through the links provided below.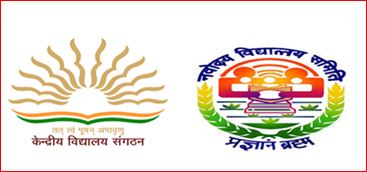 Category I : Essay Competition for VI – VIII Standard students
Topic : Bio diversity – what can we do
https://forms.gle/pmoCyCNVaRUperKE6
Category II : Essay Competition for IX – XII Standard Students
Topic : Atmanirbhar Bharat Challenges in energy sector
https://forms.gle/qLrBCgSy7gMkLWRcA
Guidelines for participation
Word limit of essay :
For VI – VIII std – the essay should be within 500* word limit
For IX – XII std – the essay should be within 800* word limit
*The essay should not exceed word limit. This would lead to disqualification.
Mode of submission :
The participant should submit the write – up in PDF file format only.
Write – up text should be submitted in readable font of English
Font size should be 12 and line spacing should be 1.15 only.
Last date of submission : 21.01.2021, 23:59 hrs
Participants must submit a copy of their school student ID card along with the essay.
Suggestion: Usages of figures, graph, flow chart, design, image etc., in between the text.
Written submission should be page numbered consecutively in the footer / header at canter.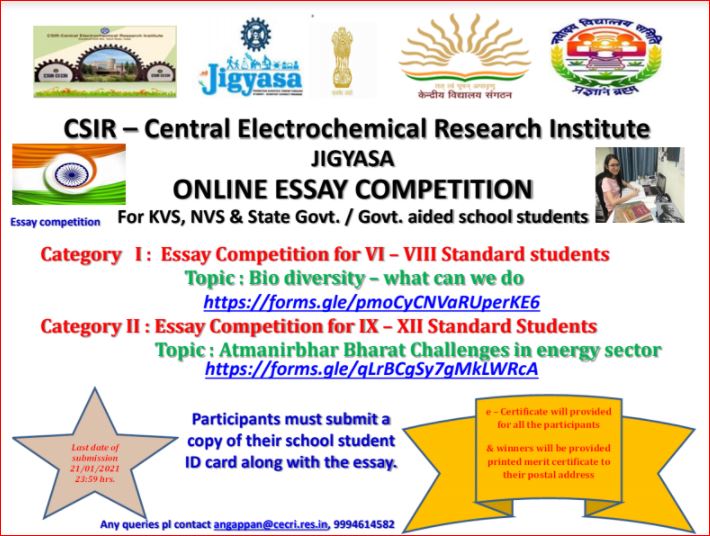 No registration fee is required and e-Certificate will be given to all the participants on their registered email id. Name of the winners will be published in our website www.cecri.res.in on 26th January 2021 on the 72nd Republic Day of India. The printed merit certificate will be send to the postal address of the each winner.
e – Certificate will provided for all the participants
& winners will be provided printed merit certificate to their postal address
Last date of submission
21/01/2021 23:59 hrs.
Thanks and Regards
Dr.S.Angappan
Coordinator, Jigyasa, CSIR-CECRI
[email protected] or 9994614582