National level Cybersecurity Skills Game – inCTFj (Amrita India Capture the Flag Junior)
Grand prizes worth Rs. 3 Lakh to be won.
CBSE and Amrita Vishwa Vidyapeetham bring you a unique program to learn, practice and enhance Cybersecurity skills. No prior knowledge of computers, programming is necessary to participate in this program. The program is called Amrita India Capture the Flag Junior (Amrita InCTFj) – a national level Cybersecurity Skill incubation program open to school students. In addition to cybersecurity knowledge, students will develop important 21st century skills such as analytical thinking, problem-solving, agility, team effort etc. It is currently in its 6th edition. Online guidance and sessions will be held to help students to learn. The program design aligns to National Educational Policy 2020 with ability to earn a certification at the end of the program.
Objective

Amrita InCTF Junior program uses teach-practise-compete approach to teach cybersecurity. The contest is free of cost and no prior knowledge is required for participation. Students from 7th grade to 12th grade can participate in the contest. Video highlights of 2019 event is at https://youtu.be/sxRZ06Rbh_c
Key Highlights
Top 10 students from each state will qualify for the online finals.
Access to international conference.
Training by Cyber Security Team – bi0s.in
Benefits for students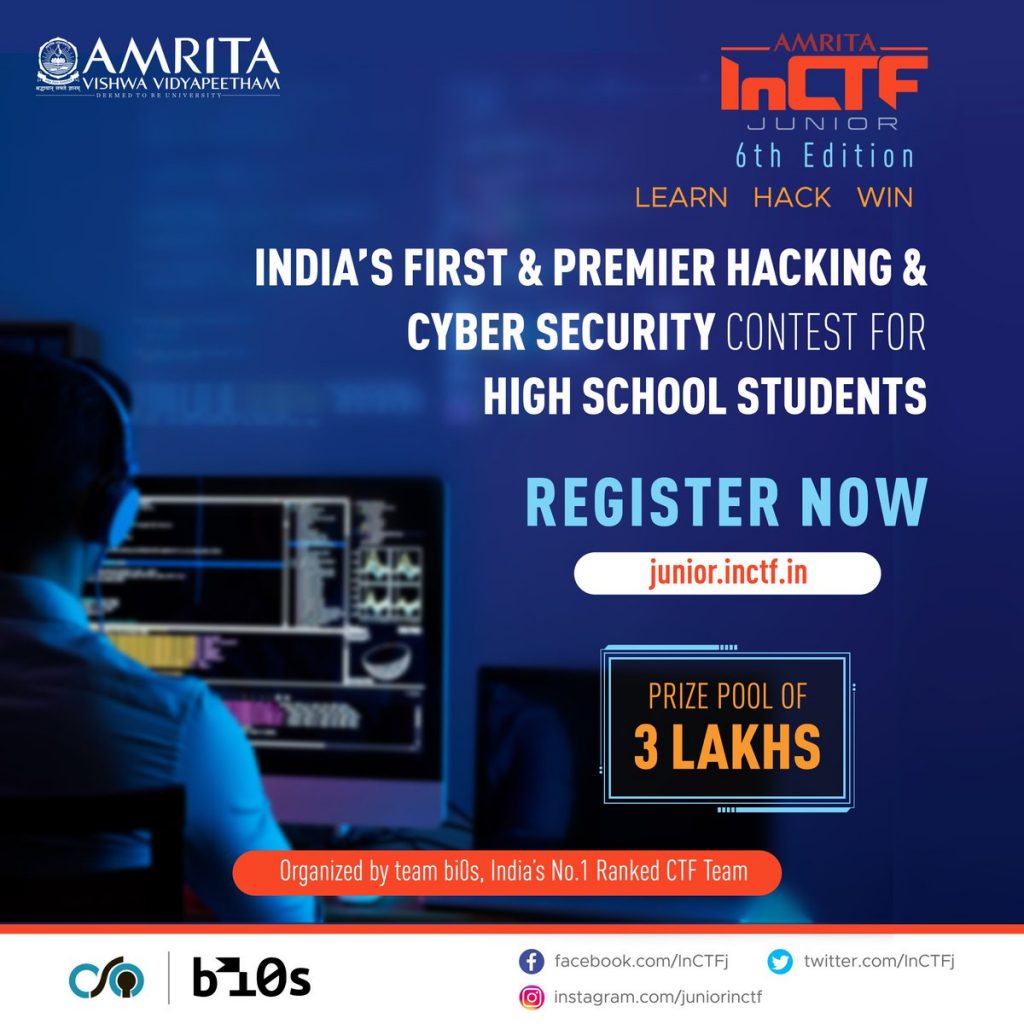 Students from 7th Class to 12th Class
Gain hands-on applicative experience in cyber-security, starting from zero.
Develop & grow 21st century skills such as critical thinking, problem-solving, creativity, etc.
Connect with like-minded peer-group, and become a large community of cyber-security enthusiasts
Networking & mentoring opportunity from top CTF players, veteran mentors and industry experts across India.
Grand prizes worth Rs. 3 Lakh to be won.
Aspiring students receive direct mentorship from our experts, along with other scholarships access to paid learning platforms.
Certificates for all participants
Official Website
Important Dates:

Instructions for Students
To get started, open junior.inctf.in/start Here you can learn more about the programme, how it works,how to get started, how to register etc. explained through videos & other guides.
To register for the event, you need to first make an account by filling the form in the website. You can
use your or your parent's email.
Upon creating the account, you shall be redirected to our CTF platform where you can fill in other
details such as your school, grade of study, state of residence etc, and complete the registration
process. You shall receive an email confirmation upon successful registration.
Once registered, you can access the CTF dashboard from where you can start participating in the
contest. Here you shall also receive further guidelines and updates on the programme.
To connect with other peers and mentors, join the InCTFj discord server –
[https://discord.gg/QVXewGh7sP]. You will find different chat channels, where you can post your
doubts, questions and get help from mentors as well as from others participating. You will also receive
all the updates & resources here
Resources:
YouTube Channel – https://www.youtube.com/inctfj
Email – [email protected]