What is EUREKA ?

EUREKA ! Junior provides the perfect platform for young inquisitive minds to solve normal problems in the most innovative and creative way possible. Starting off with teaching you the very basics of entrepreneurship, to polishing your creative ideas, to drafting your business plan and pitching in front of a panel of esteemed judges, this platform has everything.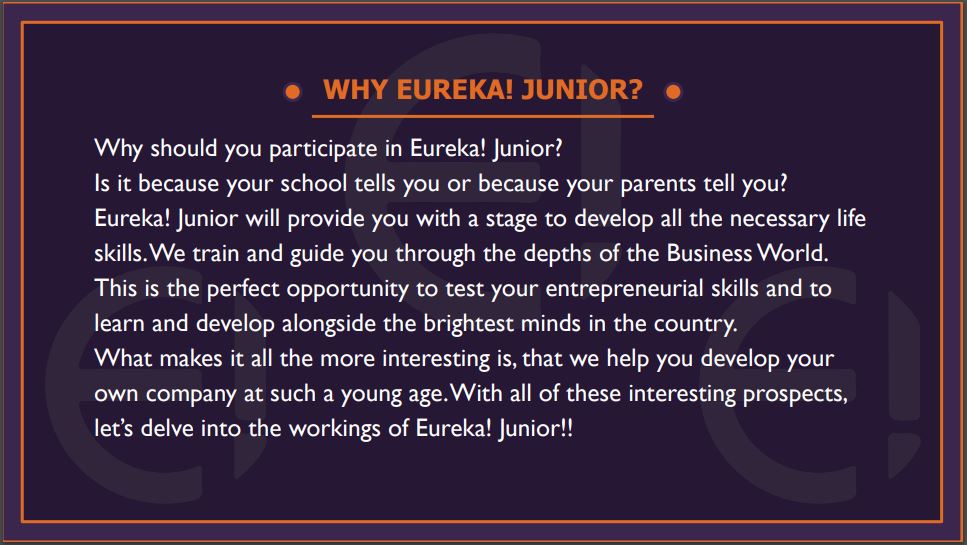 VISION
The true sign of intelligence is not knowledge but imagination and innovation. Eureka! Junior envisions to polish students' creative ideas, call out their imagination skills and provide them with the knowledge and guidance to create a Business-Plan. Here, we teach them to present themselves with great panache, an essential life skill.
STRUCTURE
Phase 1: Preliminary Workshop
Phase 2: Entrepreneurship Olympiad
Phase 3: Registration Deadline
Phase 4: Advanced Workshops
Phase 5: Mentoring
Phase 6: Finals
TIMELINE

GUIDELINES
Eureka! Junior is divided into three tracks – Classes 6 to 8, Classes 9, 10 and Classes 11, 12.
Preliminary Workshop: Free online workshops covering the basics of Entrepreneurship, Idea Generation and Idea Validation
Registration: Click on the Register button and use a valid email id to signup. Only the team leader(chosen based on the team's decision) needs to register and add other team members
Preliminary Submission: The semifinalists are required to submit a pitch deck(presentation) covering the various aspects of their startup idea before coming to the advanced workshop
Advance Workshop: The semifinalists will have the opportunity to attend the Advanced Workshops of entrepreneurship
Mentoring: The teams will be allotted mentors to help improve the students' ideas
Finals: The Finals will be conducted in an online mode where the finalists are required to pitch their startup idea in front of a panel of judges
Note: All the phases of the competition will take place in online mode
RULES
The participants can register in a team with a maximum of 3 members
The participants must be from Classes 6-12. There are 3 tracks of Classes 6-8, 9-10, and 11-12
Any team from the track for Class 6-8 must have all team members only from Classes 6-8. The same rule applies to the other tracks as well
Entries submitted after the registration deadline will not be considered
Previous year winners are not allowed to participate again this year
The Prize Money Distribution will be subject to E-Cell IIT Bombay
INCENTIVES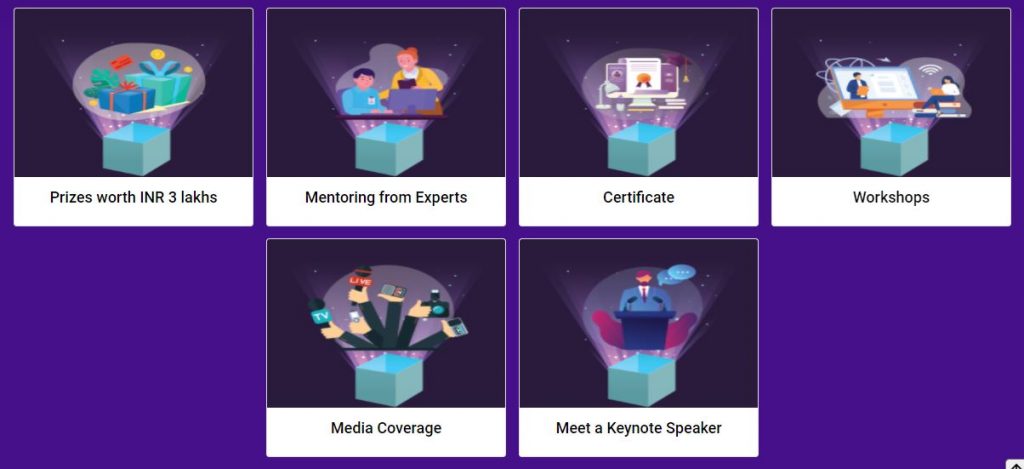 FAQ – Frequently Asked Questions
I want to participate in Eureka ! Junior 2021. What steps do I follow ?
Answer : – Step 1: Register on the website of Eureka! Junior 2021. Step 2: You will have to provide the details of the Team Leader and all team members, as required. You will receive a confirmation mail. In case of any discrepancy, reach out to us at the contact details mentioned below. Step 3: After confirming, you can proceed to the submissions page.
2. Is my Idea Secure ?
Answer : – Yes, your idea is only shared with the judges and no one else can see them.
3. Who can Participate ?
Answer : Any student from Class 6-12 can participate. There are 3 tracks, and only students from those classes can participate in the specific tracks.
4. Does my Idea have to be technology related?
Ans : NO, we welcome all ideas that have the potential to become a business
Official Contact

For any queries or issues faced, kindly contact : [email protected]
Official Website