વેક્સિનેશન માટે રજિસ્ટ્રેશન 28 એપ્રિલથી શરૂ થશે.
વેક્સિન ના રજિસ્ટ્રેશન માટે ના સ્ટેપ નીચે મુજબ છે. 1)https://selfregistration.cowin.gov.in પોટૅલ પર રજિસ્ટ્રેશન નો વિકલ્પ પસંદ કરો.
2) તમારો મોબાઈલ નંબર આપીને ગેટ OTP પર ક્લિક કરો.
3) તમારા મોબાઈલ નંબર પર OTP આવશે, જે 180 સેકન્ડમાં સબમિટ કરવાનો રહેશે.
4) OTP સબમિટ કરતા જ નવું પેજ ખુલશે, જેમાં તમારી વિગતો ભરવાની રહેશે.
5) ફોટો આઇડી માટે આધાર ઉપરાંત ડ્રાઇવિંગ લાઇસન્સ, પાનકાર્ડ, પાસપોર્ટ, પેન્શન પાસબુક, એનપીઆર સ્માર્ટ કાર્ડ કે વોટર આઇડી પણ માન્ય રહેશે.
6) તેમાંથી કોઈ એક વિકલ્પ પસંદ કરી આઇડી નંબર આપો.
7) નામ, જાતિ, જન્મ તારીખ જણાવવાની રહેશે.
8) ત્યારબાદ નજીકનું કોવિડ વેક્સિનેશન સેન્ટર પસંદ કરવાનો વિકલ્પ મળશે.
9) સેન્ટર સિલેક્ટ કર્યા બાદ તમને અનુકૂળ સમય નો સ્લોટ પસંદ કરી શકો છો.
10) તમારો નંબર આવે ત્યારે ત્યાં જઈને વેક્સિન લઈ લો.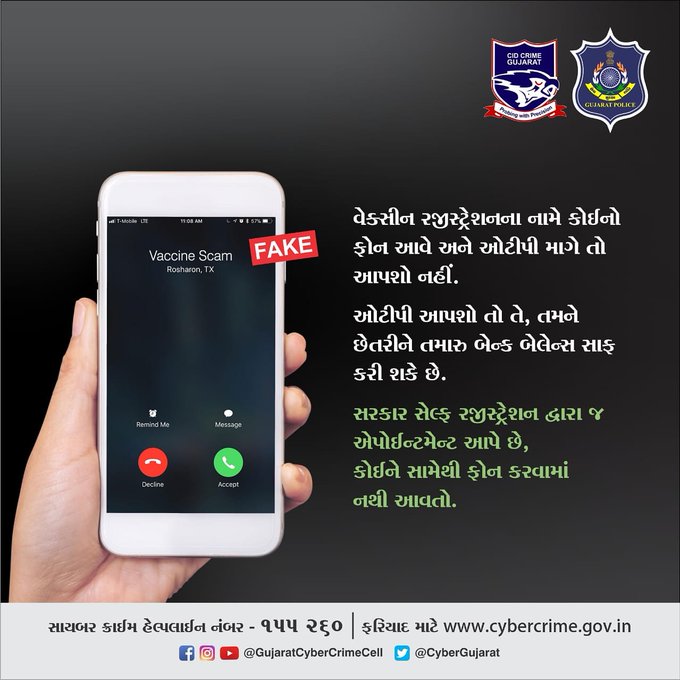 I Hope you like the Article of How to Register in Covid 19 Vaccination – Information in Gujarati. If you like then Share to Your Friends, Any Query Do Comments.
Happy Reading..